Two topics consume the vast majority of an investor's time:
Finding companies to invest in
Figuring out how to position a portfolio and react to the market
Doing one would be a full-time job. Attempting to do both without help is next to impossible.
In fact, using the data that most analysts have available to them…distorted GAAP and IFRS accounting, it is impossible.
There is a reason that 9 of the top 10, and over 160 of the top 300 investment firms in the world read Valens' Uniform Accounting analysis on a regular basis. Uniform Accounting analysis is becoming a vital tool for investors to unlock insights for their portfolio and to unlock alpha.
Three of Valens' most popular Uniform Accounting tools for investors save investors time on the two areas they spend the most of their time on:
Our Conviction Long Idea List - our top equity long ideas
Our Weekly Long Idea Highlight – our weekly report where we highlight one of the Conviction Long Idea List ideas in detail
Our Market Phase Cycle report on the current macro environment and how to position your portfolio
Many of our clients tell us that once you've seen the TRUE numbers for a company, or for the market, you can never unsee them.
Using Uniform Accounting, we are able to see through the noise of as-reported accounting to get better insights for our clients, to help guide them to better investment outcomes.
We produce our Conviction Long Idea List quarterly. Using our:
Uniform Accounting metrics
Deep fundamental research
Credit analysis
Management compensation analytics
Earnings call truth detection system
And a macro overlay
We identify 20-30 of the most compelling equity ideas we are seeing in the US. These ideas range from large cap to small cap ideas, and across all the sectors in the US.
Over the last 2+ years, these ideas have produced a 40% return (15% annualized). Taking the top 10 ideas from the list each quarter produced a 58% return (21% annualized) over that same period. For context, the market produced a 31% (12% annualized) over the same period.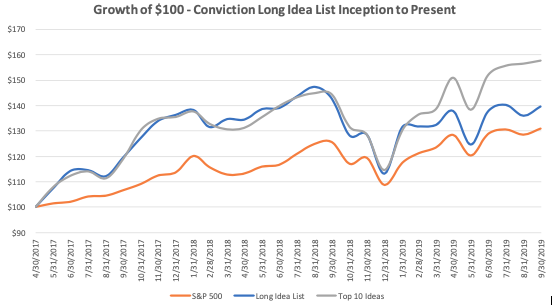 Using this framework, we've identified large cap ideas like Facebook before it rose 600%, or Lam Research before it doubled.
We've identified under-followed small-cap like Planet Fitness, before it rose 200% and Cirrus Logic, before it rose 160%.
Uniform Accounting combined with a strong fundamental research framework adds significant value to the market.
As the saying goes, even the best stock-pickers can lose money in bear markets.
Understanding the macro environment is essential to any sound investing approach. This doesn't mean reacting to the tape, whatever news story is on CNBC that day, or the latest doom and gloom newsletter that comes out.
It means having a coherent consistent approach to analyzing the fundamentals of the market as a whole.
We understand the importance of macro here at Valens, and because of that, we don't just do individual company analysis. We also focus on the macro.
Our Market Phase Cycle monthly newsletter gives investors access to in-depth macroeconomic analysis of the U.S. market, focusing on aggregate valuations, sentiment, corporate credit risks, and other signals to help better identify macro inflections, enabling investors to focus on stock-picking instead of the macro.
Our Market Phase Cycle is an investment research methodology that has consistently been able to help investors to be positioned correctly ahead of macro trends. This includes:
Identifying the risk of increased volatility coming into the end of July this year, before the recent correction and volatility
Signalling investors to be heavily invested ahead of the September-December 2017 7%+ rally in the markets
Helping investors to avoid the markets ahead of the early 2016 12%+ sell off
Providing investors with reasons for optimism in the midst of the 9% pullback in September 2015
That just names a few of the inflections we've seen. Just as importantly, we've also regularly been comfortable giving our clients a "steady as she goes" signal when it was appropriate, because we had confidence in our macro framework.
Following the investing greats, we understand that all equity market and macro cycles follow the lead of big picture credit cycles. So that's where we start our macro analysis.
We build from an understanding of individual, corporate, and government credit cycles as a base. We then leverage our Uniform Accounting data to understand where corporate profitability and growth are heading, to understand where earnings growth is trending.
At the end of the day, earnings growth is what keeps an equity rally alive.
But we also understand the importance of sentiment, both management teams' sentiment, and investor sentiment, in the short-term trends of the market.
Combine all those frameworks, and you get a coherent, consistent framework that has enabled us to keep our clients in the market when they should have been. And helped them to understand the risks in the market when they've appeared on the horizon.
Normally, to get all three of these newsletters, you'd need to buy our bundle of all of our newsletters. That is a $600/month value (or $6,000 annually with 2 months free).
Our clients find our Conviction Long Idea List and Long Idea Highlights are so valuable, we normally only offer it as part of our bundle of newsletters, we don't sell it independently.
As a holiday special, we're offering you the ability to get all three of these essentials to any portfolio, for the price of just one. For $200/month, you will get our Conviction Long Idea List, Weekly Long Idea Highlight, and our Market Phase Cycle. That's 66% savings!
Don't miss out on this short-term opportunity.