More than 40 million bottles sold every day provides a healthier Uniform ROA of 6%, better than the cost-of-capital as-reported ROA!
April 22, 2020
These days, people are paying more attention to their health and immune system. With major hospitals getting packed with COVID-19 patients, going to the hospital to have an ailment checked is out of the question for many.
People are stocking up on vitamins and maintenance medicines, buying healthier food options like vegetables and fruits, and exercising. Those who have extra budget are also buying supplements to make sure they've got all the nutrients they need covered.
This company is the maker of probiotic drinks that are useful in fighting harmful bacteria in our digestive tract and continues to remain a staple in a lot of Filipino households. Additionally, its TRUE earning power is higher than what is reported!
Also below, Uniform Accounting Embedded Expectations Analysis and the Uniform Accounting Performance and Valuation Tearsheet for the company.
Philippine Markets Daily:
Wednesday Uniform Earnings Tearsheets – Asia-listed Focus
Powered by Valens Research
"OK ka ba tiyan?" is a catchphrase that most Filipinos will recognize.
This memorable one-liner from a probiotic drink commercial in the early 2000s is a word play on a Filipino greeting and the product's digestive health claims.
The probiotic drink featured in the commercial was none other than Yakult, which entered the Philippine market in 1981. At present, more than three million bottles are consumed in the country in a day.
In the early 20th century, Japan was riddled with infectious diseases caused by poor hygiene and nutrition. With a passion to fight these diseases, young Minoru Shirota pursued the medicine track, starting with microorganism research.
Dr. Shirota successfully cultivated a strain of lactic acid bacteria, now known as Lactobacillus casei strain Shirota, that could fight harmful bacteria found in our intestines and provide beneficial effects.
He then set out to provide this strain of bacteria to as many people as possible through an affordable and delicious fermented milk drink. Thus, the famous Yakult was born.
Yakult was established based on the principle called "Shirota-ism," named after founder Minoru Shirota, M.D., Ph.D, which revolves around the ideals of preventive medicine, an affordable price, and the belief that a healthy intestinal tract leads to a good life.
Yakult has endured since 1935 based on this foundation, which guides all their business activities until today.
However, it was not easy to convince consumers of the benefits of Shirota-ism and the idea of a drink that contains bacteria.
To address this concern, Yakult developed a unique operating model with a female sales team called the "Yakult Ladies," in order to help consumers understand the value of the product.
This operation was effective for Yakult because it established trust with the customers. Since Yakult Ladies were hired from the same region as their consumers, the former were able to easily communicate with local households.
The ability of the Yakult Ladies to create meaningful relationships with their customers became a competitive advantage for Yakult, creating barriers to entry for companies that also wanted to sell probiotic drinks.
Today, Yakult is a global brand, with around 80,000 Yakult Ladies around the world. The company now has a wide variety of food and beverage products, such as yogurts and different iterations of their fermented milk drink.
Yakult continues to promote the globalization of its brand through product development based on the needs of people in different areas.
The company extended its business to pharmaceuticals, specifically in the field of oncology, amounting to 12% of Japan's total sales. Yakult has received recognition for providing and selling anticancer drugs that have been used in the treatment of gastrointestinal cancers.
They have also utilized the power of lactic acid bacteria to produce cosmetic products for the skin. These products are said to have moisturizing ingredients, based on deeper research into probiotics and dermatology.
Even with all of the company's competitive advantages and brand promotions, as-reported returns have been weak at just 5% levels, which is behind its true earning power.
Yakult's real economic profitability can be better reflected with Uniform Accounting adjustments.
What as-reported metrics fail to do is to consider excess cash on the balance sheet. While most companies inherently need some level of cash to operate, the portion of that balance that is earning limited or no return—or excess cash—ends up diluting as-reported ROAs.
If excess cash remains included in the company's asset base in computing its performance metrics, the company's profitability and capital efficiency may appear weaker than it actually is.
After excess cash and other significant adjustments are made, Yakult reported a 6% Uniform ROA in 2019, which is stronger than their as-reported ROA of 5% that is below their cost of capital.
Yakult is more expensive than you think it is

Yakult Honsha Co., Ltd. (2267:JPN) currently trades above corporate averages with a 37.3x Uniform P/E (blue bars), which is also higher than the as-reported P/E of 30.5x (orange bars).
At these levels, the market is pricing in expectations for Uniform ROA to peak to 12% in 2024, accompanied by a 2% Uniform asset growth going forward.
However, analysts have less bullish expectations, projecting Uniform ROA to decline slightly to 7% in 2021, accompanied by immaterial Uniform asset growth.
Yakult's profitability is actually much better than you think it is

As-reported metrics distort the market's perception of the firm's profitability.
If you were to just look at as-reported ROA, you would think that the company is a weaker business than real economic metrics highlight.
Uniform ROA has actually been higher than as-reported ROA in the past sixteen years. For example, as-reported ROA was 5% in 2019, lower than its Uniform ROA of 6%. When Uniform ROA peaked at 9% in 2009, as-reported ROA was at 3%, which is below the corporate average returns.
Through Uniform Accounting, we can see that the company's true ROAs have actually been higher. Yakult's Uniform ROA ranged from 4% to 9% over the past sixteen years, while as-reported ROA ranged only from 3% to 5% in the same timeframe.
After rising from 4% in 2004 to 7% in 2006, Uniform ROA fell back to 6% in 2007. Afterwards, Uniform ROA peaked at an all-time high of 9% in 2009 before declining to a historical low of 4% in 2012. Thereafter, Uniform ROA gradually recovered to 7% in 2016, before falling again to 6% levels in 2019.
Yakult's margins are weaker than you think, but its consistently stronger asset turnover makes up for it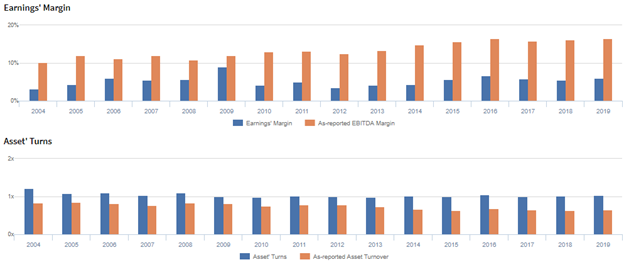 Cyclicality in Uniform ROA has been primarily driven by trends in Uniform earnings margins, with peaks and troughs lining up historically with that of Uniform ROA.
Uniform earnings margins increased from a historical low of 3% in 2004 to an all-time high of 9% in 2009, before falling back to 4% in 2012. Thereafter, Uniform earnings margins gradually recovered to 7% in 2016, before declining back to 6% in 2019.
Meanwhile, after trending at 1.0x to 1.2x levels from 2004 to 2008, Uniform asset turns have been consistent at 1.0x levels from 2009 to 2019.
Summary and Yakult Tearsheet
As the Uniform Accounting tearsheet for Yakult highlights, they are trading at a 37.3x Uniform P/E, which is above average market valuations but below its historical P/E of 41.5x.
High P/Es require high EPS growth to sustain them. In the case of Yakult, the company has recently shown a 13% Uniform EPS growth.
Sell-side analysts provide stock and valuation recommendations that in general provide very poor guidance or insight. However, sell-side analysts' near-term earnings forecasts tend to have relevant information.
We take sell-side forecasts for Japan's Modified International Standards (JMIS) earnings and convert them to Uniform earnings forecasts. When we do this, Yakult's sell-side analyst-driven forecast is for Uniform earnings to increase by 15% in 2020 and then decline by 2% in 2020.
Based on current stock market valuations, we can back into the required earnings growth rate that would justify JPY 7,030 per share. These are often referred to as market embedded expectations.
In order to meet the current market valuation levels of Yakult, the company would have to have Uniform earnings grow by 14% each year over the next three years. What sell-side analysts expect for Yakult's earnings growth is below what the current stock market valuation requires.
The company's earning power, based on its Uniform return on assets calculation, is in line with corporate average returns. Furthermore, with cash flows and cash on hand consistently exceeding obligations, Yakult has low credit and dividend risk.
To conclude, Yakult's Uniform earnings growth is in line with peer averages in 2019 and it is trading in line with peer average valuations.


About the Philippine Market Daily
"Wednesday Uniform Earnings Tearsheets – Asia-listed Focus"
Some of the world's greatest investors learned from the Father of Value Investing or have learned to follow his investment philosophy very closely. That pioneer of value investing is Professor Benjamin Graham. His followers:
Warren Buffett and Charles Munger of Berkshire Hathaway; Shelby C. Davis of Davis Funds; Marty Whitman of Third Avenue Value Fund; Jean-Marie Eveillard of First Eagle; Mitch Julis of Canyon Capital; just to name a few.
Each of these great investors studied security analysis and valuation, applying this methodology to manage their multi-billion dollar portfolios. They did this without relying on as-reported numbers.
Uniform Adjusted Financial Reporting Standards (UAFRS or Uniform Accounting) is an answer to the many inconsistencies present in GAAP and IFRS, as well as in PFRS.
Under UAFRS, each company's financial statements are rebuilt under a consistent set of rules, resulting in an apples-to-apples comparison. Resulting UAFRS-based earnings, assets, debts, cash flows from operations, investing, and financing, and other key elements become the basis for more reliable financial statement analysis.
Every Wednesday, we focus on one company listed in Asia that's relevant to the Philippines and that's particularly interesting from a UAFRS vs as-reported standpoint. We highlight one adjustment that illustrates why the as-reported numbers are unreliable.
This way, we gain a better understanding of the factors driving a particular stock's returns, and whether or not the firm's true profitability is reflected in its current valuations.
Hope you've found this week's Uniform Earning Tearsheet on an Asian company interesting and insightful.
Stay tuned for next week's Asia company highlight!


Regards,
Angelica Lim
Research Director
Philippine Markets Daily
Powered by Valens Research
www.valens-research.com
View All