April 8, 2016
---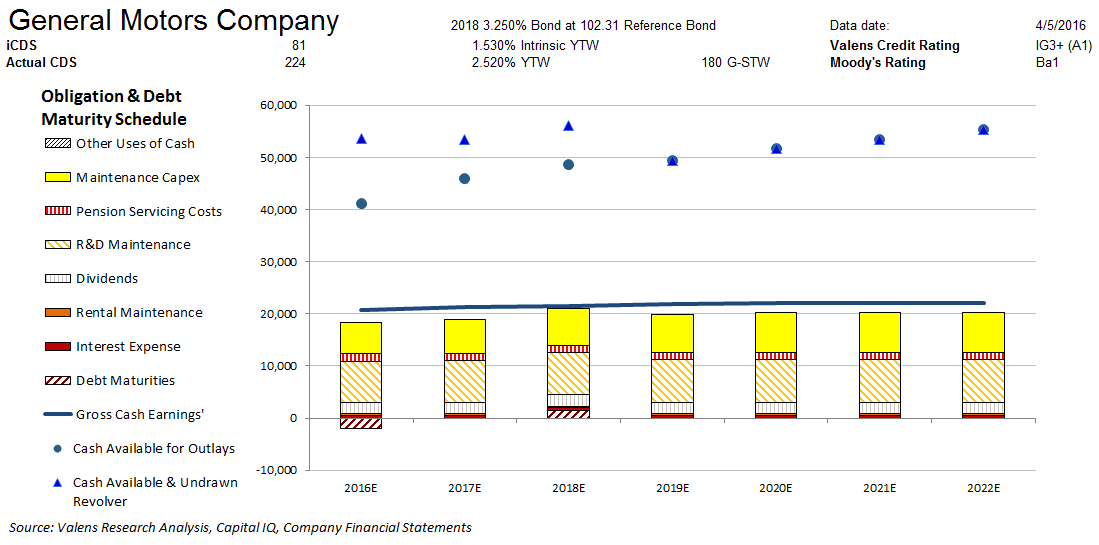 Moody's is materially overstating the credit risk of General Motors Company (NYSE:GM) with its Ba1 rating. Our fundamental analysis highlights a much safer credit profile for GM: the company's strong cash flows cover all their obligations including debt maturities. Moreover, if their cash flows ever fall short of their obligations, the combination of their cash flows and sizable cash on hand should allow them to service any shortfall. Furthermore, their sizable market capitalization and strong recovery rate should allow them access to credit markets if they choose to refinance their debt. We therefore rate GM six notches higher at an IG3+ credit rating, or an A1 equivalent using Moody's ratings scale.
In addition, credit markets are overstating GM's credit risk with a CDS of 224bps and a cash bond YTW of 2.520%, relative to an Intrinsic CDS of 81bps and an Intrinsic YTW of 1.530%.
GM equity valuations, with a 0.8x V/A', are embedding no substantial improvement in profitability going forward. The equity market shares a slightly optimistic view, expecting modest 1% Asset' growth going forward, with ROA' stabilizing at around 5% sub-cost-of-capital levels over the next several years. Considering that analysts expect ROA' to marginally compress going forward, GM equity appears to be fairly valued. However, there is likely a floor to equity valuations based on asset values, limiting equity downside. Furthermore, there could be equity upside if the firm is able to drive ROA' back toward 2011-2012 levels.
Click here to read the article in its entirety at Seeking Alpha.