If crypto is the new gold, it's time to look at the pickaxe sellers instead of the miners
June 14, 2022
In a booming space like crypto, massive volatility levels can be understandable. Recently, the market has been shaking due to the Luna crash and the Bitcoin price falling down below $30,000. And doing business in an environment that frequently has crashes and huge volatility may not sound very healthy.
However, being an essential gatekeeper to the crypto world by providing the necessary infrastructure to easily buy and sell cryptocurrencies, Coinbase (COIN) proves that producing consistent profitability is not impossible.
That's why it showed up on our FA Alpha Screen. Its strong profitability, high growth, and low valuations make it an interesting name.
Investor Essentials Daily:
Tuesday FA Alpha 50
Powered by Valens Research
Bitcoin was founded in 2009, and over the past decade, it has entered the public consciousness. From Super Bowl ads to individual trading, the world has become aware of crypto.
However, back in 2009, it was complicated for people to send, buy, and sell Bitcoin, except the enthusiasts.
The need for an application that provides an infrastructure to make these transactions brought out crypto exchanges to make life much easier for investors interested in crypto.
Founded in 2012 by Brian Armstrong and Fred Ehrsam, Coinbase is now one of the largest crypto exchanges in the world.
In addition to its successfully growing operations, the company became viral with its Super Bowl 2022 ads.
The viral ad just showed a bouncing QR code like an old DVD screensaver. The QR code included $15 worth of free Bitcoin and three prize pots of $1 million.
Thanks to this genius advertising strategy, Coinbase's landing page saw 20 million hits within a minute of the ad airing, and the company's app downloads increased by a massive 309% on a week-over-week basis.
However, the recent collapse of crypto pricing has investors worried about the company's future. This is especially because as-reported metrics make it seem like the company is not profitable at all.
As-reported metrics indicate that Coinbase's return on assets ("ROA") in 2020 and 2021 are 8% and 20% respectively.
However, these low returns are simply a symptom of as-reported distortions in the accounting. In reality, exchanges like Coinbase will make money as long as trade volumes for crypto are up, no matter the price. This is why it's often better to buy the suppliers or facilitators of a new trend, rather than a company directly exposed.
Uniform metrics show us the truth that Coinbase has actually been producing massive returns with an ROA rising from 25% in 2020 to 117% in 2021.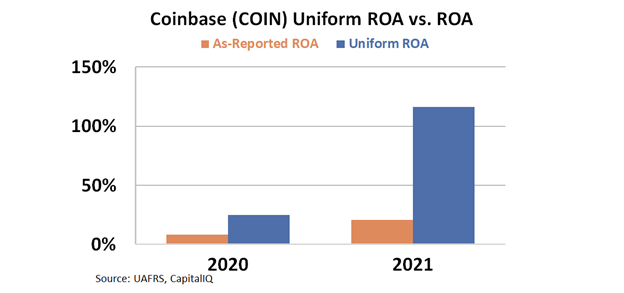 With its genius marketing and successful growth strategy, Coinbase is well-positioned to benefit from the growing crypto space. With such a huge return, a 44x P/E is a low price for such high earnings.
Consistent high growth, three-digit ROA, and a comparatively low valuation make Coinbase an impressive FA Alpha 50 name.
Throughout financial market history, many of the world's most successful investors have been candid in their belief that Generally Accepted Accounting Principles ("GAAP") distort economic reality.
Warren Buffett, for example, once said investors should "concentrate on the world of companies, not arcane accounting mathematics."
Investors who neglect the very real issues with as-reported accounting can find themselves caught up investing with the crowd, blindly following hot "themes" without a thorough grasp of how to understand the businesses in question.
The only true way to focus on the "world of companies," as Buffett suggests investors do, is to present a clear picture of how a business operates, something that can only be done by adjusting financial statements to reflect the arbitrary nature of certain accounting rules that leave much to discretion.
The world's best investors understand the need to make these adjustments, which allows them to focus not on picking out the most popular companies, but rather on looking for great names in sleepy areas that the market isn't paying much attention to. From there, the goal is to then identify quality companies with significant growth potential at reasonable prices.
That's exactly what we've set out to do with the FA Alpha, our monthly list of 50 companies that rank at the top for quality, high growth, and low valuations.
This list has outperformed the market by 300 basis points per year for over 20 years now, effectively doubling the performance of the market by focusing on the real fundamentals and valuations of companies with our proprietary Uniform Accounting framework.
See for yourself below.
To see the other 49 names on the list, click here.


Best regards,

Joel Litman & Rob Spivey

Chief Investment Strategist &
Director of Research
at Valens Research
View All