The credit agencies are failing to follow industry success up the homebuilding supply chain
PGT Innovations, Inc.
(PGTI)
August 18, 2021
The At-home Revolution hasn't only been a godsend for homebuilders, but also for contractors and their suppliers.
Yet despite these once-in-a-lifetime tailwinds, the major credit rating agencies are deeply pessimistic about this company. We use Uniform Accounting to show why they're wrong.
Also below, the company's Uniform Accounting Performance and Valuation Tearsheet.
Investor Essentials Daily:
Wednesday Credit Insights
Powered by Valens Research
Last Wednesday, we highlighted the market insanity behind the current demand for homes.
It has gotten to the point that record low home sales are actually a tailwind for the homebuilding industry, which has a seemingly endless backlog of projects.
That backlog is serving as a crystal ball into future cash flows, which should dispel any concern over credit risk for homebuilders.
The fundamental tailwind still at play starting from the pandemic is what we call the At-Home Revolution: the widespread re-thinking of what goes on at home. Work, sport, school, and entertainment have all shifted their way homeward faster than anyone could have ever imagined.
When we first identified this long-term theme, we talked about how in order to fit the new roles, people needed more space. An urban exodus to the more spacious suburbs ushered a wave of new house building projects not just across the United States, but across the entire world. Right now, homebuilders have pricing power like they've only dreamt of.
The tsunami of demand doesn't end at home construction either. People spending far more time at home than they'd expected have en-masse decided to improve their living conditions.
If you want evidence, try hiring a good contractor to redo your bathroom or kitchen. You will probably be met with two options: Wait for months before the first ground is broken, or pay an outrageous premium.
The surging cost of houses and work amid the tighter inventory levels isn't good just for realtors, homebuilders, and contractors. It's also great for the companies further down the supply chain. For the suppliers of home renovations and building projects, business is booming.
PGT Innovations (PGTI) is a great example of this. PGT is a major supplier of impact resistant and energy efficient window and door solutions across the southeastern and western United States.
Renovations account for more than half of its sales, as people look to not only improve the aesthetics but also the energy bill and footprint of their homes. PGT is experiencing the exact same tailwinds as Century Communities (CCS), the homebuilder we highlighted in last Wednesday's piece.
Despite selling smaller components rather than the large months-long projects sold by homebuilders and contractors, PGT still has a massive backlog. As mentioned earlier, this means they have visibility into their upcoming cashflows, which should make the jobs of creditors far easier.
And yet, the rating agencies seem not to have a clue. Despite the tailwinds, PGT is rated a B+ by S&P, and a B1 by Moody's. These ratings are considered high-yield, which in the credit world means high risk.
In fact, the rating agencies think the company has a 25% risk of defaulting in the next 5 years. Luckily, we have the tools and insights to put this pessimism to the test.
This sort of scenario is exactly why we've built the Credit Cash Flow Prime (CCFP) tool. The CCFP allows us to compare a company's cash flows and cash on hand to their obligations. Each of the bars represents the company's expected cash outlays, with the more divertable obligations sitting towards the top and the more important debt maturities sitting towards the bottom.
The blue line represents the PGT's Uniform earnings. The companies with the strongest credit pictures have earnings that far exceed their obligations. The blue dots are the cash the company has on hand on a year by year basis.
As you can see, PGT has plenty of cash to repay its debts, and although it has a large maturity due in 2026, it will have no problem paying it down. See for yourself: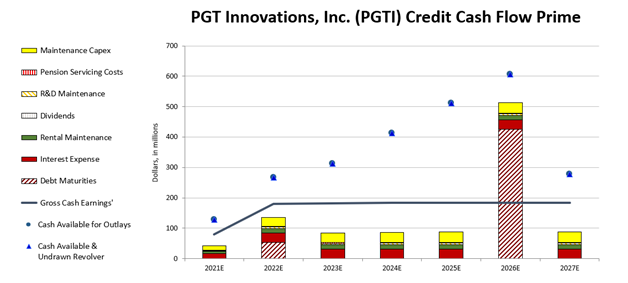 This chart shows us a far safer picture than what S&P and Moody's suggest. PGT is not a firm teetering on the brink of bankruptcy, but one with steady cash flows, obligations in check, and powerful industry tailwinds.
This is why PGT gets an IG3 rating from Valens. This means that the firm has a sub-2% chance of default, equivalent to an S&P "A" or Moody's "A2" rating. Through strong earnings and a building cash position, investors can see the safety of the name with the CCFP, which would have been missed with simple ratio analysis.
SUMMARY and PGT Innovations, Inc. Tearsheet
As the Uniform Accounting tearsheet for PGT Innovations, Inc. (PGTI:USA) highlights, the Uniform P/E trades at 15.9x, which is below the global corporate average of 23.7x but around its own historical average of 15.0x.
Low P/Es require low EPS growth to sustain them. In the case of PGT, the company has recently shown 38% Uniform EPS growth.
Wall Street analysts provide stock and valuation recommendations that in general provide very poor guidance or insight. However, Wall Street analysts' near-term earnings forecasts tend to have relevant information.
We take Wall Street forecasts for GAAP earnings and convert them to Uniform earnings forecasts. When we do this, PGT's Wall Street analyst-driven forecast is a 19% EPS decline in 2021 and 50% EPS growth in 2022.
Based on the current stock market valuations, we can use earnings growth valuation metrics to back into the required growth rate to justify PGT's $21.6 stock price. These are often referred to as market embedded expectations.
The company is currently being valued as if Uniform earnings were to shrink 5% over the next three years. What Wall Street analysts expect for PGT's earnings growth is below what the current stock market valuation requires in 2021 and above in 2022.
Furthermore, the company's earning power is 4x the long-run corporate average. Moreover, cash flows and cash on hand are 2x its total obligations—including debt maturities, capex maintenance, and dividends. However, the intrinsic credit risk of 490bps is above the risk-free rate. Together, this signals a moderate credit risk.
To conclude, PGT's Uniform earnings growth is below its peer averages and the company is also trading above peer valuations.
Best regards,
Joel Litman & Rob Spivey
Chief Investment Strategist &
Director of Research
at Valens Research
View All