This healthcare company looks like it has been caught up in a bitcoin style fad, but Uniform Accounting says otherwise
Varian Medical Systems, Inc.
(VAR)
March 31, 2020
'Fad' products and trends can cause investors to act irrationally and force the market into a bubble. We've seen this recently with cryptocurrency and blockchain, but it also happens in industries you may not think of.
Today, we look at a healthcare equipment company which is priced like it's a fad and see what it looks like under Uniform Accounting.
Also below, Uniform Accounting Embedded Expectations Analysis and the Uniform Accounting Performance and Valuation Tearsheet for the company.
Investor Essentials Daily:
Tuesday Tearsheets
Powered by Valens Research
Towards the end of the 2010s, blockchain and cryptocurrency were fully on track as the next big cultural fad.
As more people began learning about bitcoin, etherium, and what exactly the blockchain did, people could envision it taking over every aspect of our lives.
Local restaurants and stores began accepting cryptocurrencies for payment.
Everybody likely knows someone from college or their job who traded cryptos in their spare time.
We even noticed a massive uptick of mentions of the blockchain in corporate earnings calls as management teams in just about every industry group tried to figure out how to use the technology.
During the fall of 2017, as we were teaching an MBA course, all anybody in the class wanted to talk about was cryptos.
We really knew it was a fad when we started hearing family members who have no interest in finance or technology talking about bitcoin over the holidays that same year.
One of the most astounding examples of the crypto fad happened on December 21, 2017. A tiny beverage company out of Long Island, formerly called Long Island Iced Tea Corp (LBCC), changed its name to Long Island Blockchain Corporation.
The next day, its stock shot up nearly 200%.
At the time, nothing had changed about the company's operations. All it did was change its name to take advantage of the blockchain fad along with a vague message about "exploring investments into blockchain" in the future.
This is a great example of the power of fads and how the market can easily enter a bubble.
We've seen other industries impacted by fad-like behavior in recent years. Another great example lies within healthcare—specifically oncology.
With the aging U.S. population and major money flowing into cancer research, oncology has shifted into the spotlight for investors too.
Companies like Varian Medical Systems (VAR) have seen their valuations expand over the last few years.
Just until the recent stock market skid, Varian was trading at a 40x P/E, implying expectations for robust profitability and sustainable earnings growth.
Even after valuations have compressed towards market averages, this still feels overly bullish for a company like Varian, which has seen ROA come under pressure in recent years, even declining from 2018 to 2019.
The dislocation between profitability and expectations looks like the effect of oncology stocks becoming such a fad in recent years.
However, there may be more to it.
Oncology companies are also impacted by distorted as-reported financial metrics stemming from misleading accounting practices in GAAP and IFRS.
When we apply our Uniform Accounting metrics, adjusting for distortions like the impact of goodwill, R&D expensing vs. capitalization, and non-cash stock option expenses, we can see that Varian has strong fundamental momentum.
Uniform ROA has rebounded well over the last several years, and it has grown in each of the last four years. Furthermore, at current valuations, the market is only pricing ROA to expand slightly from current levels.
Additionally, Varian is trading near market averages on a Uniform basis with a 20x Uniform P/E, which might even be too bearish considering the strong secular growth opportunities in the oncology business.
This is especially true because management has generated confident markers about their growth opportunities and acquisition strategy in their most recent earnings call.
As-reported metrics can directionally distort a company's profitability trends, leading investors to believe the market is acting irrationally.
Varian Medical Systems, Inc. Embedded Expectations Analysis – Market expectations are for Uniform ROA expansion, and management is confident about their acquisitions, revenue, and growth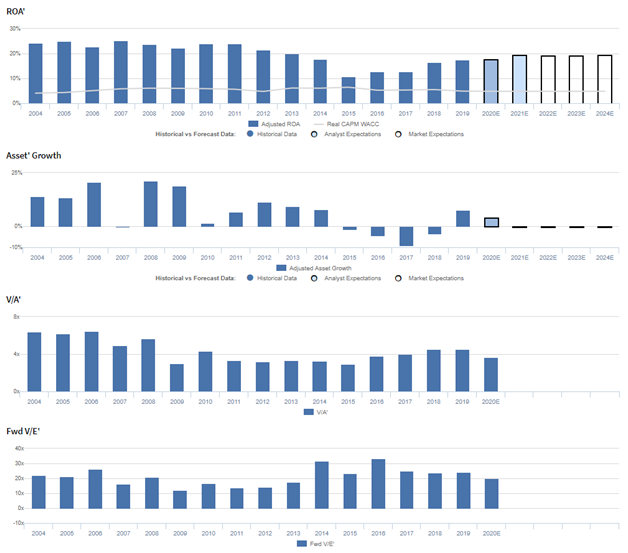 VAR currently trades above corporate averages relative to Uniform earnings, with a 19.8x Uniform P/E (Fwd V/E′).
At these levels, the market is pricing in expectations for Uniform ROA to improve slightly from 18% in 2019 to 20% in 2024, accompanied by 1% Uniform asset shrinkage.
Analysts have similar expectations, projecting Uniform ROA to improve to 20% through 2021, accompanied by 4% Uniform asset growth.
VAR has historically seen cyclical, generally declining profitability. Uniform ROA sustained 23%-25% levels in 2004-2008, before fading to 22% in 2009.
Thereafter, Uniform ROA rebounded to 24% levels from 2010-2011, before declining to 11% in 2015, and most recently improving to 18% in 2019.
Meanwhile, Uniform asset growth has been volatile, positive in just eleven of the past sixteen years, while ranging from -9% to 21%.
Performance Drivers – Sales, Margins, and Turns
Cyclicality in Uniform ROA has been driven by trends in both Uniform earnings margin and Uniform asset turns.
After expanding from 15% in 2004 to 18% in 2010, Uniform earnings margins declined to 12% in 2015, before rebounding to 14% in 2019.
Meanwhile, Uniform asset turns contracted from 1.6x in 2004 to 0.9x in 2015, before improving again to 1.3x in 2019.
At current valuations, markets are pricing in expectations for both Uniform earnings margins and Uniform asset turns to continue expanding.
Earnings Call Forensics
Valens' qualitative analysis of the firm's Q4 2019 earnings call highlights that management is confident they are focusing on four strategic enablers for their patients, and they are confident that the Karolinska University Hospital has begun testing their Bravos afterloader.
Furthermore, they are confident Noona will reach 22,000 new cancer cases per year and that they can grow their revenue between 9% and 12% in 2020.
Finally, they are confident their software business is positioned for growth in developed and developing markets, and they are confident their recent acquisitions have performed well.
However, management may lack confidence in their ability to sustain recent operating earnings improvement, and they may be exaggerating their competitive moats in the radiation therapy space.
Furthermore, they may be concerned about the timing of their FLASH product to enter widespread treatment and about their market share in Japan and China.
UAFRS VS As-Reported
Uniform Accounting metrics also highlight a significantly different fundamental picture for VAR than as-reported metrics reflect.
As-reported metrics can lead investors to view a company to be dramatically stronger or weaker than real operating fundamentals highlight. Understanding where these distortions occur can help explain why market expectations for the company may be divergent.
As-reported metrics significantly understate VAR's profitability.
For example, as-reported ROA for VAR was 9% in 2019, substantially lower than Uniform ROA of 18%, making VAR appear to be a much weaker business than real economic metrics highlight.
Moreover, as-reported ROA has consistently been below Uniform ROA since 2004, distorting the market's perception of the firm's profitability ceiling.
SUMMARY and Varian Medical Systems, Inc. Tearsheet
As the Uniform Accounting tearsheet for Varian Medical Systems, Inc. (VAR) highlights, the Uniform P/E trades at 19.8x, which is below the global corporate average valuation levels and its own historical level.
Average P/Es require moderate EPS growth to sustain them. In the case of Varian, the company has recently shown 17% Uniform EPS growth.
Wall Street analysts provide stock and valuation recommendations that in general provide very poor guidance or insight. However, Wall Street analysts' near-term earnings forecasts tend to have relevant information.
We take Wall Street forecasts for GAAP earnings and convert them to Uniform earnings forecasts. When we do this, we can see that Varian is forecast to see Uniform EPS growth of 8% in 2020 and 20% growth in 2021.
Based on current stock market valuations, we can back into the required earnings growth rate that would justify $101 per share. These are often referred to as market embedded expectations. In order to meet the current market valuation levels of Varian, the company would have to have Uniform earnings grow by 2% each year over the next three years.
What Wall Street analysts expect for Varian's earnings growth increases far above what the current stock market valuation requires.
Meanwhile, the company's earnings power is 3x corporate averages, signaling that there is very low cash flow risk to the company's operations and credit profile.
To conclude, Varian's Uniform earnings growth is above peer averages. Also, the company is trading in line with average peer valuations.
Best regards,
Joel Litman & Rob Spivey
Chief Investment Strategist &
Director of Research
at Valens Research
View All