MONDAY MACRO: A 23.4x Uniform P/E might be what Santa Claus needs to make investors happy by year end
December 21, 2020
The Philippine Stock Exchange Index (PSEi) rose past the 7,200 level two weeks ago, the highest it has been since its low of 4,623 on March 19, 2020. Recent global news has made investors more optimistic about the pandemic ending sooner rather than later.
Although it is about 300 points short of its pre-quarantine levels, the index has already risen significantly. This begs the question, is there still some fuel left to drive the market higher, especially since the Philippines has historically enjoyed the Santa Claus rally? Or are valuations too high as others might expect with a market that's risen quickly in less than a year?
Philippine Markets Daily:
The Monday Macro Report
Powered by Valens Research
The Philippine stock market has always been affected by what goes on in the global markets, especially in the US markets. So it's unsurprising that the PSEi enjoyed consecutive up days when it became clear Joe Biden was going to be the 46th president of the United States of America.
If you recall, we discussed in one of our Monday Macro Reports what a Biden presidency would mean for both the global economy and the Philippine economy. Although Biden is likely to continue to push for inward-looking growth strategies, the Biden administration would not be as restrictive for immigrants or global trade as the Trump administration was.
This favorable news sent the PSEi jumping 4% the week after the US elections.
Another major global event triggering investors' optimism was vaccine makers' quick progress in rolling out coronavirus vaccines worldwide by January 2021.
The PSEi jumped nearly 4% as pharmaceutical companies reported their findings on their own COVID-10 vaccine clinical trials. On November 18, Pfizer and its partner, BioNTech, reported its vaccine to have a 95% efficacy rate. Two weeks later, Moderna revealed its 94.1% efficacy rate for its own vaccines and then on December 8, AstraZeneca-Oxford reported up to a 90% efficacy rate.
The progress in vaccine development and rollout is giving investors hope that people and businesses can now go back to pre-pandemic operations.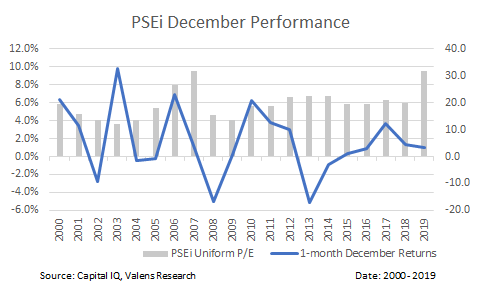 With much of Philippine investors' biggest concerns slowly subsiding, it's no wonder the local stock market has been rising since November, even before the period typically known as the "Santa Claus rally."
A Santa Claus rally happens toward the end of the year due to various factors. Institutional investors normally close their books for the year earlier, leaving much of the stock market activity to retail investors. These individual investors have a little extra during this time of the year thanks to bonuses. Since individual investors are typically more bullish than institutional investors, prices end up being driven higher than usual.
Looking at the historical data of Philippine stock market movements, we see that 15 out of the last 20 years had a positive 1-month December return and on average generated a 4% return in a positive year. For years with negative returns in December, the PSEi sheds 2% on average.
This means that in most years, the PSEi has experienced a Santa Claus rally.
As-reported metrics would have investors believe that this portfolio consists of companies that do not generate economic profit. However, Uniform Accounting reveals the truth behind these companies.
Looking at the recent months of this year, the Philippine stock market has already risen by 6.7% from November 30, 2020. This is above its historical average and median of positive December returns.
Historically, more times than not, Uniform P/E shows an inverse correlation with the Santa Claus rally. For example, in years with below average Uniform P/Es such as the years 2002 and 2003, the Philippine stock market is more likely to have a Santa Claus rally and vice versa.
However, its relationship is not strong because rallies are dependent on near-term outlook, not just the equity valuations. In 2008, we saw December fall by 5% as the Great Recession was expected to carry over the next year.
So with how fast the market has gone up in less than a month, will we still see the PSEi trend higher by year end, potentially passing the 7,500 mark?
The chances are still in favor of the Philippine equity investors for two main reasons.
One, the PSEi is still far from its pre-COVID level, still lower than the 7,700 level before the Taal Volcano eruption.
Two, the Philippines' current Uniform P/E is at the lower end of its historical numbers. As of December 18, 2020, Uniform P/E for the Philippine market is at 23.1x. In 2019, the aggregate Uniform P/E of the publicly listed Philippine companies was 31.9x. Excluding 2019, 5-year average Uniform P/E is at 20.4x.
Average valuations, as signified by historically average level P/Es, aren't the only reason to think the market is not overvalued. It is still substantially below what investors are willing to pay for in the pre-covid environment. Though the year-end rally might have been initially driven by the market's newfound optimism, the underlying fundamentals of Philippine companies back up any reason for stocks to rise.
As investors continue to monitor potential credit weakness in the country, investor sentiment on the Philippines' potential for full recovery has improved. Investors will likely become more bullish as the global economy heals.

About the Philippine Markets Daily
"The Monday Macro Report"
When just about anyone can post just about anything online, it gets increasingly difficult for an individual investor to sift through the plethora of information available.
Investors need a tool that will help them cut through any biased or misleading information and dive straight into reliable and useful data.
Every Monday, we publish an interesting chart on the Philippine economy and stock market. We highlight data that investors would normally look at, but through the lens of Uniform Accounting, a powerful tool that gets investors closer to understanding the economic reality of firms.
Understanding what kind of market we are in, what leading indicators we should be looking at, and what market expectations are, will make investing a less monumental task than finding a needle in a haystack.
Hope you've found this week's macro chart interesting and insightful.
Stay tuned for next week's Monday Macro report!
Regards,
Angelica Lim
Research Director
Philippine Markets Daily
Powered by Valens Research
www.valens-research.com
View All