This company's acquisition enabled it to do business with both institutional and consumer markets, pushing Uniform ROAs to record highs of 89%
June 18, 2020
This company's profitability has depended mainly on its payments business, which has benefited from the digitization of the payments industry—a trend likely to continue.
While the company has previously worked mainly with financial institutions, it gained direct access to the consumer end of the industry with its recent acquisition.
With the company now having exposure to both ends of the market, combined with the growing digitization of the payments industry, investors are likely to see an acceleration of returns.
However, as-reported metrics show that this company's acquisition did not take advantage of the growing industry and has only sunk profitability further. In reality, TRUE UAFRS-based (Uniform) return on assets (ROA) show that this move actually drove returns to new highs, as was expected.
Also below, Uniform Accounting Embedded Expectations Analysis and the Uniform Accounting Performance and Valuation Tearsheet for the company.
Philippine Markets Daily:
Thursday Uniform Earnings Tearsheets – Global Focus
Powered by Valens Research
Fintech has been around as early as the mid-1800s, back when the transatlantic cable was first laid out.
This was then followed by other technologies such as the first electronic fund transfer system, the credit card in the 1950s, and the move from analog to digital with handheld calculators and ATMs.
Fintech has since evolved into a multibillion-dollar industry using modern technologies that gave rise to e-wallets, cryptocurrencies, online banking, among other innovations.
Fintech is also now becoming more central to the finance industry. Financial institutions are turning to fintech to leverage new technologies and upgrade business operations.
Fiserv (FISV) is one of these fintech companies. It operates as a bridge between financial institutions, mainly banks and corporations, and merchants and consumers.
Fiserv's core business involves moving cash and financial information daily. This ranges from electronic bill payments, account-to-account payment services, and other processing services.
In the Philippines, Fiserv has partnered with leading financial organizations such as BPI, BDO, Manulife, and Sun Life, to provide solutions to enhance their payments infrastructure.
This comes as the country's central bank maps out initiatives to increase electronic payments and tap into technological innovations to improve the financial system.
Other countries have also started making the switch to being a cashless society.
China, for example, has had consumers using QR code payments since 2017. Sweden has about 98% of their transactions done electronically. Australia and the UK will continue to see massive upticks in cash vs. e-payments over the next few years.
Additionally, the US has seen a continuous preference on non-cash payment methods over the last decade, with credit and debit cards taking up about 80% of the total transaction methods currently.
To further take advantage of that growing demand, Fiserv acquired First Data in 2019. First Data is a financial services company offering merchant payment solutions and handling about 45% of the US' total credit and debit card transactions.
While Fiserv is already operating on the back-end of the financial system, mainly with banks and other financial institutions, the acquisition exposes the company more prominently into the consumer side of the industry.
This enables it to provide an extended range of end-to-end client solutions—from the financial institutions right down to consumers directly.
With its exposure to the consumer segment of the payments industry, the company's growth is only likely to accelerate going forward.
Looking at as-reported metrics, it appears that that might not have been the case. Over the past decade and a half, Fiserv has only had fairly decent returns.
Furthermore, it seems that the financial and operational synergies from the acquisition were not realized, sending the company's profitability down to record lows.
However, Uniform Accounting paints a completely different picture.
In reality, Uniform ROAs have stayed above 40% for the better part of the decade, with the acquisition accelerating Fiserv's growth as expected.
The distortion comes from as-reported metrics failing to consider the amount of goodwill on Fiserv's balance sheet, which sits at about $4 billion to $6 billion in recent years, before ballooning to $36 billion in 2019 following the acquisition of First Data.
Goodwill is an intangible asset that is purely accounting-based and unrepresentative of the company's actual operating performance. When as-reported accounting includes this in a company's balance sheet, it creates an artificially inflated asset base.
As a result, as-reported ROAs are not capturing the strength of Fiserv's earning power. Adjusting for goodwill, which historically has been about half its assets, returns are actually 5x-30x greater.
Fiserv is well-positioned to see continued profitability expansion thanks to the growing e-payments industry as well as the client diversification from the acquisition of First Data. While the market expects Uniform ROA to decline over the next five years, the company's tailwinds would argue otherwise.
Fiserv's earning power is actually more robust than you think
As-reported metrics distort the market's perception of the firm's recent profitability. If you were to just look at as-reported ROA, you would think that the company is a much weaker business than real economic metrics highlight.
Fiserv's Uniform ROA has actually been higher than its as-reported ROA in the past sixteen years. For example, as-reported ROA was 3% in 2019, but its Uniform ROA was actually nearly 30x higher at 89%.
Through Uniform Accounting, we can see that the company's true ROAs have actually been much higher. Fiserv's Uniform ROA has ranged from 27% to 89% in the past sixteen years while as-reported ROA ranged only from 3% to 10% in the same timeframe.
After rising from historical lows of 27% in 2007 to 45% in 2008, Uniform ROA remained at 40% levels through 2013. Afterwards, Uniform ROA gradually increased to a peak of 89% in 2019.
Fiserv's Uniform earnings margin is weaker than you think, but its robust Uniform asset turns make up for it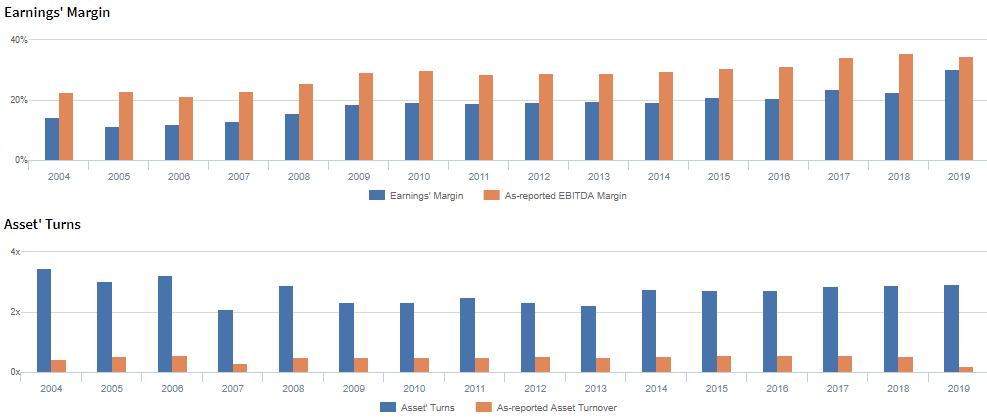 Fiserv's profitability has been driven by trends in Uniform earnings margins and Uniform asset turns.
From 2005-2010, Uniform earnings margins gradually increased from 12% to 19% levels. It remained at 19%-20% levels through 2014, before rising to a peak of 31% in 2019.
Meanwhile, Uniform asset turns fell from a peak of 3.5x in 2004 to 2.1x in 2007. It then bounced back to 2.9x in 2008, before falling to 2.3x in 2009. Thereafter, it gradually increased to 2.9x levels in 2019.
At current valuations, markets are pricing in expectation for Uniform margins to decline, accompanied by continued stability in Uniform turns.
SUMMARY and Fiserv Tearsheet
As the Uniform Accounting tearsheet for Fiserv, Inc. (FISV) highlights, the Uniform P/E trades at 22.8x, which is around corporate average valuation levels but above its own recent history.
Average P/Es require average EPS growth to sustain them. In the case of Fiserv, the company has recently shown a 191% Uniform EPS growth.
Wall Street analysts provide stock and valuation recommendations that in general provide very poor guidance or insight. However, Wall Street analysts' near-term earnings forecasts tend to have relevant information.
We take Wall Street forecasts for GAAP earnings and convert them to Uniform earnings forecasts. When we do this, Fiserv's Wall Street analyst-driven forecast is a 39% shrinkage in 2020 and an 11% growth in 2021.
Based on current stock market valuations, we can use earnings growth valuation metrics to back into the required growth rate to justify Fiserv's $100 stock price. These are often referred to as market embedded expectations.
The company needs to have Uniform earnings grow by 16% each year over the next three years to justify current prices. What Wall Street analysts expect for Fiserv's earnings growth is below what the current stock market valuation requires.
Furthermore, the company's earning power is 15x the corporate average. While cash flows are 2x higher than its total obligations—including debt maturities, capex maintenance, and dividends, intrinsic credit risk is 100bps above the risk free rate. Together, this signals somewhat moderate credit and dividend risk.
To conclude, Fiserv's Uniform earnings growth is below peer averages in 2020. Therefore, as is warranted, the company is also trading below average peer valuations.

About the Philippine Markets Daily
"Thursday Uniform Earnings Tearsheets – Global Focus"
Some of the world's greatest investors learned from the Father of Value Investing or have learned to follow his investment philosophy very closely. That pioneer of value investing is Professor Benjamin Graham. His followers:
Warren Buffett and Charles Munger of Berkshire Hathaway; Shelby C. Davis of Davis Funds; Marty Whitman of Third Avenue Value Fund; Jean-Marie Eveillard of First Eagle; Mitch Julis of Canyon Capital; just to name a few.
Each of these great investors studied security analysis and valuation, applying this methodology to manage their multi-billion dollar portfolios. They did this without relying on as-reported numbers.
Uniform Adjusted Financial Reporting Standards (UAFRS or Uniform Accounting) is an answer to the many inconsistencies present in GAAP and IFRS, as well as in PFRS.
Under UAFRS, each company's financial statements are rebuilt under a consistent set of rules, resulting in an apples-to-apples comparison. Resulting UAFRS-based earnings, assets, debts, cash flows from operations, investing, and financing, and other key elements become the basis for more reliable financial statement analysis.
Every Thursday, we focus on one multinational company that's particularly interesting from a UAFRS vs as-reported standpoint. We highlight one adjustment that illustrates why the as-reported numbers are unreliable.
This way, we gain a better understanding of the factors driving a particular stock's returns, and whether or not the firm's true profitability is reflected in its current valuations.
Hope you've found this week's Uniform earnings tearsheet on a multinational company interesting and insightful.
Stay tuned for next week's multinational company highlight!
Regards,
Angelica Lim
Research Director
Philippine Markets Daily
Powered by Valens Research
www.valens-research.com
View All