This company's returns appear to be cooling down amid demand heating up, when in reality, its TRUE profitability is actually over 4x that at 30%!
September 30, 2020
Global warming has been a concern even before machines started taking over some of mankind's manual work in manufacturing. As more processes are automated, more energy is required. With higher energy consumption, especially when energy is not efficiently expended, more greenhouse gases are produced, contributing to worsening global warming conditions.
As the world heats up, more people require methods to cool down. This Chinese company, with its investments in R&D and innovation, is expected to benefit from the increasing demand for air conditioners.
However, as-reported metrics show that this company is producing returns that are consistently below or just around cost-of-capital levels. Its REAL profitability is better reflected with Uniform Accounting, where Uniform return on assets (ROA) is more robust than as-reported.
Also below, Uniform Accounting Embedded Expectations Analysis and the Uniform Accounting Performance and Valuation Tearsheet for the company.
Philippine Markets Daily:
Wednesday Uniform Earnings Tearsheets – Asia-listed Focus
Powered by Valens Research
In a 2018 report, the International Energy Agency (IEA) estimates that by 2050, global energy demand from air conditioners will triple. This is due to rising temperatures across the globe, higher median incomes, and increasing populations.
The IEA also estimates that by 2050, the world will have 1.6 billion more air conditioner units in buildings. With an expected 5.6 billion units in about 30 years, air conditioners are expected to place second in terms of demand for electricity.
It's not just businesses that need air conditioning. A study conducted by India-based Mordor Intelligence found that this growth in demand for air conditioners may be attributed to consumers starting to look at air conditioners as an essential part of their homes, no longer just a luxury.
With global warming already a large concern, using more electricity—and therefore contributing to more greenhouse gases—to cool the world seems like a vicious cycle.
Fortunately, technological advancements have allowed companies like Haier and Midea to innovate their products, such as the creation of the energy-saving inverter air conditioners. Inverters continuously regulate the room's temperature, efficiently controlling motor speed and reducing energy consumption.
Another example is by integrating smart technology into their product lines. As a result, consumers may find the need to upgrade their appliances to those that incorporate these new technologies.
One of the world's largest air conditioner manufacturers has been benefiting from this demand and has helped shape developments in the industry.
Gree Electric Appliances, Inc. of Zhuhai is an international air conditioning company that has integrated R&D, manufacturing, marketing, and servicing. Although the company has evolved to become a diversified global industrial brand with offerings such as other home appliances, communication equipment, and high-end equipment, the company has always been more focused on its air conditioner business.
The company caters to more than 160 countries and regions. In 2019, Gree Electric announced plans to further expand in the U.S. market by strengthening its training centers to enhance its sales and distribution networks to cover more states.
However, due to the pandemic, Gree Electric could no longer rely on its in-person sales and distribution networks to generate revenue. It had to redirect its efforts to its online channels if it wanted to service the rising consumer demand.
To establish its online presence, Gree Electric participated in a live streaming event hosted on Kuaishou, one of China's short-video and live streaming social platforms. In its first hour, the firm managed to sell CNY 100 million worth of units. At the end of three hours, Gree Electric sold CNY 310 million worth of its products, nearly as much as the CNY 350 million of online sales it generated for the whole of 2019.
As one of the biggest air conditioning companies, Gree Electric is expected to benefit from the growing demand for air conditioners. However, as-reported metrics indicate that its returns are just around cost-of-capital levels at 7%.
As-reported metrics are painting an inaccurate picture of Gree Electric's profitability. The company's real economic profitability is better reflected with Uniform Accounting adjustments, which shows its TRUE earning power.
What as-reported metrics fail to do is to consider the company's excess cash on the balance sheet. While most companies inherently need some level of cash to operate, the portion of that balance that is earning limited or no return—or excess cash—ends up diluting as-reported ROAs.
If excess cash remains included in the company's asset base when computing its performance metrics, the company's profitability and capital efficiency may appear weaker than it actually is.
From 2015 to 2019, when Gree Electric's Uniform ROA spiked, a significant amount of excess cash was sitting idly in its balance sheet, ranging from 10% to 16% of its unadjusted total assets.
After excess cash and other significant adjustments are made, the company actually had a 30% Uniform ROA in 2019, which is over 4x stronger than its as-reported ROA of 7%.
Gree Electric's valuations are cheaper than the corporate average
Gree Electric Appliances, Inc. of Zhuhai (000651:CHN) currently trades below corporate averages at a 15.1x Uniform P/E (blue bars), but above its as-reported P/E of 13.0x (orange bars).
At these levels, the market is pricing in expectations for Uniform ROA to fall sharply to 11% in 2024, accompanied by 10% Uniform asset growth going forward.
Analysts have less bearish expectations, projecting Uniform ROA to fall only to 21% levels in 2021, accompanied by a 1% Uniform asset growth.
Gree Electric's profitability is much better than you think it is
As-reported metrics are distorting the market's perception of the firm's profitability.
If you were to just look at as-reported ROA, you would think that the company is a weaker business than real economic metrics highlight.
Gree Electric's as-reported ROA has been significantly lower than its Uniform ROA in the past sixteen years. For example, as-reported ROA is 7% in 2019, drastically lower than its Uniform ROA of 30%. When Uniform ROA reached an all-time high of 40% in 2015, as-reported ROA was only 4%.
The company's Uniform ROA for the past sixteen years has ranged from 8% to 40%, while as-reported ROA ranged only from 2% to 8% in the same time frame.
From 8% in 2004, Uniform ROA gradually increased to 22% in 2009, before falling to 13% levels in 2011. It then peaked at 40% in 2015, before slowly declining back to 30% in 2019.
Gree Electric's Uniform earnings margins are weaker than you think but its robust Uniform asset turns make up for it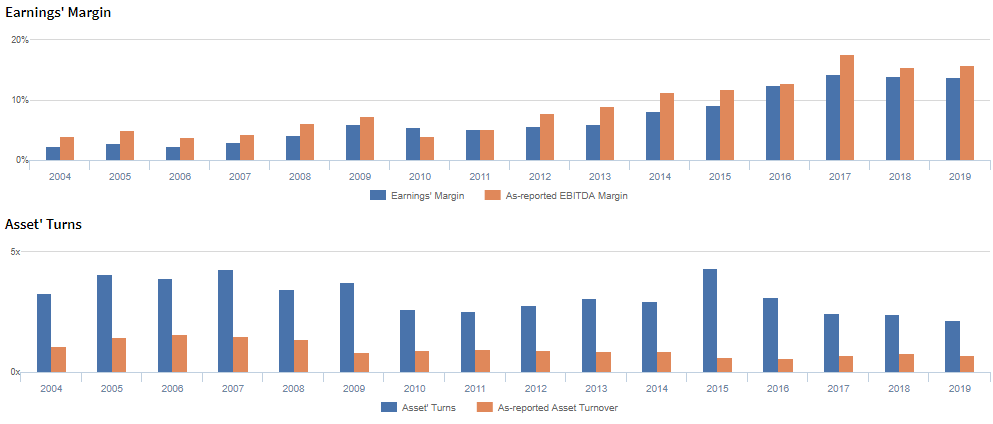 Volatility in Uniform ROA has been driven by trends in both Uniform earnings margins and Uniform asset turns, with peaks and troughs lining up historically with that of Uniform ROA.
Uniform earnings margins gradually increased from 2% in 2004 to 14% in 2017, remaining at these levels until 2019.
Meanwhile, Uniform asset turns increased from 3.3x in 2004 to 4.3x in 2007, before sliding to 2.5x in 2011. It then gradually recovered to 4.3x in 2015, before falling back again to 2.2x in 2019.
SUMMARY and Gree Electric Appliances, Inc. of Zhuhai Tearsheet
As the Uniform Accounting tearsheet for Gree Electric Appliances, Inc. of Zhuhai (000651:CHN) highlights, its Uniform P/E trades at 15.1x, which is below corporate average valuation levels but higher than its own recent history.
Low P/Es require low EPS growth to sustain them. In the case of Gree Electric, the company has recently shown a 5% Uniform EPS growth.
Sell-side analysts provide stock and valuation recommendations that in general provide very poor guidance or insight. However, sell-side analysts' near-term earnings forecasts tend to have relevant information.
We take sell-side forecasts for Chinese Accounting Standards (CAS) earnings and convert them to Uniform earnings forecasts. When we do this, Gree Electric's sell-side analyst-driven forecast is a 100% earnings shrinkage in 2020, followed by an immaterial growth in 2021.
Based on current stock market valuations, we can use earnings growth valuation metrics to back into the required growth rate to justify Gree Electric's CNY 54.11 stock price. These are often referred to as market embedded expectations.
The company can have Uniform earnings shrink by 12% each year over the next three years and still justify current prices. What sell-side analysts expect for Gree Electric's earnings is below what the current stock market valuation requires in 2020, but above that requirement in 2021.
The company's earning power is 5x the corporate average. Additionally, cash flows and cash on hand are more than 6x its total obligations—including debt maturities, capex maintenance, and dividends. Together, this signals low dividend and credit risk.
To conclude, Gree Electric's Uniform earnings growth is well below its peer averages in 2021. Additionally, the company is trading below its peer valuations.


About the Philippine Market Daily
"Wednesday Uniform Earnings Tearsheets – Asia-listed Focus"
Some of the world's greatest investors learned from the Father of Value Investing or have learned to follow his investment philosophy very closely. That pioneer of value investing is Professor Benjamin Graham. His followers:
Warren Buffett and Charles Munger of Berkshire Hathaway; Shelby C. Davis of Davis Funds; Marty Whitman of Third Avenue Value Fund; Jean-Marie Eveillard of First Eagle; Mitch Julis of Canyon Capital; just to name a few.
Each of these great investors studied security analysis and valuation, applying this methodology to manage their multi-billion dollar portfolios. They did this without relying on as-reported numbers.
Uniform Adjusted Financial Reporting Standards (UAFRS or Uniform Accounting) is an answer to the many inconsistencies present in GAAP and IFRS, as well as in PFRS.
Under UAFRS, each company's financial statements are rebuilt under a consistent set of rules, resulting in an apples-to-apples comparison. Resulting UAFRS-based earnings, assets, debts, cash flows from operations, investing, and financing, and other key elements become the basis for more reliable financial statement analysis.
Every Wednesday, we focus on one company listed in Asia that's relevant to the Philippines and that's particularly interesting from a UAFRS vs as-reported standpoint. We highlight one adjustment that illustrates why the as-reported numbers are unreliable.
This way, we gain a better understanding of the factors driving a particular stock's returns, and whether or not the firm's true profitability is reflected in its current valuations.
Hope you've found this week's Uniform Earning Tearsheet on an Asian company interesting and insightful.
Stay tuned for next week's Asia company highlight!

Regards,
Angelica Lim
Research Director
Philippine Markets Daily
Powered by Valens Research
www.valens-research.com
View All