ABSOLUT Success: Here's how one campaign reached the hearts and minds of millions of consumers in 1981! [Thursday: Gorillas of Guerrilla Marketing]
March 2, 2023
Miles Everson's Business Builder Daily speaks to the heart of what great marketers, business leaders, and other professionals need to succeed in advertising, communications, managing their investments, career strategy, and more.
A Note from Miles Everson:
Hello!
We're excited to talk about today's topic.
Each Thursday, we feature the giants of Guerrilla Marketing—an unconventional, engaging, impactful, and easy-to-execute marketing strategy. Campaigns of this type trigger emotional reactions from consumers so they can effectively remember a brand.
Today, we will discuss a good example of this marketing stunt.
Keep reading below to find out how one brand used a simple silhouette to captivate and connect with people from around the globe!
Miles Everson
CEO, MBO Partners
Chairman of the Advisory Board, The I Institute


Gorillas of Guerrilla Marketing
Wine, beer, and soda bottles—all of these usually have the same shape.
Think about this: When you come across a shelf of bottles, all you see are the same objects holding liquids. The only aspect distinguishing them are their printed labels.
Because of this, beverage brands would rather market their products by putting emphasis on their ingredients, or partnering with popular figures who could easily entice consumers in a matter of time.
Though these tactics were tried and tested, they lacked much of the essence of CREATIVITY.
One company saw this as an opportunity to play around the silhouette of a bottle to stand out from a conventional industry.
That company was…
Absolut!
Photo from Absolut
Absolut is a Swedish company that produces vodkas and distributes them in many parts of the world. Lars Olsson Smith, a Swedish politician and manufacturer of spirits, established the brand in 1879 and instilled uniqueness and quality service within the brand's objectives.
At first, Absolut sold its products, especially the Absolut Vodka line, only within Sweden. It was only in 1979 when the brand decided to enter the global market. During the production shift, the company knew it was going to compete with some of the well-established vodka manufacturers.
The problem?
Absolut Vodka barely stood out from the pack due to not being recognized outside Sweden, and because its bottle design was mediocre at best!
As a result, the company had to find an effective way to make a name for itself in a world full of established alcoholic beverage brands.
The Absolut Bottle: A Single Silhouette That Empowered Millions
Photo from ReferralCandy
In 1980, Absolut was just entering the U.S. market. It was also during that time when New York advertising agency TBWA was still fairly new. That year, Absolut approached TBWA to help create an advertising campaign that was "smart, stylish, contemporary, creative, unexpected, witty, and of superior quality" so the company could make a breakthrough in the foreign market.
Absolut's request for an unconventional campaign was mostly due to being surrounded by prominent brands like Gordon Vodka, Wolfschmidt Vodka, and Smirnoff, which used typical marketing tactics such as using celebrities or emphasizing on specific lifestyles to advertise their products.
Absolut didn't want to be like these brands so TBWA formulated an unconventional way to promote the brand's offerings.
How?
The marketing agency had adman Geoff Hayes sketch the first version of the ad containing a bottle and the tagline:
"Absolut. It's the perfect vodka."
This led to the debut of the ABSOLUT PERFECTION ad.
Photo from Smart Insights
This event gave birth to a campaign that saw 1,500 different Absolut Bottle ads following the same art style and ran for 25 years until 2006.
The campaign had one purpose in mind: To depict a MASSIVE silhouette of an Absolut Vodka bottle in different artistic styles while accompanied by a strong tagline written according to the theme of the ad.
These themes varied greatly. During one Christmas event, an ad portrayed a man carrying a large bottle while walking on snow. The tagline read: "Absolut 24th," pertaining to Christmas Eve.
Photo from Ad Forum
What's more?
The ad caught the interest of American visual artist Andy Warhol who created one of the most iconic Absolut print ads in 1986 (as shown below). This triggered a domino effect and inspired many other artists to focus on putting creativity and perfection within the figure of the Absolut Bottle.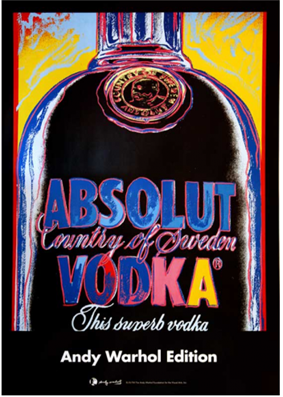 Photo from Poster France
Absolut knew its products can be a significant part of many people's lives. The only thing the company had to do was use the silhouette of its bottle and taglines in its ads, and add a background showing different cultures and areas such as the one below:
Photo from Absolut Gallery
Genius, right? Through this, Italian consumers who saw the ad were able to connect with Absolut's campaign!
Prior to the debut of the marketing stunt, Absolut only held a 2.5% share of the entire U.S. vodka market and sold 10,000 cases annually. 25 years later, when the campaign ended and after the creation of 1,500 bottle silhouette ads, Absolut had imported an average of 4.5 million cases per year and had taken a hold of 50% of the total imported vodka in the U.S. market.
Absolut also became the top vodka brand in America and the 4th largest spirits brand in the world. Numerous fanatics continued the trend of the bottle ads, and limited editions of Absolut Vodka bottles were manufactured for a short time in 2021.
All these were thanks to making one bottle the STAR of the show!
How Did The Bottle Find Absolut Success?
Though simple, the Absolut Bottle campaign had countless possible ideas.
Artists took the ABSOLUTE PERFECTION design and modified it to their own will. These modifications included a bottle and a tagline displayed in front of a background that's designed with various demographics, geographical locations, seasonal activities, current events, and known figures.
Absolut utilized current events or trends to reach out to a wider audience.
The taglines always consisted of two words–the word Absolut followed by the name of an event. By pairing the term, "Absolut" with another event, people were able to visualize the main idea within the ad.
Examples:
Absolut 19th – This pertained to the golf slang, "nineteenth."
Absolut 24th – This pertained to Christmas Eve.
Absolut Kick-off – This pertained to the 1998 World Cup.
Eventually, these consumers realized Absolut is not only a vodka manufacturer but also a promoter of big events.
Absolut delved deeper into the importance of the humanistic aspect of life.
By prioritizing the more human aspect of life, such as friends, emotions, and family, rather than focusing on the features and benefits of its vodka products, Absolut was able to establish a strong consumer-brand relationship.
Absolut created ads that essentialized culturalism.
Absolut created ads that covered regions like Paris, Manhattan, Norway, London, Naples, and Vienna. The brand knew by targeting those areas, it was capturing the attention of consumers belonging to different cultures. In turn, these individuals felt correlated with one another.
—
Absolut's guerrilla marketing stunt was simple and effective. Rather than taking advantage of popular figures or basic advertising strategies, the company knew the importance of standing out from the crowd.
By using a simple bottle and a tagline to reach the minds and hearts of consumers, Absolut was able to create a product that's unique and powerful.
We hope you learned a lot from today's "Gorillas of Guerrilla Marketing!"
The next time you see a dull bottle lying on the floor, remember that's the concept that made Absolut one of the biggest vodka brands in the globe.
So, strive to be a one-of-a-kind business too by doing something that's not normally done by other businesses.
Take this opportunity to be DIFFERENT!


(This article is from The Business Builder Daily, a newsletter by The I Institute in collaboration with MBO Partners.)


About The Dynamic Marketing Communiqué's
"Thursdays: Gorillas of Guerrilla Marketing"
Jay Conrad Levinson (1984) said that Guerrilla Marketing "works because it's simple to appreciate, easy to execute, and inexpensive."
Guerrilla Marketing is unconventional.
Looking beyond the traditional ways of advertising, marketers, and advertisers need to spice things up in order for their brand to have campaigns that not only make an impact but also stick to their target market's mind.
Guerrilla Marketing usually aims to have direct contact with consumers.
This type of direct contact should spark an emotional reaction that leads to consumers effectively remembering the brand.
It's about making a big impression and making that impression last a long time (if not forever).
Guerrilla Marketing can be inexpensive.
The effect of this is being able to create a buzz around the brand, and the strategy used to market it. Almost everything is passed around through word-of-mouth.
Word-of-mouth is one of the greatest outcomes and it usually doesn't cost anything.
This is every business' or brand's dream!
Every Thursday, we publish tips, examples, and other useful content on unconventional ways of marketing and promotion.
Learn more about how to grab your target market's attention and make an amazing first and lasting impression without having to spend a lot of money.
Businesses don't really need to spend much for a guerrilla campaign. You do not need a big budget to be successful. You just need creativity and a good imagination.
Hope you've found this week's guerrilla marketing insight interesting and helpful.
Stay tuned for next Thursday's Gorillas of Guerrilla Marketing!


Cheers,
Kyle Yu
Head of Marketing
Valens Dynamic Marketing Capabilities
Powered by Valens Research
www.valens-research.com
View All