Are you "LOVIN' IT?" Eat to your own beat with this fast food chain's fun musical campaign! [Fridays: Gorillas of Guerrilla Marketing]
July 9, 2021
Music has a positive impact on a lot of people.
It helps boost one's memory, lightens someone's mood, and lessens feelings of anxiety.
As a business owner or marketer, do you know you can use music in unconventional ways to connect your brand with your target market?
Check out how one global fast food chain did that to boost its Dutch customers' in-store dining experience in 2016!
McDonald's is an American fast food company that operates in different parts of the world. The brand is known for its burgers, fries, chicken products, and other breakfast items.
Aside from offering food items that a lot of consumers "love," McDonald's is known for creating guerrilla marketing campaigns that generate all-time buzz.
One of those campaigns?
The "McTrax Playable Placemats" Campaign in April 2016!
Conceptualized with the help of advertising agency TBWA/Neboko and digital agency This Page Amsterdam, McDonald's brought its paper placemats to life by enabling Dutch customers to "eat to their own beat" using the McTrax.
How was this made possible?
This Page knew from previous experiments that there was a special ink that conducts electricity. To make this plan real for the McDonald's campaign in the Netherlands, This Page contacted technology company Novalia in the UK to learn a few techniques on how to make a piece of paper interactive.
By using conductive ink to print on paper and connecting the ink to a tiny circuit board, This Page was able to turn McDonald's paper placemats into a fun music studio!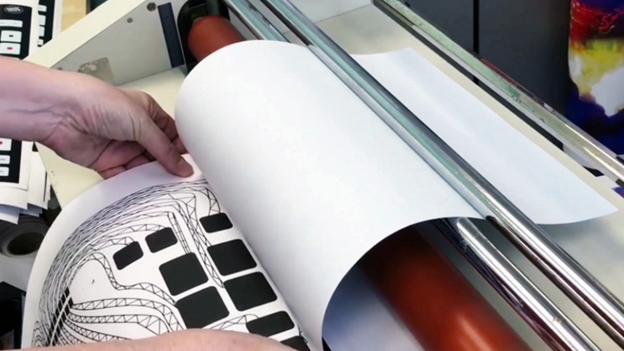 P.S. The tiny circuit board was designed to connect to a device via Bluetooth―the perfect solution for customer engagement with the campaign!
With 26 digital touchpoints offering in-house produced audio loops, synthesizers, and other musical effects, the McTrax gave customers a good time by letting them jam to their own beat while eating their favorite McDonald's products.
Once customers connected their smartphones to the playable placemats via Bluetooth, they were able to download the McTrax app, create and record their own music, and use their mobile devices as speakers.
Imagine immersing yourself in your own world of music while gobbling your favorite McDonald's meal… ah, that would be an AWESOME way to spend your time in-store!
The fast food chain's initial idea was to use the plastic tray and put "real keys" on it so it could be used as a piano. However, TBWA/Neboko said the idea wasn't realistic because it couldn't be mass-produced and would have been too expensive.
That led to using paper placemats as a tool to interact with McDonald's customers instead.
Was the McDonald's "McTrax Playable Placemats" Campaign Effective?
McDonald's Netherlands only executed the campaign FOR JUST ONE DAY and yet, the campaign gained the attention of a lot of people worldwide!
In fact, several websites such as AdWeek, Campaign, Vice, Fast Company, Engadget, and DjMag featured the McTrax in their articles.
Take a look at some news websites' comments about the brand activation:
"Who's lovin' it? McDonald's entered the world of beat making!" – Chew.TV
"The coolest stuff at McDonald's restaurants." – iHeartRadio
"Big Mix and Fries!" – Mail Online
"Bang out tunes while you dine!" – Fortune
Some even asked McDonald's to conduct a worldwide rollout of the McTrax so people from around the world, not just in the Netherlands, could also experience the playable placemats.
Here are other results recorded after the McDonald's one-day guerrilla marketing campaign:
The McTrax gained over 351 million Twitter impressions.
McDonald's garnered more than 6 million media impressions.
The campaign drew the attention of over 50% of Dutch teens and motivated them to dine at McDonald's to get their own McTrax.
Then, in 2016, TBWA/Neboko and This Page won a Bronze award at the Cannes Lions, a Silver award at the Art Directors Club Netherlands, a Silver award at Eurobest, Silver and Bronze awards at the Lovie Awards, and a Mobile of The Day award at The FWA for the "McTrax Playable Placemats" Campaign.
Through these numbers and awards, we can see that the McDonald's guerrilla marketing campaign was effective in generating buzz and capturing the attention of millions of consumers!
It's always been a part of the fast food chain's goals to make sure its customers do not experience even a minute of boredom while dining in-store.
… and McDonald's knows that to earn the support and loyalty of customers, it needs to give something first―preferably the "right something."
With the McTrax, that "right something" was turning something functional (placemat) into one's fun music studio.
Get inspired with McDonald's take on incorporating functionality with fun!
With the right tools, creative strategies, and execution, you'll be able to create a buzz-worthy campaign that makes a lasting impression and positive brand recall on your target market.
"We are most proud of the 'McTrax Effect.' The enjoyment of watching people of all ages using the McTrax. Awesome to see, time and time again." – Darre van Dijk, TBWA/Neboko's Chief Commercial Officer


About The Dynamic Marketing Communiqué's
"Fridays: Gorillas of Guerrilla Marketing"
Jay Conrad Levinson (1984) said that Guerrilla Marketing "works because it's simple to appreciate, easy to execute, and inexpensive."
Guerrilla Marketing is unconventional.
Looking beyond the traditional ways of advertising, marketers, and advertisers need to spice things up in order for their brand to have campaigns that not only make an impact but also stick to their target market's mind.
Guerrilla Marketing usually aims to have direct contact with consumers.
This type of direct contact should spark an emotional reaction that leads to consumers effectively remembering the brand.
It's about making a big impression and making that impression last a long time (if not forever).
Guerrilla Marketing can be inexpensive.
The effect of this is being able to create a buzz around the brand, and the strategy used to market it. Almost everything is passed around through word-of-mouth.
Word-of-mouth is one of the greatest outcomes and it usually doesn't cost anything.
This is every business' or brand's dream!
Every Friday, we publish tips, examples, and other useful content on unconventional ways of marketing and promotion.
Learn more about how to grab your target market's attention and make an amazing first and lasting impression without having to spend a lot of money.
Businesses don't really need to spend much for a guerrilla campaign. You do not need a big budget to be successful. You just need creativity and a good imagination.
Hope you've found this week's guerrilla marketing insight interesting and helpful.
Stay tuned for next Friday's Gorillas of Guerrilla!
Cheers,
Kyle Yu
Head of Marketing
Valens Dynamic Marketing Capabilities
Powered by Valens Research
www.valens-research.com
View All