"Arf!" "Meow!" Find out how this company's sales and marketing strategies help send its message to customers by EXPRESS! [Monday Marketing Marvels]
December 7, 2020
There are a lot of health benefits to owning a pet.
―it lowers stress levels, eases feelings of loneliness, decreases blood pressure, increases opportunities for outdoor activities, and provides companionship, just to name a few.
There are also a lot of responsibilities to owning a pet.
―feeding it, bathing it, taking it out on walks, and bringing it to the vet for checkups, just to name a few.
What if suddenly…
Your pet falls ill or catches a tick, flea, or other harmful parasites…
(knock on wood)
… who can you call for help?
1-800-PetMeds!
PetMed Express, Inc., or PetMeds, is America's largest pet pharmacy. Since its establishment in 1996 by anesthesiologist Marc Puleo, the company markets prescription and non-prescription pet medications and other health products for dogs, cats, and horses.
Some of PetMeds' well-known brands include Frontline Plus, K9 Advantix, Heartgard Plus, Sentinel, and Interceptor. It competes with other high-end vet clinics in terms of pricing, availability of products, speed of product delivery, and online presence.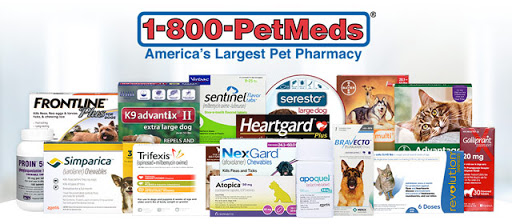 What sets PetMeds apart from the rest?
Its three-pronged sales strategy: Digital platforms, telephone contact center, and direct mail.
Digital Platforms
PetMeds aims to deliver a convenient and personalized online shopping experience for customers.
How?
By combining product selection and pet health information on their digital platforms.
The PetMeds website contains a variety of product selections for dogs, cats, and horses, as well as relevant editorials.
It also gives pet owners access to a wide range of information about pets' behaviors, illnesses, and natural and pharmaceutical remedies for a specific pet problem.
PetMeds also launched a mobile app with features that include:
"Ask The Vet" live web chat
Easy refill medication reminders
Local veterinarian finder
Express checkout
Telephone Contact Center
PetMeds' telephone system is equipped with features and an organized system that give its customer care representatives the ability to efficiently utilize their time and provide excellent customer care, service, and support.
These representatives are in charge of receiving and processing inbound and outbound calls from customers, facilitating a live web chat, and responding to customer emails.
Direct Mail/Print
PetMeds hands out brochures and postcards to customers as part of its direct mail campaigns. It uses these printed materials as a way to acquire new customers and remind existing customers to reorder pet products.
Aside from its sales strategy, the company also implements an integrated marketing strategy that aims to:
Establish brand recognition
Increase customer traffic on its website
Build strong customer loyalty
Maximize reorders
Develop incremental revenue opportunities
There are two main platforms that PetMeds uses to market its products to consumers:
Online Marketing

The company utilizes targeted keywords and strives to achieve top placements on different search engine networks to make its brand known to Internet users.

Other ways for PetMeds to establish its online presence are through Internet display and video advertisements, social media, and comparison shopping.

The company also takes advantage of affiliate programs with merchant clients and affiliate websites to further connect with its target market.

Television Advertising

PetMeds' TV advertising is designed to build brand equity, create brand awareness, and generate initial product purchases through the telephone or Internet.

Primarily, the company's TV commercials focus on its ability to quickly deliver the same medications offered by veterinarians, but at cheaper prices.

Its recent TV commercial titled, "You can trust 1-800-PetMeds," speaks to pet owners about the savings and convenience of purchasing pet medications from 1-800-PetMeds.

Other commercials include "Pets Are Family Too" and "Even Your Pet Knows."
"A Pet Care Partner in Your Pocket"
PetMeds has a clear vision for its products…
…it is constantly striving to implement strategies that will help revitalize its top line. These strategies will focus on advertising efficiency to boost new orders, shift sales to higher margin items, and expand product offerings.
PetMeds President and CEO Menderes Akdag also said that in the fiscal year 2021, the company will focus on redesigning its website and mobile app to further enhance customers' digital experience.
Since 2017, PetMeds has been using its website and mobile app to market its products to consumers and inform them about new product releases.
If you haven't heard about it yet, the 1-800-PetMeds Mobile App has a lot of fun and interesting features such as:
Fast and easy shopping for your pet medication needs and supplies
Free expert veterinary advice
Personalized pet profiles
Medication refill notifications and other reminders
A pet education library
Social media interactions with the PetMeds community – participate in raffle draws, online events, and other social media contests
The app is available to pet owners in the US and downloadable for FREE via the Apple App Store and Google Play Store.
In the past five years, PetMed Express, Inc. has recorded a revenue of:
USD 234.7 million in 2016
USD 249.2 million in 2017
USD 273.8 million in 2018
USD 283.4 million in 2019
USD 284.1 million in 2020
By having a clear set of priorities and marketing implementation strategies, PetMeds establishes a positive reputation and matches the standards of its other vet competitors.
PetMed Express, Inc.'s Earning Power: Valens Research vs. As-reported numbers
PetMed Express, Inc. (PETS) makes for a great case study that we come back to regularly. One great reason?
The company has proven itself to be a better earning power generator than investors might think.
So, how well has PETS been growing its business in the past years?
The research doesn't lie—nor do the results. Earning power (the blue bars) continues to show results higher on average than what traditional databases show.
The blue bars in the chart above represent PETS' earning power (Uniform Return On Assets). PETS has seen robust profitability. Its Uniform ROA ranged between 34% to 85% in the past sixteen years, or an average of about 60%. Its Uniform ROA is at 85% in 2019.
The global ROA is just 6%.
The orange bars are the company's as-reported financial information. If you relied on these numbers, you will see a company with understated profitability. As-reported ROA (return on assets, a measure of earning power) ranges from 17% to 42% in the past sixteen years. Its ROA in 2019 was only at 20%, far lower than its Uniform ROA in 2019.
That's what you'll see in Yahoo Finance, Google Finance, and most other databases.
The company's stock price also performed better than the rest of the stock market over the decade, which we can see in the blue line in the chart below. Its returns have been well above the market.
The numbers show that PetMeds has been doing well and making a profit.
Just like what it says in one of its TV commercials, you can trust PetMeds because it has an online veterinary pharmacy verification by the National Association of Boards of Pharmacy and its vets are certified pet experts.
As a measure of its commitment to your animal companions' well-being, it only dispenses US FDA/EPA approved medications so that…
You can give your pets the love and care they deserve because they are family too!


About The Dynamic Marketing Communiqué's
"Monday Marketing Marvels"
Too often, industry experts and the marketing press sing the praises of some company's marketing strategy.
…Only for the audience to later find out that their product was a flop, or worse, that the company went bankrupt.
The true ROI in marketing can't be separated from the business as a whole.
What good is a marketing case study if one can't prove that the company's efforts actually paid off?
At the end of the day, either the entire business is successful or it isn't. And the role of marketing is always paramount to that success.
Every Monday, we publish a case study that highlights the world's greatest marketing strategies.
However, the difference between our case studies and the numerous ones out there, is that we will always make certain that the firm really did generate and demonstrate earning power worthy of study in the first place (compliments of Valens Research's finance group).
By looking at the true earnings of a company, we can now rely on those successful businesses to get tips and insights on what they did right.
We'll also study the greatest marketing fails and analyze what they did wrong, or what they needed to improve on. We all make our mistakes, but better we learn from others' mistakes—and earlier, rather than later.
Hope you found this week's marketing marvel interesting and helpful.
Stay tuned for next week's Monday Marketing Marvels!

Cheers,
Kyle Yu
Head of Marketing
Valens Dynamic Marketing Capabilities
Powered by Valens Research
www.valens-research.com
View All