Buildings! Buildings! Buildings! How did this company remain on top of the competition in the real estate industry? [Monday Marketing Marvels]
July 27, 2020
Townships
Residences
Premier Offices
Hotels
Lifestyle Malls
All these by only one company!
THE MEGAWORLD CORPORATION
The company started out as Megaworld Properties & Holdings Inc. It was founded by Andrew Tan on August 24, 1989 in the Philippines.
The company initially focused on real estate development, leasing, and marketing.
In 1996, it also focused on providing office buildings to support BPO businesses.
On August 19, 1999, the company changed its corporate name to what we know today to coincide with its conversion from a purely real estate company into a holding company. Despite the change, Megaworld continues to focus on its core competence in real estate development.
What strategies did the company do to stand out in the real estate market through the years?
Innovation on Property Development
Megaworld anticipated market trends earlier than other companies in the Philippine property development industry.
These trends helped plan and design its property developments accordingly.
Due to the growing demand for community township developments, particularly for middle income buyers, the company was the first among all real estate companies to introduce flexible design options and payment plans to its target consumers.
It was also the first to develop offices with the infrastructure capable of supporting expanding IT and BPO businesses.
That was in 1996 in Eastwood City.
Later in 1999, the company also built the Eastwood City Cyberpark, which became the first IT park in the Philippines to be designated a PEZA (Philippine Economic Zone Authority) special economic zone.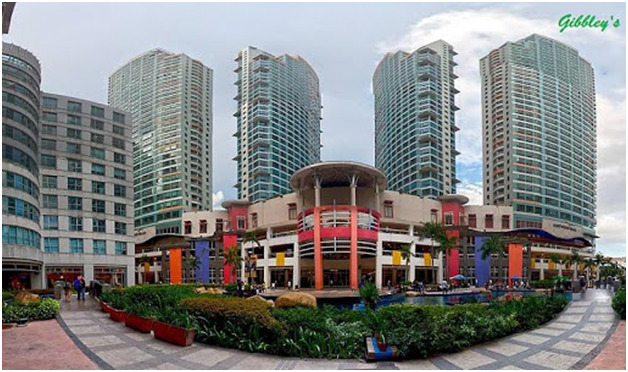 Megaworld also developed the Manhattan Heights in 2015.
It was the first major mass transit-oriented residential community in the Philippines with inter-connections to two main mass transit systems and a land transportation hub.
Some of the firm's famous property developments in Metro Manila:
Eastwood City
Forbes Town Center
McKinley Hill
Newport City
Uptown Mall – Uptown Bonifacio
Megaworld built high-caliber buildings, communities, and cyberparks not just in Metro Manila, but also in different emerging provinces in the country like:
Boracay Newcoast in Aklan
Iloilo Business Park in Iloilo
Suntrust Ecotown in Cavite
Davao Park District in Davao
Shifted from Traditional Advertising to Digital Solutions
Digital marketing has played an important role in businesses, big or small, since the 1990s.
"The company has begun shifting from traditional advertising methods to digital solutions—online promotions on social media, blogs, and websites in the marketing strategy. Almost all segments of our consumers in the Philippines are on social media and we want to be where our target markets are. With the growing competition of real estate in the country, we are utilizing the online space to spread our creativity and be ahead of other companies."
— Harold Geronimo, AVP and Head of Public Relations and External Affairs for Megaworld, 2017
Through the use of social media, the company reached more of its target market and potential clients.
Over the years, Megaworld has received a lot of awards and recognitions, both locally and internationally.
Some of these are:
Top Developer in the Philippines (2019) – BCI Asia Awards
Best Developer of the Year in Philippines Property Awards 2016
Asia's Best CEO and Best Investor Relations in the 2014 Corporate Governance Asia's 4th Asian Excellence Awards
Philippines' Best Company for Leadership in Property Management by IAIR (2014)
Gold Awardee on the Investor Relations, Corporate Governance, and Financial Performance in the 2013 Asset Excellence in Management and Governance Awards
Overall Best Managed Company and Best in Investor Relations in the Philippines in the Asia Money Polls (2007)
Best Investor Relations in the Singapore Market by a Philippine Company by IR Magazine (Singapore, 2007)
Philippines Best Managed Company, Most Committed to Corporate Governance, and Best in Investor Relations by Finance Asia (2007)
For the past 5 years, the company has reported a net income of:
PHP 10.2 billion in 2015
PHP 11.5 billion in 2016
PHP 13.1 billion in 2017
PHP 15.2 billion in 2018
PHP 17.9 billion in 2019
All of Megaworld's achievements have developed a strong brand name and reputation as one of the Philippines' leading property developers with the credibility of providing high quality developments.
Megaworld Corporation's Earning Power: Valens Research vs. As-reported numbers
Megaworld Corporation makes for a great case study that we come back to regularly. One great reason?
The company has proven itself to be able to generate earning power higher than what investors might think.
So, how well has Megaworld Corporation been growing its business in the past years?
The research doesn't lie—nor do the results. Earning power (the blue bars) continues to show results much higher than what traditional databases show.
The blue bars in the chart above represent Megaworld Corporation's earning power (Uniform Return On Assets). These numbers have been positive, averaging at about 6% over the past fifteen years.
The orange bars are the company's as-reported financial information. If you relied on these numbers, you won't see the 6% Uniform ROA (return on assets, a measure of earning power) for 2018. You'd just see the company report less than that, at 5% as-reported ROA.
That's what you'll see in Yahoo Finance, Google Finance, and most other databases.
The company's stock price also performed better than the rest of the stock market over the decade, which we can see in the blue line in the chart below. Its returns have been well above the market.
The numbers show that it has been doing well and making a profit.
Megaworld continues to build and innovate while keeping customer needs in mind.
By delivering high quality projects on time and providing professional property management and after-sales services, the company guarantees customer satisfaction.
To be the top developer in the country, Megaworld definitely maintained excellence in its marketing and business efforts!


About The Dynamic Marketing Communiqué's
"Monday Marketing Marvels"
Too often, industry experts and the marketing press sing the praises of some company's marketing strategy.
…Only for the audience to later find out that their product was a flop, or worse, that the company went bankrupt.
The true ROI in marketing can't be separated from the business as a whole.
What good is a marketing case study if one can't prove that the company's efforts actually paid off?
At the end of the day, either the entire business is successful or it isn't. And the role of marketing is always paramount to that success.
Every Monday, we publish a case study that highlights the world's greatest marketing strategies.
However, the difference between our case studies and the numerous ones out there, is that we will always make certain that the firm really did generate and demonstrate earning power worthy of study in the first place (compliments of Valens Research's finance group).
By looking at the true earnings of a company, we can now rely on those successful businesses to get tips and insights on what they did right.
We'll also study the greatest marketing fails and analyze what they did wrong, or what they needed to improve on. We all make our mistakes, but better we learn from others' mistakes—and earlier, rather than later.
Hope you found this week's marketing marvel interesting and helpful.
Stay tuned for next week's Monday Marketing Marvels!
Cheers,
Kyle Yu
Head of Marketing
Valens Dynamic Marketing Capabilities
Powered by Valens Research
www.valens-research.com
View All