Check out how this EXPLOSIVE marketing campaign helped one video game gain 12 million new players! [Fridays: Gorillas of Guerrilla Marketing]
November 26, 2021
Imagine this scenario:
As you are walking through a street in New York, a photographer asks you to take a look at a sci-fi-esque gun they're promoting for a game.
The photographer lets you hold the gun and take pictures, but there's just one rule:
You should NEVER EVER try to pull the gun's trigger.
Simple, right?
…but what if you mistakenly pulled the trigger and cut a nearby car in half? 😱
Wee-ooh-wee-ooh-wee-ooh!
Oh, boy. We can now hear the blaring police siren from afar heading towards YOU!
Warframe is a free-to-play third person shooter multiplayer game developed by a video game studio in Canada named Digital Extremes.
In 2019, Digital Extremes took Warframe's marketing to new heights by staging a public photoshoot for the game's most prolific gun, the Opticor.
The campaign team then invited passersby in New York City to hold the gun and take photos with it.
What the public didn't know was that the entire photoshoot was a prank waiting to be "triggered"…
After taking photos with the Opticor gun, involved passersby suddenly found themselves facing the probability of jail time.
Oh no. What happened?!
They accidentally cut a nearby police car and mailbox in half using the Opticor!
*Gasps*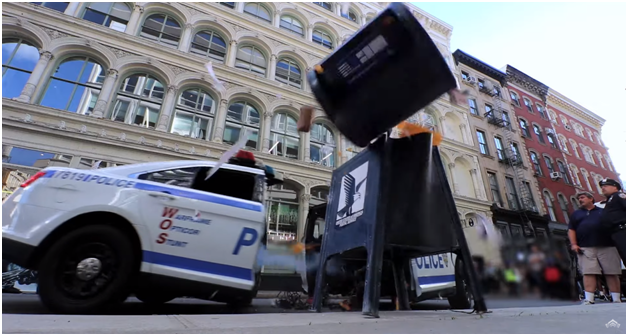 Don't panic.
Unbeknownst to the public, the gun, mailbox, and police car were rigged. Once unsuspecting passersby pointed the Opticor gun towards the road where the police car was parked, someone from the staff would activate the remote system from afar, making everybody within the vicinity of the photoshoot think the gun holder pulled the trigger.
This made prank victims want to run away after such an embarrassing experience!
Ingenious marketing strategy, right?
This prank effectively demonstrated how powerful the Opticor gun is in the Warframe universe, making people curious about what the game is all about.
Check out the campaign's video, which was uploaded on YouTube and Facebook, here: Digital Extremes' Warframe Video Game Weapon Prank
Was Digital Extremes' Warframe prank effective?
The guerrilla marketing campaign was a huge success thanks to the undeniable influence of social media. With a viral video accompanying the campaign, Digital Extremes and Warframe recorded these results:
After the duration of the campaign, Steam, a video game digital distribution service, recorded a 31% spike in Warframe's concurrent players in July 2019.
Warframe reached the 50 million registered players milestone! From 2013 to 2018, the video game only had around 38 million players. With the help of the guerrilla marketing campaign in 2019, Warframe gained 12 million new users!
Warframe got nominated in The 2019 Steam Awards' "Labour of Love" category due to the popularity boost from its ingenious marketing strategy.
The marketing campaign's video recorded around 30 million views (Facebook and YouTube combined) just days after it was released. The campaign also garnered global media coverage, which helped motivate global gamers to try Warframe.
Now that's what you call explosive results. Well-played, Digital Extremes!
Michael Krivika, the creative director for this campaign, told SYFY wire that Digital Extremes only asked him to help achieve one objective:
"To do a big, bold, and crazy stunt that would bring an element of Warframe to life in the real world."
… and the company definitely delivered! This campaign not only raised awareness about the Warframe game, but also gave many consumers a first-hand experience of one of the weapons used in the game.
Bravo, Digital Extremes! You guys deserve a standing ovation for this bold stunt!
Not a lot of brands can successfully pull off an adrenaline-fuelled campaign like this, but one thing to learn from this is as a business owner or marketer, you need to remember the relation between your brand's offerings and the marketing strategy you have in mind.
Get motivated with Digital Extremes' efforts and promote your business with a fun brand activation that is in tune with your product!
With proper planning and execution, you'll be able to make a BANG and leave a positive, lasting impression in your target market's minds.
Time to get your head in the game!


About The Dynamic Marketing Communiqué's
"Fridays: Gorillas of Guerrilla Marketing"
Jay Conrad Levinson (1984) said that Guerrilla Marketing "works because it's simple to appreciate, easy to execute, and inexpensive."
Guerrilla Marketing is unconventional.
Looking beyond the traditional ways of advertising, marketers, and advertisers need to spice things up in order for their brand to have campaigns that not only make an impact but also stick to their target market's mind.
Guerrilla Marketing usually aims to have direct contact with consumers.
This type of direct contact should spark an emotional reaction that leads to consumers effectively remembering the brand.
It's about making a big impression and making that impression last a long time (if not forever).
Guerrilla Marketing can be inexpensive.
The effect of this is being able to create a buzz around the brand, and the strategy used to market it. Almost everything is passed around through word-of-mouth.
Word-of-mouth is one of the greatest outcomes and it usually doesn't cost anything.
This is every business' or brand's dream!
Every Friday, we publish tips, examples, and other useful content on unconventional ways of marketing and promotion.
Learn more about how to grab your target market's attention and make an amazing first and lasting impression without having to spend a lot of money.
Businesses don't really need to spend much for a guerrilla campaign. You do not need a big budget to be successful. You just need creativity and a good imagination.
Hope you've found this week's guerrilla marketing insight interesting and helpful.
Stay tuned for next Friday's Gorillas of Guerrilla!


Cheers,
Kyle Yu
Head of Marketing
Valens Dynamic Marketing Capabilities
Powered by Valens Research
www.valens-research.com
View All