Check out how this pizza company scored a GOAL with a FUNtastic and DOUGHlicious campaign! [Thursdays: Gorillas of Guerrilla Marketing]
December 22, 2022
Miles Everson's Business Builder Daily speaks to the heart of what great marketers, business leaders, and other professionals need to succeed in advertising, communications, managing their investments, career strategy, and more.
A Note from Miles Everson:
Hello, everyone! Welcome to today's edition of "Gorillas of Guerrilla Marketing."
For those of you who aren't familiar with guerrilla marketing yet, it is an unconventional, engaging, impactful, and often easy-to-execute marketing strategy. According to Jay Conrad Levinson, campaigns of this type spark an emotional reaction that enables consumers to remember a brand.
I personally like guerrilla marketing campaigns because they remind me that there are lots of creative ways to advertise a brand and engage with customers.
Today, allow us to share with you an example of a FUNtastic guerrilla marketing stunt.
Read on to know how this multinational pizza chain hyped up football fans in the U.K. with a new and tasty product in 2018.
Miles Everson
CEO, MBO Partners
Chairman of the Advisory Board, The I Institute

Gorillas of Guerrilla Marketing
What's your go-to meal or snack every time you watch your favorite sports team's match on TV?
Potato chips?
French fries?
Burgers?
According to a study from journalism.co.uk, in the U.K., football fans' favorite match day meal is pizza, with 70% of fans saying it factors in their game day diet. The study has also found that British World Cup fans contribute around GBP 350 million to the country's economy per match day.
That's HUGE!
With the insight above, one multinational pizza chain used the 2018 World Cup as an opportunity to connect with British football fans.
The name of that company?
Domino's!
Domino's is a global pizza chain founded in 1960 and headquartered in Ann Arbor, Michigan. It has over 15,000 stores in more than 83 countries worldwide.
In 2018, the company was inducted into the Queensland Business Leaders Hall of Fame. This is a yearly initiative that recognizes the outstanding public contributions made by businesses in the areas of economic and social developments.
A New Pizza for the World Cup
As one of the leading pizza brands in the U.K., Domino's is known for its quick delivery time and enthusiastic marketing. It has established itself as a go-to pizza place for consumers through creative marketing, and made itself famous for incorporating local culture in its menu.
For instance: To capture Indian customers' attention, Domino's India customized some of its menu items and named them "Taco Indiana," "Peppy Paneer Pizza," and more. As a result, the brand effectively created an irresistible offer for its Indian customer base.
Today, we'll talk about how Domino's hyped up British football fans in 2018 with a limited-edition pizza. The menu item was called…
The "Meatfielder" pizza!
Photo from Irish Mirror
The "Meatfielder" was a DOUGHlicious pizza packed with pepperoni, ham, chorizo, pork meatballs, smoked bacon, and Domino's secret sauce. Referencing the term, "midfielder," the meatballs were deliberately placed at the center of the dough—similar to the playing position of actual midfielders in the World Cup.
The pizza was designed to celebrate the kickoff of the international football association in June 2018. Domino's added the product to its menu as demand for pizza was expected to soar during the World Cup's run.
So… how did Domino's generate awareness about the "Meatfielder" pizza?
Aside from putting up posters of the product in stores across the U.K., the company posted photos of the pizza on its website and social media accounts. To add a sense of urgency, the posts' captions included details that the limited-edition pizza would only be available throughout the 2018 World Cup season.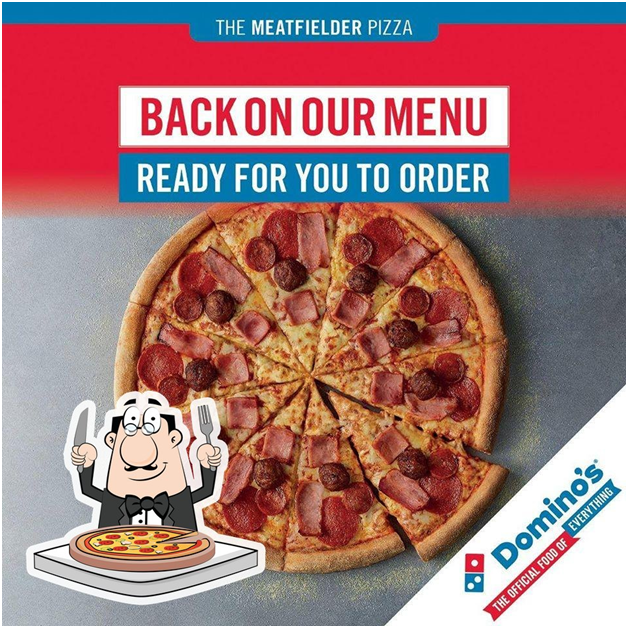 Photo from Restaurant Guru
What's more?
Domino's announced there was even a way to get the "Meatfielder" pizza for FREE! All consumers had to do was collect all the 11 "Pizzanini" stickers that contained football-inspired twists of Domino's classics, such as:
Pepereina Passion
Atuna Delight
Mascherlano
Meatfielder
American Hotamendi
Vegi Stonesler
Romaldo
James & Pineapple
Higwaiian
Vegi Volkaneo
Mighty Messi
Photo from Irish Mirror
Only 10 "Pizzanini" sticker collections per day were sold at TheOfficialFoodOfEverything.co.uk website during the World Cup season, and they were available on a first come, first served basis.
This meant British football fans had to be quick to check out the website for the stickers and get the chance to have a free "Meatfielder" pizza! Otherwise, they'd have to wait the next day to try their luck at buying the special-edition "Pizzanini" stickers, or just directly buy the "Meatfielder" pizza from Domino's.
The guerrilla marketing strategy was launched in over 1,000 Domino's stores across the U.K. and satisfied over 350,000 hungry British football fans.
Was Domino's "Meatfielder" pizza guerrilla marketing campaign effective?
Due to high demand for the "Meatfielder" pizza, Domino's hired an extra 230 workers to help serve up the menu to football fans. Numerous customers in the U.K. ordered the limited-edition product in-store and online to show their dedication to watching World Cup matches.
Here are the results of the guerrilla marketing strategy:
Domino's sold 346 "Meatfielder" pizzas every 6 seconds of every day during the World Cup season.
The "Meatfielder" pizzas sold throughout the tournament were equivalent to over 122 football pitches, according to Mirror.co.uk.
More than 60 million slices of pizza were eaten during Domino's football-themed guerrilla marketing campaign.
Domino's year-on-year (YoY) sales grew by 13% in June 2018.
Domino's became "The Official Food of the World Cup in the U.K." due to its guerrilla marketing success throughout the 2018 World Cup season.
Clearly, these numbers and recognitions show that Domino's "Meatfielder" guerrilla marketing stunt was a hit among British football fans!
Kudos to the pizza company and its entire campaign team!
—
Domino's guerrilla marketing campaign showed the importance of adapting to various local cultures and events to ensure it delivers products that customers find appealing, enjoyable, and valuable.
Think about the "Meatfielder" pizza: By offering British customers a one-of-a-kind, limited-edition pizza, Domino's didn't only get them into the football spirit but also enabled them to bond with their families and friends over food, while watching their favorite football team on TV.
As David Wild, the former CEO of Domino's, said:
"Our strong performance on England match days was no surprise to us. Domino's does well whenever families and friends get together to enjoy big sporting events, and the World Cup has no equal. Selling every six seconds, driven by our fantastic marketing campaigns, our freshly handcrafted pizzas proved to be the perfect topping to a great game of football. The majority of England's games either kicking off as the nation sat down to dinner or ending at tea-time was a timely win for us."
Get inspired by Domino's FUNtastic and DOUGHlicious football-themed guerrilla marketing strategy!
With sufficient knowledge about your customer base, you will deliver offerings they will not only enjoy and find valuable, but also remember for a long time.
Start planning your own unconventional marketing tactics and score that goal!

(This article is from The Business Builder Daily, a newsletter by The I Institute in collaboration with MBO Partners.)

About The Dynamic Marketing Communiqué's
"Thursdays: Gorillas of Guerrilla Marketing"
Jay Conrad Levinson (1984) said that Guerrilla Marketing "works because it's simple to appreciate, easy to execute, and inexpensive."
Guerrilla Marketing is unconventional.
Looking beyond the traditional ways of advertising, marketers, and advertisers need to spice things up in order for their brand to have campaigns that not only make an impact but also stick to their target market's mind.
Guerrilla Marketing usually aims to have direct contact with consumers.
This type of direct contact should spark an emotional reaction that leads to consumers effectively remembering the brand.
It's about making a big impression and making that impression last a long time (if not forever).
Guerrilla Marketing can be inexpensive.
The effect of this is being able to create a buzz around the brand, and the strategy used to market it. Almost everything is passed around through word-of-mouth.
Word-of-mouth is one of the greatest outcomes and it usually doesn't cost anything.
This is every business' or brand's dream!
Every Thursday, we publish tips, examples, and other useful content on unconventional ways of marketing and promotion.
Learn more about how to grab your target market's attention and make an amazing first and lasting impression without having to spend a lot of money.
Businesses don't really need to spend much for a guerrilla campaign. You do not need a big budget to be successful. You just need creativity and a good imagination.
Hope you've found this week's guerrilla marketing insight interesting and helpful.
Stay tuned for next Thursday's Gorillas of Guerrilla Marketing!

Cheers,
Kyle Yu
Head of Marketing
Valens Dynamic Marketing Capabilities
Powered by Valens Research
www.valens-research.com
View All