Connect with up to 10,000 people! How did this company become the top software for connecting people today?
June 29, 2020
300 million daily meeting participants
12.92 million monthly active users
#3 on the 2018 Forbes Cloud 100
One of the leaders in the 2019 Gartner Magic Quadrant for Meeting Solutions
Used by more than half of the Fortune 500 companies
This video conferencing app became so popular and is considered as one of the most important and mostly used applications in the business world this year.
ZOOM!
It's now everywhere.
More and more people have had to adopt a work-from-home setup as they are forced to stay home and practice physical distancing during the quarantine.
As social beings, people still looked for ways to stay connected with their colleagues, families, and friends—Zoom is the app on top of their list.
How did Zoom start?
In April 2011, Eric Yuan, a former vice president of a telecommunications equipment company called Cisco, founded Zoom Video Communications, Inc. (initially named as Saasbee).
Before that, he also worked at WebEx, one of the first companies that introduced video conferencing in the market. In 2007, it was acquired by Cisco.
During his time at Cisco, Yuan often met with clients to talk about WebEx's product.
He found out that customers were dissatisfied with the unstable connectivity, lag on audio and video output, and issues on the process of installation.
To address these issues, he suggested that the company needs to significantly improve and rebuild the platform.
Unfortunately, management didn't agree with him.
Yuan left the company in June 2011, taking 40 engineers with him, to start a new company in the video conference software market.
After a year, the company changed its name to Zoom Video Communications, Inc.
The name "Zoom" came from Jim Scheinman, one of the earliest advisors and investors. He based it on his kid's favorite book called, "Zoom City." Scheinman and Yuan want the company to embody the same values of creativity, exploration, happiness, and trust from the book.
In January 2013, two years after beta testing and development of the video conferencing software, Zoom officially launched its first product.
Zoom Video Communications, Inc.
Zoom is a cloud-based video conferencing application that allows you to virtually interact with your colleagues, family, and friends.
Online Meetings
Presentations or Video Webinars
Conference Calls
Chat
The cool thing is you can have all those in "one consistent enterprise experience" using Zoom.
How did Zoom beat its competitors?
PARTNERSHIP. Zoom built a distribution network with other companies to create awareness and create a smooth experience for users.
It has its own App Marketplace for integrations that allows users to access multiple services using the same Zoom dashboard—Salesforce, Slack, Hubspot, and many more!
CUSTOMER-DRIVEN APPROACH. Zoom listens to the users' feedback. Most of the app's developments are based on users' feedback.
That's not all.
CEO Yuan still takes the time to personally respond to emails, tweets, and other inquiries or comments.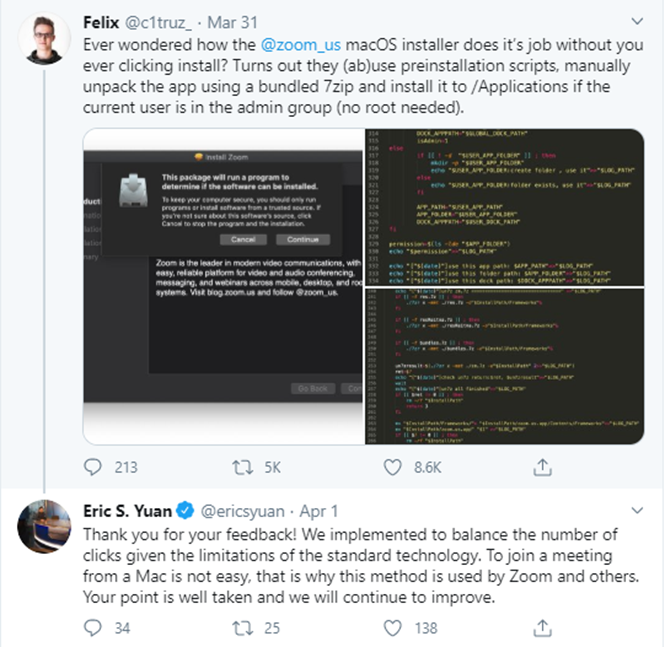 Zoom's continuous efforts to address their users' needs include:
HD audio and video conferencing
Virtual backgrounds
Whiteboarding
High-quality recordings
Dynamic voice detection
… and many more.
PRODUCT THAT CAN SELL ITSELF. Joining a market full of big companies is intimidating. You have to build a really great product compared to others already offered by your competition.
Yuan and his team made a successful product because they listened to what was needed and wanted by their target market and current users.
The company also executed an effective marketing strategy by making the most out of its clients' feedback.
Facebook Ads. The promotions on Facebook are focused on Zoom's features and its social proof like the example below that "58% of Fortune 500 companies use Zoom."
Advertising on billboards, buses, and airports. Zoom is a product that sells itself, yes, but that doesn't mean they can't create targeted campaigns for the "early adopters." Early adopters are types of customers who are curious, adventurous, and willing to try new products.

To reach these types of people, the company decided to put up ads on billboards, buses, and airports too. Beyond the online landscape.




Blog posts. Zoom has a wide range of categories for blogs, mostly to give updates to clients on what they're developing on the application.

It's noteworthy that blog.zoom.us has 99.38% organic keywords and 0.62% paid keywords.



What's good about this? All of their blogs have call-to-actions (CTAs).

"Sign up, it's free" and "Request a demo" are all over those blogs.


See why people love Zoom?
Zoom's secret ingredients to success can be summarized by its mission, vision, values, and culture.
Mission: "Make video communications frictionless"
Vision: "Video communications empowering people to accomplish more"
Values: "We care for our company, customers, community, teammates, and ourselves."
Culture: "Delivering happiness"
It helps businesses and organizations bring their teams together.
Zoom's Earning Power: Valens Research vs. As-reported numbers
Zoom is a great case study for startups that we can learn from. One great reason?
The firm has proven itself to be a phenomenal earning power generator.
So, how well has Zoom been performing its business in these trying times?
The research doesn't lie—nor do the results. Earning power (the blue bars) continues to show results much higher than what traditional databases show.
The blue bars in the chart above represent Zoom's earning power (Uniform Return On Assets). This number has been well above 14% in the last four years.
The global ROA average is just 6%
The orange bars are the company's as-reported financial information. If you relied on these numbers, you won't see the 25% Uniform ROA (return on assets, a measure of earning power) for 2020. You'd just see the company report less than that, at 1% as-reported ROA.
That's what you'll see in Yahoo Finance, Google Finance, and most other databases.
The company's stock price also performed better than the rest of the stock market over a year, which we can see in the blue line in the chart below. Their returns are well above the market.
The numbers show that they have been doing well and making a profit.
To read more of our research on Zoom in detail, CLICK HERE.
Zoom's customer-driven approach and consistent innovation to provide people with a smooth video conferencing environment brought the company to where it is today.
The company might be new in the industry, but it outranked its big competitors.
Being named as one of the most important applications in these times, Zoom has effectively made a change in how we communicate with our colleagues, families, and friends.

About The Dynamic Marketing Communiqué's
"Monday Marketing Marvels"
Too often, industry experts and the marketing press sing the praises of some company's marketing strategy.
…Only for the audience to later find out that their product was a flop, or worse, that the company went bankrupt.
The true ROI in marketing can't be separated from the business as a whole.
What good is a marketing case study if one can't prove that the company's efforts actually paid off?
At the end of the day, either the entire business is successful or it isn't. And the role of marketing is always paramount to that success.
Every Monday, we publish a case study that highlights the world's greatest marketing strategies.
However, the difference between our case studies and the numerous ones out there, is that we will always make certain that the firm really did generate and demonstrate earning power worthy of study in the first place (compliments of Valens Research's finance group).
By looking at the true earnings of a company, we can now rely on those successful businesses to get tips and insights on what they did right.
We'll also study the greatest marketing fails and analyze what they did wrong, or what they needed to improve on. We all make our mistakes, but better we learn from others' mistakes—and earlier, rather than later.
Hope you found this week's marketing marvel interesting and helpful.
Stay tuned for next week's Monday Marketing Marvels!

Cheers,
Kyle Yu
Head of Marketing
Valens Dynamic Marketing Capabilities
Powered by Valens Research
www.valens-research.com
View All