From Book Smart to Street Smart: How did this company encourage a more experience-led learning among students? [Monday: Marketing Marvels]
September 20, 2021
The rise of digital technologies…
Structural changes in the education sector…
Emerging markets in Asia, particularly in India and China…
These are 3 major disruptive changes that led to drastic internal changes at Pearson plc, a British multinational publishing and education company, in 2012.
Prior to that, the company's business was simply to print and ship textbooks written by different educators and authors to different schools and universities in the UK.
However, to keep up with the changing times, Pearson had to do more than just printing and shipping textbooks.
… it also had to start creating its own content to keep the business alive in the education sector.
Furthermore, the company worked with governments, parents, and students to ensure educational opportunities would translate to employability and income.
What else did Pearson do to adapt to such disruptive changes?
In 2013, it launched a transformative strategy that focused on efficacy and innovation!
Under the leadership of Sir Michael Barber, Pearson's Chief Education Adviser, the company worked on 3 strategic projects to achieve the following objectives:
Make efficacy in education central to everything Pearson did.
Drive forward a culture of innovation in the company.
Design and implement a strategy that delivers high-quality education at the lowest cost.
Accomplish the objectives above with minimal human and financial resources.
These were the 3 strategic projects of Pearson's transformative strategy:
Efficacy 
Barber's team placed efficacy at the heart of Pearson's strategy to showcase how the company's educational products have measurable impacts on improving a user's life through learning.
To reach this goal, the company coordinated with regional organizations in the UK to analyze how its products could contribute to students' positive learning experiences and increase their employability after completing a professional course.
These conversations enabled Pearson to uncover key areas of improvement, such as identifying key tools and resources to achieve positive learning outcomes.
Learning and Research 
Pearson focused on key research questions that positioned the company as a thought leader in the education sector.
In this area, the company launched several thought leadership papers to start a dialog about education. Pearson also made sure new products and services that came out of its research integrated into the overall strategy of efficacy.
The Pearson Affordable Learning Fund (PALF) 
The company used this GBP 15 million fund to invest in low-cost, for-profit schools and learning services that served "the world's poorest students."
According to Barber,
"Low-cost private education is an important, complementary element of education in developing countries and we should be seen as an active partner with governments looking to ensure all children have access to a high quality education."
One of the investments Pearson made through the PALF?
The Omega Schools, a chain of schools in Ghana, Africa!
PALF's Executive Director Katelyn Donnelly said that in the first few months after the investment, Omega Schools grew from 10 schools that served only 6,000 students to 36 schools that served 20,000.
This further reinforced Pearson's dedication to make sure its products and services make a positive impact in the lives of students, clients, and business partners!
Fast forward to 2016…
This time, Pearson underwent another transformation―a digital transformation to be exact.
According to Kate James, Pearson's Chief Corporate Affairs Officer and Chief Marketing Officer, this renovation meant becoming more experience-led as students are increasingly expecting new and predominantly digital ways of learning. 
In other words…
The company transformed from being a purely business-to-business brand to one that has its eye on the end user!
One of the efforts conducted by Pearson under this digital strategy?
Selling directly to consumers!
The company established a pilot partnership with IBM's Watson, a "computer system capable of answering questions posed in natural language."
The initiative, which was launched in October 2016, looked at the opportunity of augmented learning or having a virtual tutor that students could ask for help.
Pearson also provided a virtual reality (VR) experience for students in the UK. Once they wore the company's VR goggles, they were transported to different historical and cultural heritage sites like the Vatican City's Sistine Chapel to learn more about the place's rich history.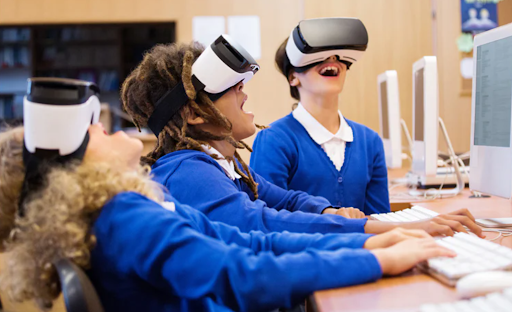 For CMO James, this kind of learning experience is much more impactful and powerful than simply reading about the Sistine Chapel from a textbook.
In her words,
"Students' expectations of learning have changed. They want to learn anywhere, anytime; they want to do it on their smartphone or tablet, so we're making that as easy as possible."
In the past five years, Pearson plc has recorded revenues of:
GBP 4.6 billion in 2016
GBP 4.5 billion in 2017
GBP 4.1 billion in 2018
GBP 3.9 billion in 2019
GBP 3.4 billion in 2020
Despite a downward trend in its revenues in the past five years, something that most of its peers are also experiencing, the company's net income has fluctuated over the same time period, thanks to its cost management efforts.
Pearson plc's Earning Power: Valens Research vs. As-reported numbers
Pearson plc (PSON:GBR) makes for a great case study that we come back to regularly. One great reason?
The company has proven itself to be a better earning power generator than investors might think.
So, how well has Pearson been growing its business in the past years?
The research doesn't lie—nor do the results. Earning power (the blue bars) continues to show results higher on average than what traditional databases show.
The blue bars in the chart above represent Pearson's earning power (Uniform Return On Assets). Historically, Pearson has seen generally robust but cyclical profitability. Its Uniform ROA ranged from 11% to 24% in the past sixteen years, or an average of 18%. Uniform ROA is at 11% in 2020.
The global ROA is just 6%.
The orange bars are the company's as-reported financial information. If you relied on these numbers, you will see a company with understated profitability. As-reported ROA (return on assets, a measure of earning power) only ranged from 2% to 5% in the past sixteen years. Its as-reported ROA in 2020 was only at 2%, which is 5 times lower than its Uniform ROA in 2020.
That's what you'll see in Yahoo Finance, Google Finance, and most other databases.
The company's stock price also performed better than the rest of the stock market over the decade, which we can see in the blue line in the chart below. Its returns have been well above the market.
The numbers show that Pearson has been doing well and making a profit.
Adapting to disruptive changes and selling directly to consumers weren't easy tasks. Because of these, the company had to rethink its approach to marketing.
Pearson also decided to adopt an "agency-based model," which gave its marketers an opportunity to work with various clients and parts of the industry.
The reason for that?
The company wants teachers to recognize the value of teaching and students to see the value of learning!
Simply said…
Pearson wants to give teachers and learners alike more opportunities to progress and have more satisfying careers! 


About The Dynamic Marketing Communiqué's
"Monday Marketing Marvels"
Too often, industry experts and the marketing press sing the praises of some company's marketing strategy.
…Only for the audience to later find out that their product was a flop, or worse, that the company went bankrupt.
The true ROI in marketing can't be separated from the business as a whole.
What good is a marketing case study if one can't prove that the company's efforts actually paid off?
At the end of the day, either the entire business is successful or it isn't. And the role of marketing is always paramount to that success.
Every Monday, we publish a case study that highlights the world's greatest marketing strategies.
However, the difference between our case studies and the numerous ones out there, is that we will always make certain that the firm really did generate and demonstrate earning power worthy of study in the first place (compliments of Valens Research's finance group).
By looking at the true earnings of a company, we can now rely on those successful businesses to get tips and insights on what they did right.
We'll also study the greatest marketing fails and analyze what they did wrong, or what they needed to improve on. We all make our mistakes, but better we learn from others' mistakes—and earlier, rather than later.
Hope you found this week's marketing marvel interesting and helpful.
Stay tuned for next week's Monday Marketing Marvels!
Cheers,
Kyle Yu
Head of Marketing
Valens Dynamic Marketing Capabilities
Powered by Valens Research
www.valens-research.com
View All