Home sweet home! Check out what this organization did to boost the tourism sector in Thailand! [Thursdays: Gorillas of Guerrilla Marketing]
October 20, 2022
Miles Everson's Business Builder Daily speaks to the heart of what great marketers, business leaders, and other professionals need to succeed in advertising, communications, managing their investments, career strategy, and more.
A Note from Miles Everson:
Hi, everyone!
Are you familiar with Guerrilla Marketing?
According to Jay Conrad Levinson, this marketing strategy is unconventional, engaging, impactful, and easy to execute. Campaigns of this type spark an emotional reaction that enables consumers to effectively remember a brand.
Allow us to share with you an example of a clever Guerrilla Marketing campaign.
Keep reading to know how this Thai organization partnered with a global marketing agency to conduct a one-of-its-kind campaign and boost Thailand's tourism sector.
Miles Everson
CEO, MBO Partners
Chairman of the Advisory Board, The I Institute


Gorillas of Guerrilla Marketing
There are lots of amazing tourist spots in Thailand.
The Grand Palace…
The Emerald Buddha Temple (Wat Phra Kaew)…
The Erawan Museum…
These places not only offer 38 million+ tourists (pre-pandemic) a majestic view but also give them a glimpse of Thailand's rich culture, history, and traditions.
However, there's a problem:
Tourism growth in the country has slowed down in recent years, especially with the coming of the COVID-19 pandemic. As a result, the Tourism Authority of Thailand (TAT) had to figure out new ways to re-engage travelers.
What did the TAT do?
Guerrilla Marketing!
In December 2020, the organization teamed up with marketing agency Ogilvy Bangkok and game developer YGGDrazil to stimulate tourism and invite travel enthusiasts to discover new dimensions of Thailand.
The campaign team's goal?
To target millennial and Gen-Z travelers with a high spending power of up to USD 200 per day! According to the TAT and Ogilvy Bangkok's research, these people look for authentic cultural experiences, prefer traveling over shopping, and like to explore different types of vacations.
The campaign team also discovered another interesting trait of these consumers: They believe in logic, technology, and science, yet they are also curious about various superstitions and the paranormal.
In short, these consumers are superstitious technophiles! They combine various superstitions and tools to find their inner compass and cope with life's pressures.
Based on these details, the TAT and Ogilvy Bangkok saw an opportunity to offer novel experiences to this customer segment.
Since cultural superstitions have long been a part of the "Thai way of life" for centuries, and Thailand is a treasure trove of superstitious beliefs and spiritual destinations waiting to be explored, the campaign team used an in-game approach to let their target audience virtually discover the amazing "deep culture" of the country.
Enter "Home Sweet Home 2"…
Home Sweet Home 2 is a horror-adventure game created to highlight Thailand's rich history and traditions. A sequel to "Home Sweet Home" released in 2017, the game features actual destinations, superstitions, and folklore to engage and educate millennial and Gen-Z gamers.
Each level or in-game event is linked to the TAT's website, which provides deeper insight into the cultural history of a specific place or event featured in the game. Thus, Home Sweet Home 2 acts as a de facto virtual guide to traveling through Thailand.
Check out some snippets of the horror-adventure game below. It has a similar vibe with "Five Nights at Freddy's" and "Little Nightmares," but with a much deeper insight.
(Trigger warning: Some images might be disturbing for some readers.)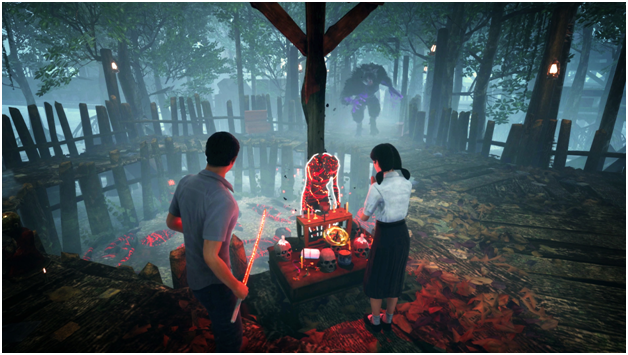 Home Sweet Home 2 was globally launched in December 2020. When the game was first released, it gained tremendous popularity for providing gamers and game casters an entertainingly immersive experience like never before!
Was the Tourism Authority of Thailand's "Home Sweet Home 2" campaign effective?
Through the horror-adventure game, the TAT was able to promote new dimensions of Thai tourism through online gaming. Even in the midst of lockdowns and travel restrictions due to the COVID-19 pandemic, the organization got its target market's attention and enabled them to unlock their "virtually spiritual" trip to Thailand.
Below are the results of the campaign:
During the campaign, Home Sweet Home 2 gained popularity among renowned game casters from 120 countries.
The horror-adventure game garnered over 900 million media impressions and more than 150 million earned media value throughout the campaign.
After Home Sweet Home 2 was launched, the TAT's website traffic went up by 60%.
On average, gamers spent 18 minutes per day playing Home Sweet Home 2 throughout the duration of the campaign.
Various gaming websites like TwitchMetrics, Gaming Dose, The Review Geek, TrueID, and more featured Home Sweet Home 2 in their blogs/articles.
The "Home Sweet Home 2" campaign won the following awards:
Bronze Spike at the 2022 Spikes Asia Awards
Gold Pencil at the 2022 The One Show Awards
Silver Award at the 2022 CLIO Awards
A round of applause for TAT, Ogilvy Bangkok, and YGGDrazil! These numbers and recognitions show the campaign was a hit not only in Thailand but also in different parts of the world!
What marketing lessons can you learn from this guerrilla marketing strategy?
Knowing your target audience is IMPORTANT. We couldn't stress this enough. This is a crucial aspect of every marketing campaign because your target market is who you promote your offerings to. Without a clear understanding of who you're trying to connect with, your ads and other marketing tactics won't be as impactful.


The medium/platform you use to market your offerings matters too. After identifying your target market, the next thing you have to know is their interests—what they usually do, what social media platforms they often use, etc. These details will help you reach customers and prospects where they are.


Creativity is one of the keys to a successful marketing strategy. It's not just enough to know your target market and reach them where they are. You also have to be creative in the execution of your marketing campaigns! In a world where lots of businesses are vying for consumers' attention, the last thing you'd want is to be a "me too" brand.
Let's apply these points in the "Home Sweet Home 2" campaign…
Thailand is a multicultural country with various cultural and religious practices. In its history, popular Buddhist beliefs intermingled with legends of spirits or ghosts of local folklore.
These myths have survived and evolved, being adapted into modern media such as Thai films, soap operas, and comics.
So, when the country's tourism slowed down due to the COVID-19 pandemic, the TAT made a way to offer consumers an experience that's unique to Thailand… and since its target audience consists of "superstitious technophiles," what better way to promote tourism than a horror-themed game?
Through Home Sweet Home 2, the TAT captured the attention of young gamers and travelers worldwide, boosted tourism even in the midst of lockdowns, and generated buzz about what Thailand is known for—a rich culture involving myths, ghosts, spirits, and more.
A "home sweet home" indeed!
We hope this guerrilla marketing campaign gave you an idea on how to make your own marketing strategies successful!
Know your target market, connect with them through the right platform/s, and be creative. Through these, you'll also be able to craft an ad or campaign that sticks to consumers' minds.
Stay tuned for next week's feature!


(This article is from The Business Builder Daily, a newsletter by The I Institute in collaboration with MBO Partners.)


About The Dynamic Marketing Communiqué's
"Thursdays: Gorillas of Guerrilla Marketing"
Jay Conrad Levinson (1984) said that Guerrilla Marketing "works because it's simple to appreciate, easy to execute, and inexpensive."
Guerrilla Marketing is unconventional.
Looking beyond the traditional ways of advertising, marketers, and advertisers need to spice things up in order for their brand to have campaigns that not only make an impact but also stick to their target market's mind.
Guerrilla Marketing usually aims to have direct contact with consumers.
This type of direct contact should spark an emotional reaction that leads to consumers effectively remembering the brand.
It's about making a big impression and making that impression last a long time (if not forever).
Guerrilla Marketing can be inexpensive.
The effect of this is being able to create a buzz around the brand, and the strategy used to market it. Almost everything is passed around through word-of-mouth.
Word-of-mouth is one of the greatest outcomes and it usually doesn't cost anything.
This is every business' or brand's dream!
Every Thursday, we publish tips, examples, and other useful content on unconventional ways of marketing and promotion.
Learn more about how to grab your target market's attention and make an amazing first and lasting impression without having to spend a lot of money.
Businesses don't really need to spend much for a guerrilla campaign. You do not need a big budget to be successful. You just need creativity and a good imagination.
Hope you've found this week's guerrilla marketing insight interesting and helpful.
Stay tuned for next Thursday's Gorillas of Guerrilla Marketing!


Cheers,
Kyle Yu
Head of Marketing
Valens Dynamic Marketing Capabilities
Powered by Valens Research
www.valens-research.com
View All