It's a SMALL WORLD after all. Here's how one campaign brought Indians and Pakistanis together in 2013! [Thursdays: Gorillas of Guerrilla Marketing]
March 31, 2022
Miles Everson's Business Builder Daily speaks to the heart of what great marketers, business leaders, and other professionals need to succeed in advertising, communications, managing their investments, career strategy, and more.
A Note from Miles Everson:
Are you looking for fun, exciting, and interesting strategies to connect with your target market and interact with them?
If so, here's our recommendation: Guerrilla Marketing!
Campaigns of this kind are easy to appreciate and execute, unconventional, buzz-worthy, and sometimes even inexpensive. This marketing strategy can do wonders in boosting your company's key performance metrics!
In today's article, we're sharing one beverage company's guerrilla marketing campaign that has a heartwarming message of love, peace, and unity.
Continue reading and take note of the important elements that contributed to this campaign's success. Have fun reading!
Miles Everson
CEO, MBO Partners
Chairman of the Advisory Board, The I Institute


Gorillas of Guerrilla Marketing
People from India and Pakistan have lots of common passions and interests―food, Bollywood movies, cricket, etc.
Despite that, the two countries are part of the most volatile and dangerous regions on Earth, as they've been long separated by a conflict-ridden border a.k.a. the Line of Control.
Just a brief background about the conflict between India and Pakistan:
Territorial disputes between the two countries began in the Kashmir region, which sparked two major Indo-Pakistani wars in 1947 and 1965. During these events, thousands of civilians were killed and displaced on both sides of the border.
Although both countries have maintained a ceasefire since 2003, they still regularly exchange fire, and both sides accuse the other of violating the truce and claim to be shooting in response to attacks.
The sad thing about this?
Many Indians and Pakistanis don't want the conflict to continue but they can't do anything about it.
So, in March 2013, beverage corporation The Coca-Cola Company took a bold risk to enable the common man in New Delhi, India to connect and interact with the common man in Lahore, Pakistan.
How?
Through the "Small World Machines" campaign!
Conceptualized with the help of The Leo Burnett Company, Coca-Cola provided a real-time communications portal between Indians and Pakistanis. The message?
"What unites us is stronger than what sets us apart."
To deliver this message, the beverage brand used 3D touchscreen machineries to project a streaming video feed onto the vending machine screens in two shopping malls in New Delhi and Lahore.
Engaging with each other through the machines was simple: Individuals from both countries were asked to complete a task together such as:
Touching hands
Drawing peace, love, and happiness symbols
Dancing
… and more.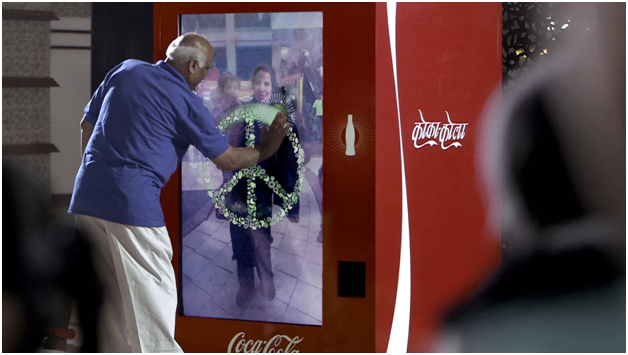 After completing a task, both individuals from India and Pakistan received a can of Coke and shared the happiness.
The crowds cheered as participants accomplished the activities together. Everyone who witnessed the campaign had smiles on their faces.
Wow… thank you, Coke, for using the "Small World Machines" to connect people from two nations that are divided by a history of mistrust and violence.
The campaign showed that unity, love, friendship, and happiness know no bounds!
The entire brand activation was filmed. Coke's video editing team compiled the footage into a 3-minute video that was posted on YouTube, Facebook, and Twitter.
Was Coca-Cola's "Small World Machines" campaign effective?
According to Jackie Jantos, Coke's Global Creative Director, the brand's guerrilla marketing campaign wasn't just an ordinary marketing strategy. It was also a social diplomacy that tackled breaking down barriers and creating simple moments of connection between people from conflict-ridden countries.
She said,
"It was wonderful to have our teams validate that this was the time for this message. Waving hello to someone in a land that is not so far away, but feels like it, was amazing."
Below are the results of Coca-Cola's "Small World Machines" campaign:
YouTube

| | |
| --- | --- |
| – | After 15 days, the campaign video got over 4 million views and 2,000+ positive comments. |
| – | The video became one of the top 10 trending videos on YouTube in the first quarter of 2013. |

Facebook

| | |
| --- | --- |
| – | After 15 days, the campaign video got more than 26,000 likes and 6,000+ shares. |
| – | Coca-Cola's Facebook page received a staggering 1 million+ new likes after the duration of the campaign. |

Twitter

| | |
| --- | --- |
| – | 15 days after the campaign video was posted, Coca-Cola's Twitter account garnered over 34,000 new followers. |
| – | Popular and influential people from India and Pakistan tweeted about the campaign and welcomed Coca-Cola's initiative as a positive step forward. |
| – | During the campaign, tweets about "Coke" or "Coca-Cola" increased by 25%. |
| – | The "Small World Machines" campaign became a trending topic on Twitter for 2 weeks. |

Over 10,000 Cokes were distributed during the campaign, a total of 12,000 Indians and Pakistanis participated in the brand activation, and 700 connections were created across the border.
Coca-Cola garnered more than 58 million media impressions from the campaign.
The "Small World Machines" campaign received 4,000+ unique mentions on news websites, TV broadcasts, blogs, and forums.
During the campaign, Indians and Pakistanis spent an average of 7.4 minutes and 9.3 minutes respectively on Coca-Cola's website.
The "Small World Machines" campaign became a big hit at the Cannes Film Festival in 2013.
Clearly, these numbers show that Coca-Cola's guerrilla marketing campaign was a HUGE success!
Kudos, Coca-Cola and The Leo Burnett Company! 👏
—
According to Fritz Grobe and Stephen Voltz, co-founders of EepyBird, an entertainment company that mostly focuses on marketing content about Coke, the beverage brand's guerrilla marketing campaign was effective because it had these 4 core principles:
Truth

. The campaign touched on the real topic of conflict between India and Pakistan. Because of that, it sparked real ideas from Coca-Cola's marketing team and real emotions from consumers who participated in the campaign.
Attention-worthiness

. Coca-Cola effectively delivered its message through the "Small World Machines." This unique technology captured the attention of thousands of Indian and Pakistani mall-goers and enabled them to share happiness with one another through fun activities and a can of Coke.
Remarkability

. Coca-Cola dared to do something different by bringing two conflicting nations together through its interactive vending machines. Additionally, capturing a live emotional exchange is something that resonated with and left a lasting, positive impression on Indian and Pakistani consumers.
Humanity

. Emotional connection is key to sharing. Incorporating this in the guerrilla marketing strategy enabled Coca-Cola to create genuine happiness among Indians and Pakistanis, and position itself as a brand that values humanity.
Get inspired with Coca-Cola's "Small World Machines" campaign!
With a message and approach that touches the right chords, your own guerrilla marketing strategies will also provide your target audience with a communal experience while highlighting the power of happiness.


(This article is from The Business Builder Daily, a newsletter by The I Institute in collaboration with MBO Partners.)


About The Dynamic Marketing Communiqué's
"Thursdays: Gorillas of Guerrilla Marketing"
Jay Conrad Levinson (1984) said that Guerrilla Marketing "works because it's simple to appreciate, easy to execute, and inexpensive."
Guerrilla Marketing is unconventional.
Looking beyond the traditional ways of advertising, marketers, and advertisers need to spice things up in order for their brand to have campaigns that not only make an impact but also stick to their target market's mind.
Guerrilla Marketing usually aims to have direct contact with consumers.
This type of direct contact should spark an emotional reaction that leads to consumers effectively remembering the brand.
It's about making a big impression and making that impression last a long time (if not forever).
Guerrilla Marketing can be inexpensive.
The effect of this is being able to create a buzz around the brand, and the strategy used to market it. Almost everything is passed around through word-of-mouth.
Word-of-mouth is one of the greatest outcomes and it usually doesn't cost anything.
This is every business' or brand's dream!
Every Thursday, we publish tips, examples, and other useful content on unconventional ways of marketing and promotion.
Learn more about how to grab your target market's attention and make an amazing first and lasting impression without having to spend a lot of money.
Businesses don't really need to spend much for a guerrilla campaign. You do not need a big budget to be successful. You just need creativity and a good imagination.
Hope you've found this week's guerrilla marketing insight interesting and helpful.
Stay tuned for next Thursday's Gorillas of Guerrilla Marketing!


Cheers,
Kyle Yu
Head of Marketing
Valens Dynamic Marketing Capabilities
Powered by Valens Research
www.valens-research.com
View All