Let kids be kids no matter the weather! How did this brand connect proper clothing with play time? [Fridays: Gorillas of Guerrilla Marketing]
May 28, 2021
Shoulders tensing up…
Muscles beginning to quiver…
The skin experiencing tingling sensations like crawling pins and needles…
These are some of the things your body might experience if you're not used to the cold winter season—or if you're not properly clothed for it.
Just imagine battling bone-chilling temperatures without appropriate clothes on!
Brrrr. That's terrible.
—
During the winter of 2018, one brand created a literally heartwarming campaign aimed at families and children in need in Canada.
That brand is…
Quaker!
—an American food conglomerate based in Chicago. It has been owned by the multinational food and beverage corporation, PepsiCo, since 2001.
Quaker has a long-standing heritage as a brand trusted by Canadians but according to the company's market research in 2018, oatmeal is perceived as "old-fashioned and not relevant for today's modern moms."
To get into the minds and hearts of new-generation moms and consumers, Quaker decided to find a subject that aligned with its target market's values.
That subject?
Sharing of warmth!
Quaker's key insight was centered around warmth as a "necessary good with emotional, physical, and mental benefits"―especially for children.
The problem was, for many Canadian families in need, warm winter clothing is not affordable.
In fact, a study by the Angus Reid Institute revealed that:
"For every one in five Canadian families, proper winter clothing has been a luxury they can't afford."
… and we're aware of how cold the winter season could get in Canada.
Like, REALLY COLD!
What was Quaker's solution to this problem?
The "Joy of Warmth" Campaign!
Created with the help of Canadian production agency, Studio M, the campaign told an emotive story that showed the positivity and happiness that could result from being warm―literally and figuratively!
The brand activation included a microsite and 15- and 30-second video ads rolling out on TV and across various social media channels.
The first scene in the video started with a boy enjoying a warm bowl of oatmeal for breakfast before going out to play.
However, as seasons change and winter arrives, the boy is unable to play in the snow because he doesn't have the appropriate clothes.
Brrrrrr!
That was until a random lady (probably someone to represent Quaker and the organizations it worked with) approached the boy and handed him a red winter coat. Because of that, the boy was able to feel the comfort and warmth despite being in the middle of a snowy playground.
Towards the end of the video, he was even seen playing in the snow!
The message of the story?
Kids can't be kids without appropriate clothing!
So… to "let kids be kids" no matter the weather in Canada, Quaker partnered with the nonprofit organization, Boys and Girls Club and clothing charity, Brands for Canada to help deliver warm oats and coats to families in need―from coast to coast.
Here's where consumer involvement in the campaign came in…
Quaker encouraged Canadians to share the hashtag, #JoyOfWarmth and tag Quaker Canada on their posts on Facebook, Instagram, and Twitter for the whole month of November 2018.
For every post where Quaker Canada was tagged and the hashtag was included, the brand provided a warm bowl of oatmeal to a child at different Boys and Girls Club locations across the country.
Then, for every purchase of Quaker's sponsored products, one winter jacket (care of Brands for Canada) will be donated to the same nonprofit organization.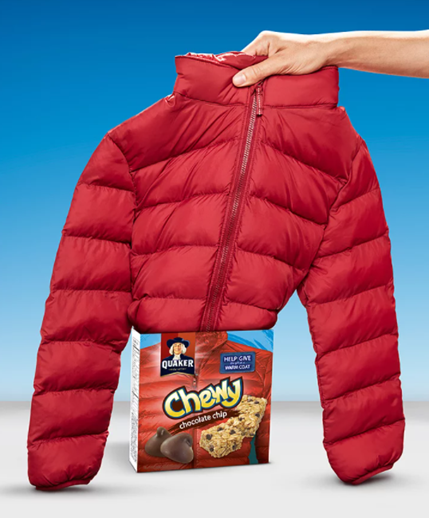 Fortunately, when it comes to purpose-driven campaigns like this, Canadians are always "up for it!"
According to Susan Irving, the Senior Director of Marketing at PepsiCo Foods Canada:
"Kids can't be kids without proper clothing, and we all know that warming from the inside is not enough when winter comes. Thankfully, when it comes to cause marketing, Canadians do want to get involved, whether that's donating money themselves or through a program like this."
Because of that, Quaker was able to provide more oatmeals and coats to families and children in need than what they originally expected!
Was Quaker's "Joy of Warmth" Campaign Successful?
Through likes, shares, and user-generated posts, the campaign gained a lot of exposure on different social media platforms. This helped Quaker provide a total of 100,000 bowls of warm oatmeal to those in need.
Indeed, one of the best ways to share warmth during winter is to fill one's tummy with a warm and delicious bowl of food!
Below are other results recorded one month after the launch of the campaign:
The "Joy of Warmth" campaign garnered 8 million media impressions.
Quaker recorded a 2% increase in its oatmeal product sales.
The campaign video gained a total of 28 million views―not only from Canadians, but also from consumers all over the world.
Quaker was able to donate around 3,000 coats to Boys and Girls Club locations across Canada.
… and the "Joy of Warmth" campaign was acknowledged as PepsiCo Canada's Best TV Campaign in 2018!
A round of applause for Quaker! The brand truly deserves the recognition it gained for its purpose-driven campaign.
Warmth, in its literal and figurative sense, is an important part of our existence. This reminds each and every one of us that as humans, we need love, care, and support from others around us.
Spread the warmth of love and care to your target market too and allow them to experience the joy of interacting with your brand!
That doesn't have to be something as big as what Quaker did―all you have to do is be genuine and make sure your campaign suits your business' image.
Don't worry about starting small.
As long as you execute your marketing strategies well, your business will grow and later on, you'll enjoy the results of your thorough planning and hard work.
How?
In the form of exposure, loyal customers, or even increased sales for your brand!


About The Dynamic Marketing Communiqué's
"Fridays: Gorillas of Guerrilla Marketing"
Jay Conrad Levinson (1984) said that Guerrilla Marketing "works because it's simple to appreciate, easy to execute, and inexpensive."
Guerrilla Marketing is unconventional.
Looking beyond the traditional ways of advertising, marketers, and advertisers need to spice things up in order for their brand to have campaigns that not only make an impact but also stick to their target market's mind.
Guerrilla Marketing usually aims to have direct contact with consumers.
This type of direct contact should spark an emotional reaction that leads to consumers effectively remembering the brand.
It's about making a big impression and making that impression last a long time (if not forever).
Guerrilla Marketing can be inexpensive.
The effect of this is being able to create a buzz around the brand, and the strategy used to market it. Almost everything is passed around through word-of-mouth.
Word-of-mouth is one of the greatest outcomes and it usually doesn't cost anything.
This is every business' or brand's dream!
Every Friday, we publish tips, examples, and other useful content on unconventional ways of marketing and promotion.
Learn more about how to grab your target market's attention and make an amazing first and lasting impression without having to spend a lot of money.
Businesses don't really need to spend much for a guerrilla campaign. You do not need a big budget to be successful. You just need creativity and a good imagination.
Hope you've found this week's guerrilla marketing insight interesting and helpful.
Stay tuned for next Friday's Gorillas of Guerrilla!
Cheers,
Kyle Yu
Head of Marketing
Valens Dynamic Marketing Capabilities
Powered by Valens Research
www.valens-research.com
View All