"Red Light, Green Light!" – Check out how this Netflix show took the marketing industry by storm! [Thursdays: Gorillas of Guerrilla Marketing]
January 20, 2022
Miles Everson's Business Builder Daily speaks to the heart of what great marketers, business leaders, and other professionals need to succeed in advertising, communications, managing their investments, career strategy, and more.
A Note from Miles Everson:
In September 2021, one Netflix series took the world by storm. I'm talking about the South Korean survival drama, "Squid Game."
From Halloween costumes and beer ads to the "Red Light, Green Light" and Honeycomb challenge trends, the series was literally everywhere!
Because of the show's popularity, various brands hopped in on the "Squid Game" trend to advertise their products. Netflix also created a guerilla marketing campaign that gave the audience the experience of being a character in the TV series (minus the risk of death, of course).
Curious about how this guerrilla marketing campaign played out?
Check out the article below to know what Netflix did and learn a thing or two about what makes a great marketing strategy.
Miles Everson
CEO, MBO Partners
Chairman of the Advisory Board, The I Institute


Gorillas of Guerrilla Marketing
Imagine this:
What if someone told you that you can win USD 38 million by simply playing a bunch of children's games?
All you have to do is win in every single one of these games, from "Red Light, Green Light" to Hopscotch.
However, there's a catch: If you lose, you die.
Would you still take the risk?
—
In 2021, one Netflix hit series about children's-games-turned-deadly took the marketing industry by storm.
Some of the show's strongest assets?
Its viral trends and challenges as well as various guerrilla marketing tactics in different parts of the world!
"Squid Game" is a South Korean survival drama series. The story is about a competition where 456 players, all of whom are in deep financial debt, risk their lives to play a series of deadly children's games for a chance to win KRW 45.6 billion.
"Squid Game" is the first South Korean series to top Netflix's Global Top 10. It ranked #1 in 94 countries, including the US and the UK. As of October 2021, over 142 million households in the world have watched the show.
Imagine how big that reach was!
… but wait―here's another interesting fact about the Netflix series:
Prior to its premiere, "Squid Game" wasn't promoted much. In fact, there weren't any promotional efforts done worldwide and the production team only had a small marketing budget in South Korea.
Fortunately, this did not stop the show from becoming a global hit. As the "Squid Game" series gained traction after its release, Netflix decided to come up with a unique and entertaining guerrilla marketing strategy to aid the show's rise in popularity.
Global Installations in Various Countries Around the World
To anyone who's watched "Squid Game," the first thing that will most likely come to mind once the show's title is mentioned is the giant creepy doll in the "Red Light, Green Light" game.
This became the face of the series.
To add to the hype, Netflix set up "Squid Game" installations that featured this giant doll in different parts of the world. These locations included Sydney, Australia; Manila, Philippines; Los Angeles, USA; and Manchester, England.
The streaming platform even went above and beyond with the launch of the "Squid Game World" in Seoul's Itaewon subway station!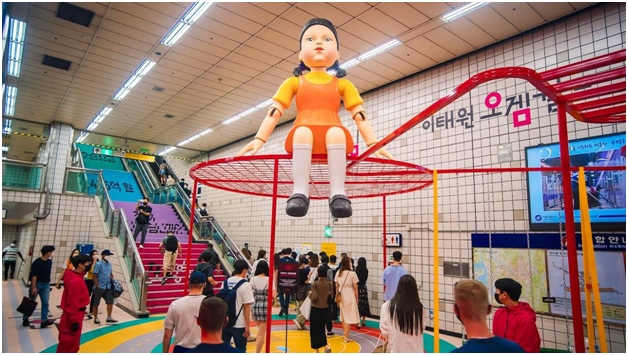 This installation replicated the pastel-colored game venue in the TV series. Visitors played games and won prizes, and guests who documented their visit via social media received a "Squid Game"-themed gift.
Other installations only starred the giant doll in public places. The doll was fully in character as it sang the song for the "Red Light, Green Light" game. Some passersby played along to the game while others only took pictures.
The "Squid Game" Effect
The murder doll isn't the only iconic character in the "Squid Game" series. The players' and the guards' outfits―green tracksuits, white sneakers, pink boiler suits, and masks―also captured a lot of attention online and offline.
In fact, these outfits became the 23rd most popular costume in Google's search during the Halloween season of 2021!
Thanks to these fashion trends, certain brands experienced increased sales and online searches for products that involved "Squid Game." One example was the American skateboarding apparel brand Vans.
The brand reported a 7,800% sales increase in the fortnight after the show's release. Take note: Vans didn't even pay for any product placement in the TV series! It's just that many people were into the green-tracksuit-and-white-sneakers trend that the first thing they thought of when purchasing white sneakers was Vans.
Even the generic "white slip-on shoes" had a 97% increase in online searches. Meanwhile, online searches for "boiler suits" grew by 62%.
Other brands also joined the "Squid Game" trend and took advantage of various marketing opportunities provided by the show's popularity.
From Heineken's beers and Domino's pizzas to Marigold HL's milk and many other brands, "Squid Game"-themed marketing was everywhere!
These brands also didn't pay for any product placement on the show. All they had to do was reference "Squid Game" in their ads and they'll catch the attention of casual viewers and fans.
Was Netflix's guerrilla marketing campaign for the "Squid Game" series effective?
Netflix's interactive guerilla marketing campaign helped the "Squid Game" series become a global phenomenon. At the same time, this also contributed to the streaming platform's growth.
The show's popularity helped Netflix gain 4.38 million subscribers in the third quarter of 2021 for a total of 213 million+ subscribers worldwide.
"Squid Game" also became viral across different social media platforms. As of January 2022, the #squidgame hashtag has reached 68.8 billion views on TikTok. Meanwhile, news about the show's second season has reached over 148,000 combined likes and shares on Facebook. The series also became Twitter's most tweeted show of 2021.
According to Google, "Squid Game" was 2021's most trending show. It was also one of Google's top "trending" searches for all categories due to the search volume the show accumulated throughout its run.
Clearly, these numbers show that a well-executed, unique, and interactive marketing strategy will do wonders for your brand.
There were two things that Netflix did right in the "Squid Game" guerrilla marketing tactic. First, it created interactive and life-sized advertisements that integrated iconic elements from the show. These appealed to those who watched the show and those who heard it through word of mouth.
Second, Netflix's campaign created a marketing trend that brands and individuals were able to take advantage of without spending money on official partnerships.
If there is something that you can learn from this guerrilla marketing campaign, it's that great marketing starts with a great product.
Netflix effectively promoted the "Squid Game" series using its own elements because of how critically-acclaimed the show is. It has a unique and refreshing plot, a smart use of colors, well-designed sets, relevant symbolism, and an incredible cast.
Simply said, it's not hard to market something that you know people will value and enjoy.
This leads us to the next point, which is virality through word-of-mouth.
The first few people who watched the "Squid Game" series liked the show and talked about it with their peers. This created a chain of people encouraging others to watch the series to a point where even influencers are talking about it.
Additionally, Netflix did not settle in making its show popular through word-of-mouth alone. Once the "Squid Game" series took off, the streaming platform put more effort into advertising, effectively using guerilla marketing to encourage more people to watch the show.
—
If you know you have a good product that's worth promoting, get creative and let your target market know about it!
Use your brand's elements to create a marketing campaign that appeals to consumers and makes them curious about what your business has to offer.
Whatever marketing strategy you choose, remember that it's about capturing and sustaining the attention of your audience, positively engaging with them, and letting them know who you are as a brand.
Are you ready to get into the marketing playing field?
Get inspired with Netflix's guerrilla marketing tactic for the "Squid Game" series and get a chance to win your target market's trust and loyalty!


(This article is from The Business Builder Daily, a newsletter by The I Institute in collaboration with MBO Partners.)


About The Dynamic Marketing Communiqué's
"Thursdays: Gorillas of Guerrilla Marketing"
Jay Conrad Levinson (1984) said that Guerrilla Marketing "works because it's simple to appreciate, easy to execute, and inexpensive."
Guerrilla Marketing is unconventional.
Looking beyond the traditional ways of advertising, marketers, and advertisers need to spice things up in order for their brand to have campaigns that not only make an impact but also stick to their target market's mind.
Guerrilla Marketing usually aims to have direct contact with consumers.
This type of direct contact should spark an emotional reaction that leads to consumers effectively remembering the brand.
It's about making a big impression and making that impression last a long time (if not forever).
Guerrilla Marketing can be inexpensive.
The effect of this is being able to create a buzz around the brand, and the strategy used to market it. Almost everything is passed around through word-of-mouth.
Word-of-mouth is one of the greatest outcomes and it usually doesn't cost anything.
This is every business' or brand's dream!
Every Thursday, we publish tips, examples, and other useful content on unconventional ways of marketing and promotion.
Learn more about how to grab your target market's attention and make an amazing first and lasting impression without having to spend a lot of money.
Businesses don't really need to spend much for a guerrilla campaign. You do not need a big budget to be successful. You just need creativity and a good imagination.
Hope you've found this week's guerrilla marketing insight interesting and helpful.
Stay tuned for next Thursday's Gorillas of Guerrilla Marketing!
Cheers,
Kyle Yu
Head of Marketing
Valens Dynamic Marketing Capabilities
Powered by Valens Research
www.valens-research.com
View All