Ring! Ring! One call was all it took to change how potential tourists view Brussels in 2015! [Fridays: Gorillas of Guerrilla Marketing]
October 8, 2021
Grand Place (Grote Markt).
Atomium.
Saint-Michel Cathedral (Sint-Michiels Kathedraal).
These are some of the famous tourist attractions in Brussels, the capital city of Belgium. The medieval Flemish gem attracts around 8.3 million visitors per year pre-pandemic times.
… but did you know that even before the COVID-19 outbreak, Brussels experienced a decline in tourist traffic in 2015?
Here's a brief background about what happened back then…
After the terrorist attacks in Paris in November 2015, authorities allegedly linked Brussels to the series of assaults that killed over 100 people in the City of Love. This led the international media to portray the Belgian city as the "capital of terrorism."
Brussels was placed on alert level 4 and a lot of tourists cancelled their trips, negatively impacting tourism in the city.
So, in an effort to reassure people from different parts of the world that Brussels is a safe place, Visit.brussels, the city's tourism board, and advertising agency McCann worked together to change negative perceptions through an honest answer.
How?
Through the "Call Brussels" campaign!
The campaign used the power of the Internet and the appeal of live interaction as a way to let local residents speak directly with potential tourists.
Here's how the strategy worked:
The marketing team set up phone cabins in 3 central places in Brussels―Mont des Arts, Place Flagey, and Molenbeek―and created a corresponding website for the campaign.
To target potential tourists and raise awareness about this cause, Visit.brussels used banner ads and placed them on various travel websites that focus on travel in Europe.
Once online users clicked on the ad, they were directed to the "Call Brussels" website, where they could pick a phone booth location, see live streams, and make free calls through the website to ask locals what life was really like in Brussels.
The campaign allowed tourists to interact with local residents directly through the phone booths. This led to numerous interesting conversations, with people from around the world telling Belgians how they worried about their safety and asking if it's safe to visit Brussels.
How did residents answer such queries?
"If you want to go to Molenbeek, you're welcome."
"Just do it, hop on the plane, do it."
"There's waffles, and you can't say no to waffles."
"It's safe here."
Aww!
These are just some of the responses that tugged on the emotions of potential tourists who called locals through the campaign's phone booths.
The combination of the welcoming and reassuring citizens and the live camera close to the cabins made callers feel better, eliminating their concerns about the safety of the city.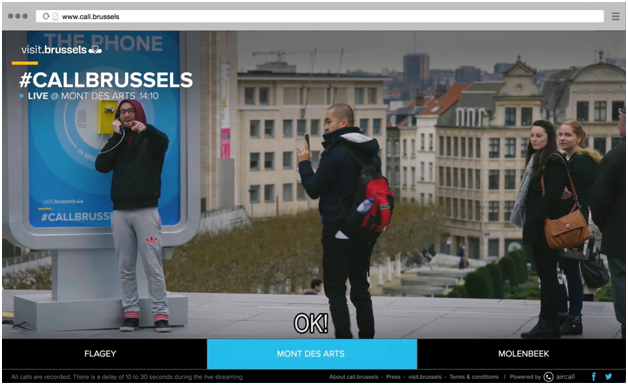 Was Visit.brussels' "Call Brussels" campaign effective?
Through the phone booths strategically placed in 3 central areas in Brussels, residents were able to reassure thousands of tourists and show the world the Belgian city is a safe place to visit.
Here are the results of the campaign:
In just 5 days, the "Call Brussels" campaign recorded over 12,000 calls from over 150 countries, showing that a lot of people were interested in going to Brussels but were seeking reassurance before actually going there.
The hashtag, #CallBrussels, spread over the Internet and helped boost a positive reputation about the Belgian city during the duration of the campaign.
The campaign garnered over 32 million social media impressions one week after its launch.
The phone booths got featured in different news articles from the Financial Times, The Washington Post, Daily Mail, Euro News, The Guardian, The Epoch Times, Travel Weekly, La Repubblica, and many more.
Thanks to this campaign, Visit.brussels was able to improve Brussels' image in an authentic and heartwarming way for potential tourists!
When viewed from a marketer's perspective, the "Call Brussels" strategy showed that a lot of people are more open to real and genuine reviews (residents' perspectives, in this case) than direct promotional campaigns.
Sure, Visit.brussels could've just made simple banner ads to encourage people to visit the city and push through with their vacation plans, but the tourism board knew it would take a lot more effort to reverse the effect of the terrorist attacks in Paris and eliminate people's fears and worries.
Think about this: A local's point of view has more bearing than any poster or video coming from a typical campaign or advertisement by a tourism office.
The power of influence in marketing, whether it's from friends or strangers, makes a HUGE impact… and the "Call Brussels" campaign used that concept in the best possible way!
Kudos to Visit.brussels and McCann!
*clap clap clap*
Just like Brussels' tourism board, you may also maximize the power of good reviews, testimonials, and genuine interactions with your target market in your own campaign.
Why?
The reason is simple: Consumers find it easier to believe their fellow consumers! The more they hear good news about your brand from someone who is not directly affiliated with you, the more they will be convinced to give your offerings a try.
Unleash the power of an honest-to-goodness word of mouth strategy and live interactions with your target market!
With a memorable, heartwarming, and authentic marketing campaign, you'll be able to break through your prospects' barriers and convince them to give your brand a chance.


About The Dynamic Marketing Communiqué's
"Fridays: Gorillas of Guerrilla Marketing"
Jay Conrad Levinson (1984) said that Guerrilla Marketing "works because it's simple to appreciate, easy to execute, and inexpensive."
Guerrilla Marketing is unconventional.
Looking beyond the traditional ways of advertising, marketers, and advertisers need to spice things up in order for their brand to have campaigns that not only make an impact but also stick to their target market's mind.
Guerrilla Marketing usually aims to have direct contact with consumers.
This type of direct contact should spark an emotional reaction that leads to consumers effectively remembering the brand.
It's about making a big impression and making that impression last a long time (if not forever).
Guerrilla Marketing can be inexpensive.
The effect of this is being able to create a buzz around the brand, and the strategy used to market it. Almost everything is passed around through word-of-mouth.
Word-of-mouth is one of the greatest outcomes and it usually doesn't cost anything.
This is every business' or brand's dream!
Every Friday, we publish tips, examples, and other useful content on unconventional ways of marketing and promotion.
Learn more about how to grab your target market's attention and make an amazing first and lasting impression without having to spend a lot of money.
Businesses don't really need to spend much for a guerrilla campaign. You do not need a big budget to be successful. You just need creativity and a good imagination.
Hope you've found this week's guerrilla marketing insight interesting and helpful.
Stay tuned for next Friday's Gorillas of Guerrilla!


Cheers,
Kyle Yu
Head of Marketing
Valens Dynamic Marketing Capabilities
Powered by Valens Research
www.valens-research.com
View All