Satisfied. Neutral. Not Satisfied. Create compelling content through these unconventional techniques! [Tuesdays: "Write with the Pen of the Masters"]
August 18, 2020
Writing content for your brand can be challenging, especially if you think you've already exhausted every term or idea that you can use for marketing your products or services.
As a copywriter, you don't write copy just for the sake of writing it.
You need to make sure that your content is unique, compelling, catchy, and worth the read. This is the first step to fulfilling your call-to-action (CTA).
That's no easy feat, especially when writer's block hits you. With deadlines fast approaching, what's one quick way to get inspired to start writing?
Swiping Messages From Visitors and Customers.
This is one of the tips pointed out in Joanna Wiebe's CopyHackers Book 1 titled, "Where Stellar Messages Come From."
"Swiping" messages from your readers or customers could be very helpful for your business.
You can grab their thoughts and use those creatively as part of your marketing strategy to promote your brand's products or services.
You can even use the information to form copy that addresses their needs and wants, resulting in more readers, online traffic, and even sales.
What are these messages?
Feedback!
Written or spoken reactions or responses to a specific product or service that's used or availed.
How can you obtain feedback?
1. Interviews – Interviewing your existing customers regarding the use of a product they purchased from you or a service they availed from you can help you know how they have benefited from it.
You can do this in face-to-face sessions, through online video calls, or through phone calls.
Interviewing your customers is a great way to understand their needs and how you can address those needs—product or service improvements, new offerings to address current trends, better customer service, a different shopping experience, and more.
It is also an effective way of getting their genuine thoughts or opinions that you can use in your copy. Long-time customers know your offerings best, helping you gain deeper insights on what works and what doesn't, as well as what keeps them loyal to your product or service.
2. Surveys – This is a method of gathering information from a specific number or group of people by composing a set of questions to reveal specific preferences, opinions, and behaviors. This can be done online or through a print out.
Unlike interviews, surveys don't give you much room to expound on answers because participants are given only a specific set of questions.
Surveys work best in gathering information like statistics or more straightforward types of feedback. You can use these results to prove a point, explain a concept, or present an idea.
It's always compelling and convincing to include credible market research and data in your content to promote your brand.
3. Social Media – Social Media is almost everywhere. With a lot of social media platforms today, this is undeniably one of the best sources for gathering feedback from your visitors or customers.
Different types of people with different purchasing patterns use different social media apps. By knowing which of the social media sites your target market or customers are at (Twitter, Facebook, Reddit, Instagram, LinkedIn, etc.), you'd know how to best engage with your customers. The information you get from that would be more useful than simply being present and active in ALL sites.
You can ask followers of your pages or accounts to give their reviews on your products or services. They can also leave comments and reactions to your offerings on posts you make. The more engaged your customers are, the more valuable data you can get from them.
At Valens Research, our President and CEO, Joel Litman conducts training and seminars as part of the company's education and corporate events, as well as corporate social responsibility. In these programs, we always want to know the attendees' feedback.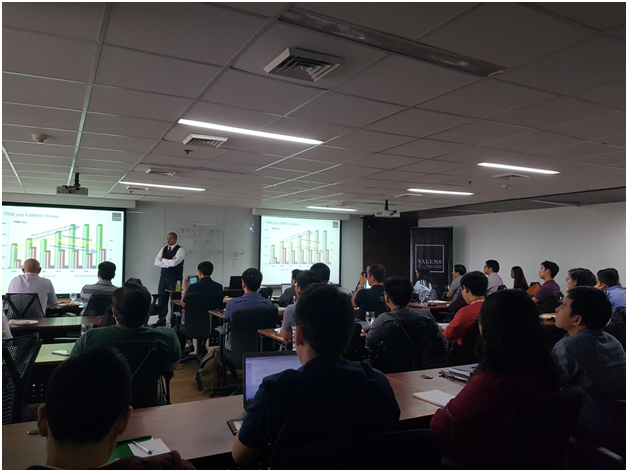 We created a feedback form to distribute and collect after every event. It contained questions about the program, venue, presentation, and speaker. We also asked about things they think we can improve on and if there are other event topics they'd like to hear about.
Using their feedback, we'd be able to know what they like, dislike, need, or don't need, and apply that in our future events, content, offerings, marketing, and promotions.
As an example, we've used testimonials and quotes of past attendees from the industry to include on our online event registration page. It gives new prospects an idea of what to expect and how others have found it valuable to attend.
Customer or attendee feedback is extremely valuable but asking for it is not always easy. It takes a lot of time and effort in order to conduct interviews, prepare surveys and questionnaires, ask for reviews, and sort through comments.
Putting in the effort to swipe messages as such will truly help you and your business gain engagement, increase conversion and leads, and more importantly, create more content for future marketing efforts.
Time to swipe messages!


About The Dynamic Marketing Communiqué's
"Tuesdays: Write with the Pen of the Masters"
Who doesn't find content writing to be a skill that requires a lot of practice and effort?
In fact, many people may even find copywriting very intimidating.
However, you can be a good writer as long as you have the right tools. You won't always get things right the first time, but with enough time and practice, you'll get the hang of it!
When you write a copy for any brand or for your company, your aim is to make an impact and…
…to get people to remember.
Getting people to remember means getting consumers to buy your product or to avail of your service.
And when you get your content to deliver the results you want, THAT is a great copy!
Every Tuesday, we publish content based on tips and insights from the masters of content writing, copywriting, and storytelling.
Become more familiar with ways to write great copy that helps you gain ROI from your efforts, drive profitability, and achieve your business goals.
Learn time-tested tactics that better capture the attention of your target audience, and maximize the benefits of great copywriting.
Hope you found this week's insights interesting and helpful.
Stay tuned for next Tuesday's "Write with the Pen of the Masters!"
Cheers,
Kyle Yu
Head of Marketing
Valens Dynamic Marketing Capabilities
Powered by Valens Research
www.valens-research.com
View All