"SHOP NOW!" ― This brand doubled its sales and increased exposure for its products with the help of this site! [Thursdays: FYO!]
January 28, 2021
"I am what I am."
This is the signature tagline of Reebok, an Anglo-American company that has been a subsidiary of German company Adidas since 2005.
As a sporting goods company, Reebok offers the latest shoe styles and specialized fitness apparel perfect for any activity.
Its purpose?
"To inspire people to be their absolute best―physically, mentally, and socially."
In 2018, the brand increased exposure for its new products and doubled its sales via e-commerce.
What did it do to achieve that?
Reebok optimized eBay's Promoted Listings!
eBay is an American multinational e-commerce company that facilitates consumer-to-consumer and business-to-consumer sales through its website.
There are 2 main types of advertising on eBay: Large Brand Advertisements and Promoted Listings.
Brands with big marketing budgets use the Large Brand Advertisements to optimize their listings. This type of ad is more in-depth and customized compared to a Promoted Listings ad.
Let's focus on eBay's Promoted Listings.
This type of ad helps your brand be seen by millions of active users by placing your products on top of their search results. It also appears on the bottom of the page as "Similar" and "Related" items.
(Take note: As of 2020, eBay has a total of 183 million active users around the world!)
You'll easily spot a Promoted Listing on eBay because of the "Sponsored" tag on top of the product's name.
Most businesses use this type of ad because it is more affordable and easier to set up.
Another good thing about Promoted Listings?
You only pay your ad fees when your product is sold!
Here are other reasons why you should use eBay's Promoted Listings:
It places more attention on your products.

Promoted Listings are a great avenue to boost your product's visibility and increase your brand's sales.

You want proof?

According to eBay's 2019 report, Promoted Listings receive 36% more views than unpaid listings.

That's just in the US market alone!

There's more…

The report also states that less than 2% of online users block this type of ad. If you're aiming to improve your brand's online visibility, this ad can be really helpful in your marketing efforts.

You can create targeted campaigns.

If your brand sells products that are seasonal or event-based, give them more exposure by setting up campaigns in advance!

Using Promoted Listings will help you build momentum and avoid a warehouse full of unsold stock when the season or event is over.

Aside from that, setting up targeted campaigns ahead of time helps raise awareness about your products without costing you too much.

So bring out your best-selling items and maximize eBay's Promoted Listings! You'll gain a lot of exposure but only pay for the ad when you make a sale.

You can also create targeted campaigns for:

– New products

– Old products

– Low-traffic products

It provides a detailed report about your marketing strategies and results.

eBay provides detailed performance data to help you optimize your campaign strategies. As a business owner or marketer, your dashboard will contain:

– The number of impressions your ads generated

– Clicks from potential buyers on your ads

– The total number of ads that led to a sale

– The ad rate for every item

– The total items sold and amount earned

Customize your campaigns to match your business goals. Just remember to closely monitor the metrics stated above to effectively execute your campaigns.
Going back to Reebok's strategy…
To increase sales and exposure for its new products such as shoes and other sportswear, Reebok used Promoted Listings and followed eBay's ad rate guidelines.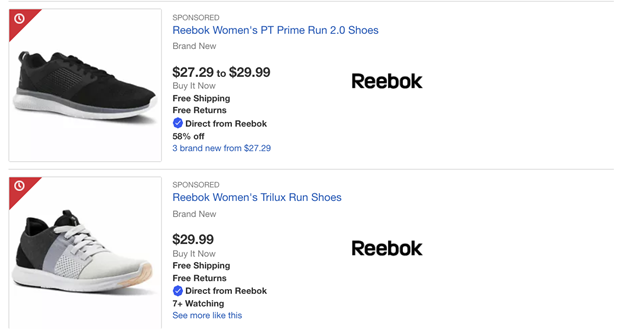 One result of using these ads?
According to Reebok's Digital Marketplace Manager, Kenneth Hanson:
"We have done USD 147,000 in sales with only USD 9,400 in ad fees."
In other words, for every dollar spent on advertising, they got USD 15 in revenue. Talk about 15:1!
Wouldn't you want to experience that for your brand too?
We bet you would!
Here are other results of Reebok's marketing efforts (recorded 6 months after using eBay's Promoted Listings):
An increase of 55% in the brand's overall online sales
A total of 12,259 products sold after using Promoted Listings VS only 5,335 products sold before using Promoted Listings
The brand received a total of 82,027 customer feedback on its product listings and garnered a 98.7% positive feedback score on its Reebok_official eBay account
If Reebok achieved its marketing goals on eBay, your brand can do it too!
Besides, the e-commerce site has guidance tools to help you set up your ads, with suggestions on which products to promote and at what cost, so you won't have a hard time doing things on your own.
In the business and marketing world, anything that increases your brand's visibility, improves your sales, and contributes to the achievement of your business goals is a good thing.
Expand your brand's online reach and connect with a vast range of shoppers with the help of online marketplaces like eBay!
Consider using its Promoted Listings―it can be rewarding for business owners and marketers who know how to use it smartly.
Of course, you have to keep in mind that using these ads has to be cost-effective as well.
Since you know your business more than anyone else, it's up to you to decide how to use eBay's ads effectively.
When executed properly, this strategy will also help you expand your target market reach, increase your sales, and strengthen your brand's online presence!


About The Dynamic Marketing Communiqué's
"Thursdays: FYO! Find You Optimization"
Why should you stop thinking SEO and start thinking FYO?
We're not saying that you should abandon Search Engine Optimization (SEO).
Don't get us wrong, of course, we know this is something very important, especially in today's digital marketing age.
The internet landscape is vast, and a world of its own. You really need to distinguish yourself and make your brand/company/website known and easily searchable.
Better yet, get to the top of page one for Top Results on Google or any other search engine.
However, what is the purpose of SEO? It's that customers Find You!
That's what matters. So, while SEO is one factor of FYO… it really is only one, and we ought not to abandon all the myriad of ways digitally and offline for improving your FYO.
How can we look at this from a different and better perspective?
Let's say you have it in the bag! You and your team are experts in SEO. Awesome. But did you ever wonder what else you could do to push it further and give your SEO skills a boost?
FYO! Find You Optimization!
You need your target audience to FIND YOU—your brand, product, service, or offer. This is SEO plus other tools that increase visibility online (and offline).
Every Thursday, we publish content on how you can get your target market to find you, beyond the typical "type and search." There are other things you can do along with your SEO to give your online advertising process a boost.
Try considering other tactics beyond it—WOMO (Word Of Mouth Optimization), RO (Referral Optimization), and "All-Other-Means-Of-Getting-Your-Target-Market-To-Find-You" Optimization (AOMOGYTMTFY, if you'd like a long acronym).
Part of a great marketing strategy is knowing how to adapt new methods and make use of different types of marketing and promotion that best fit your business goals and which give you the results you want.
Hope you've found this week's insights interesting and helpful.
Stay tuned for next Thursday's FYO!

Cheers,
Kyle Yu
Head of Marketing
Valens Dynamic Marketing Capabilities
Powered by Valens Research
www.valens-research.com
View All