Smiles all around: How Colgate-Palmolive's marketing strategy helped them dominate the market [Monday Marketing Marvels]
April 27, 2020
We've talked about companies that have experienced long periods of success.
From Johnson & Johnson, WD-40, Visa, and Unilever, these companies have thrived in the face of fierce competition.
What is it about them that they are able to remain successful over the years?
They produce quality products and create innovative marketing strategies that build a strong brand and gain tons of customer trust!
Another corporate giant that executed this really well is Colgate-Palmolive.
Founded in 1806 by William Colgate, Colgate and Company started out as a soap and candle maker in New York City. It remained that way until 1896 when they released their first tubed toothpaste product, the Ribbon Dental Cream.
In 1928, Palmolive-Peet, a soap company that focused on using palm oil and olive oil as ingredients, bought Colgate.
The company then became known as…
Colgate-Palmolive: provider of the best-selling quality personal care products
Today, their products are more than just soaps and toothpaste. They also sell deodorant, shampoo, mouthwash, dish soap, dishwasher detergent, and even pet food.
Over the decades, their products have remained very popular, becoming household names themselves.
It's a normal sight to see all their products lined up on multiple grocery shelves!
The company is successful not only because of how great their products are but also because of the effective marketing strategies that have helped them grow a loyal customer base.
You can clearly see this based on how they market their iconic line of toothpaste products.
Toothpaste is considered essential to maintain good oral health with everyday use. If you'd ask consumers across the world what toothpaste they're using, their answer would most likely be Colgate!
In fact, there are households that have remained loyal to the product for multiple generations.
How has Colgate-Palmolive remained relevant for a long time?
The company continues to create dynamic and creative marketing campaigns using popular media and educating their consumers through brief and impactful ads.
These campaigns promote having whiter and stronger teeth when using Colgate toothpaste, giving you the perfect smile. 🙂
Their campaigns have ranged from creative commercials, dynamic video content, to clever ads, that bring in some humor, just like this ad for dental floss. This ad was designed to look like it went through bad photo editing. But in the end, people would still notice the woman and man's smiles first before even noticing the mistake in the picture!
Some of their most popular campaigns include their Super Bowl commercials in 2016 and 2019.
This is certainly a great place to generate additional buzz since the Super Bowl is an event watched by over 100 million people every year! It has also become a cultural phenomenon, with non-football fans tuning in just to see the commercials.
The 2016 commercial encouraged people to save water while brushing their teeth by turning off their faucets when they don't need it running. The message was simple, yet very powerful, showing glaring stats to get the audience's attention.
The 2019 ad had a different approach. It was more entertaining and lighthearted in tone starring actor Luke Wilson.
The commercial had Wilson talking very closely to people on screen while getting very excited that he is able to do this all the time.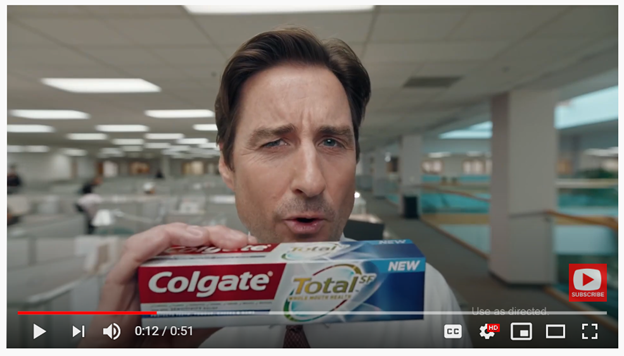 The reason he could?
He uses the new Colgate SF.
— It fights bad breath and protects your mouth from cavities and gingivitis, keeping clean all day!
The 2016 and 2019 ads delivered simple, clear, and direct messages that audiences can easily remember.
Alongside commercials, digital media is another medium that Colgate-Palmolive has used to to reach a younger and wider audience.
One example is the Smile Show, which featured popular YouTubers Andrea Brooks and Blair Fowler.
This video series was not only made to promote the Colgate Active White product line but also provide beauty and style tips on how to make your smile look better.
It was a success, gaining a total of 24 million views on YouTube, and a 1,116% increase in brand interest!
The campaign also utilized a 360-degree digital-centric approach, making use of YouTube ads alongside TV and print. This greatly reinvented their video strategy, generating views and meaningful engagement.
They have released a number of educational videos for children and adults alike, showing the health benefits of using Colgate products—how to floss properly, teaching children how to brush teeth properly, and how to prevent different kinds of mouth ailments.
Colgate-Palmolive's successful marketing strategy has helped their toothpaste products become the most popular brand used around the world.
As of 2019, they rank #1 in terms of overall market share for their toothpaste products, gaining 41% of the entire market. To put things into perspective, the closest competitor only has 15.5%.


Colgate-Palmolive's Earning Power: Valens Research vs. As-reported numbers
Colgate-Palmolive makes for a great case study that we come back to regularly. One great reason?
The company has proven itself to be a phenomenal earning power generator.
So, how well has Colgate-Palmolive been growing its business in the past years?
The research doesn't lie—nor do the results. Earning power (the blue bars) continues to show results much higher than what traditional databases show.
The blue bars in the chart above represent Colgate-Palmolive's earning power (Uniform Return On Assets). These numbers have been positive, going over 25% 13 times for the past 16 years.
The global ROA average is just 6%
The orange bars are the company's as-reported financial information. If you relied on these numbers, you won't see the 27% Uniform ROA (return on assets, a measure of earning power) for 2019. You'd just see the company report less than that, at 17% as-reported ROA.
That's what you'll see in Yahoo Finance, Google Finance, and most other databases.
The company's stock price also performed better than the rest of the stock market over the decade, which we can see in the blue line in the chart below. Their returns have been well above the market.
The numbers show that they are doing well and making a profit.
Toothpaste is a household essential, and no brand has been able to lead the market quite like how Colgate-Palmolive did.
Becoming a household brand for decades can be a real challenge, but Colgate-Palmolive was able to pull it off by creating a marketing strategy that educates their customers and shows the incredible benefits of using their products for the best oral health.


About The Dynamic Marketing Communiqué's
"Monday Marketing Marvels"
Too often, industry experts and the marketing press sing the praises of some company's marketing strategy.
…Only for the audience to later find out that their product was a flop, or worse, that the company went bankrupt.
The true ROI in marketing can't be separated from the business as a whole.
What good is a marketing case study if one can't prove that the company's efforts actually paid off?
At the end of the day, either the entire business is successful or it isn't. And the role of marketing is always paramount to that success.
Every Monday, we publish a case study that highlights the world's greatest marketing strategies.
However, the difference between our case studies and the numerous ones out there, is that we will always make certain that the firm really did generate and demonstrate earning power worthy of study in the first place (compliments of Valens Research's finance group).
By looking at the true earnings of a company, we can now rely on those successful businesses to get tips and insights on what they did right.
We'll also study the greatest marketing fails and analyze what they did wrong, or what they needed to improve on. We all make our mistakes, but better we learn from others' mistakes—and earlier, rather than later.
Hope you found this week's marketing marvel interesting and helpful.
Stay tuned for next week's Monday Marketing Marvels!


Cheers,
Kyle Yu
Head of Marketing
Valens Dynamic Marketing Capabilities
Powered by Valens Research
www.valens-research.com
View All