Strategy and execution are useless without a GOAL. What can you learn from this business' case study? [Tuesdays: Return Driven Strategy]
December 6, 2022
Miles Everson's Business Builder Daily speaks to the heart of what great marketers, business leaders, and other professionals need to succeed in advertising, communications, managing their investments, career strategy, and more.
A Note from Miles Everson:
Return Driven Strategy (RDS).
For those of you who aren't familiar with this yet, RDS is a pyramid-shaped framework that has 11 tenets and 3 foundations. When applied properly, these principles can help firms achieve true wealth and value creation.
Professor Joel Litman and Dr. Mark L. Frigo talk about this strategy in detail in the book, "Driven."
Today, let's continue talking about the fourth tenet of the framework: Deliver offerings.
Keep reading to know an important business strategy from this telecommunications company's case study.
Miles Everson
CEO, MBO Partners
Chairman of the Advisory Board, The I Institute


Return Driven Strategy
Motorola's Iridium satellite phone system was one of the "marvels" of technology ever created in the early 2000s.
During the 9/11 terrorist attacks in the U.S., it was the only mobile system that worked without fail…
In the Northeast U.S. electricity blackout in 2003, it was the only phone system that worked most flawlessly…
… and it was also the only mobile system that worked most effectively on oil rigs in the middle of the oceans, in deserts, arctic expeditions, and in other places where no phone communication had previously been possible.
Simply said, the Iridium satellite phone system did excellently in the area of "operational effectiveness." However, it still failed to generate high revenues for Motorola.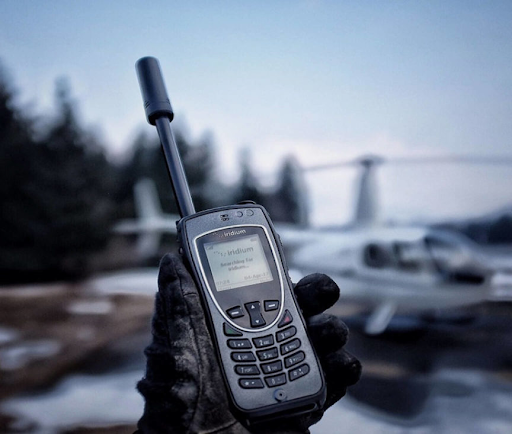 Photo from Iridium Museum
When the Execution May NOT Matter
Iridium's failure as a business unit at Motorola cannot be attributed to poor plan implementation since it was clear that the phone system was highly effective.
So… where did the business go wrong?
The issue was in Iridium's original strategy.
Think about this: A firm cannot—and should not—expend countless dollars of investments and years of human resources on an initiative that has questionable ability to achieve the "Goal Tenets" of Return Driven Strategy (RDS): Fulfill otherwise unmet customer needs, and target and dominate markets.
In the case of Iridium, there simply weren't enough customers who could afford to pay high prices for the business to truly deliver its offering. While the development of the offering was sound, the estimate for the level of need for the offering wasn't.
As a result, Motorola sold off Iridium after great losses. This also became an example of great execution of an inadequate strategy.
The Right Strategy Calls for the Right Execution and Vice Versa
Professor Joel Litman and Dr. Mark L. Frigo say every year, new "branded" implementation methodologies appear in the business sector. These methods focus on producing offerings more effectively and efficiently.
These include:
Total Quality Management (TQM)
Six Sigma
Lean Manufacturing
Balanced Scorecard
One of the founding fathers of these systems was W. Edwards Deming, an American engineer, statistician, professor, author, and management consultant. He taught management teams to focus on quality of products and quality control.
Through his methodology, businesses identified different sources and forms of dysfunction, thereby improving their systems and processes. This strategy was termed as TQM and became the foundation of many other similar programs.
Six Sigma has its roots in Deming's teachings in the 1940s and 1950s. The program has been widely cited alongside high returns at General Electric (GE). Other companies using this system seek a high level of quality control in their production processes.
Meanwhile, lean manufacturing focuses on reducing the resources needed to produce a given number of goods or units. The goal of this system is to free up society's resources while attempting to accomplish higher levels of production and efficiency goals.
Balanced scorecard is another popular system used to ensure business strategies are executed as planned. More than half of the 500 largest companies in the U.S. have implemented this system. Their adage?
"If you can't measure it, you can't manage it."
In other words, a balanced scorecard highlights the importance of balancing measures and metrics in the business, including financial, customer, internal process, growth, and innovation perspectives. It also helps management teams understand the lagging and leading nature of various indicators in an organization.
The Importance of the Right Execution Tool for the Right Strategic Job
Many experienced operations consultants use this anecdote to describe the ways operational improvement could be focused in a firm:
"Do you know the difference between the optimist and the pessimist? Or, the difference between the lean manufacturer and the Six Sigma practitioner?
The optimist sees the glass as half-full. The pessimist sees the glass as half-empty.
The lean manufacturer will quickly point out the inefficiencies in the glass being too big, instructing for reduction in the size of the glass.
The expert in Six Sigma will say, 'Who cares about the glass? Tell me about the quality of water inside it.'"
What does this anecdote mean?
Instead of focusing on just the offering, truly enlightened management teams will ask whether or not anyone will buy a particular offering and at how high a price-point.
—
According to Professor Litman and Dr. Frigo, management can often be confused as to what type of execution program is appropriate for the business at hand. They say every day, lots of companies tout their use of one of the systems mentioned above, thinking these programs will lead them towards higher cash flows.
Here's the thing: There is actually no correlation between high cash flow returns and the implementation of these programs.
Sure, these can help firms generate higher returns than they would have otherwise. However, they still have to evaluate properly as some returns, though higher, may still be below the cost of capital.
We hope you learned a lot from today's business case study!
Always remember that to effectively deliver offerings, you have to keep RDS' "Goal Tenets" in mind.
This is because sophisticated methods for operational effectiveness, no matter how "branded" they are, will still not be enough if you fail to achieve the higher tenets—target and dominate markets, fulfill otherwise unmet customer needs, and ethically maximize wealth.
Since a firm's success or failure depends NOT on external factors but on internal processes and its ability to fulfill its target market's needs, you have to ensure you keep your customers in mind from planning to planning executability to execution.
Stay tuned for next week's "Return Driven Strategy" article!


(This article is from The Business Builder Daily, a newsletter by The I Institute in collaboration with MBO Partners.)


About The Dynamic Marketing Communiqué's
"Tuesdays: Return Driven Strategy"
In the book, "Driven," authors Professor Joel Litman and Dr. Mark L. Frigo said that the goal of every long-term successful business strategy should incorporate the combined necessity of "making the world a better place" and "getting wealthy."
That is why they created Return Driven Strategy and Career Driven Strategy—frameworks that were built to help leaders and professionals plan and evaluate businesses so they can also help others achieve their organizational goals and career goals.
The frameworks describe the plans and actions that drive returns for anyone in an organization such as independent contractors, marketers, brand managers, communicators, and other people in any field. These actions lead to the creation of wealth and value for customers, employees, shareholders, and the society.
Every Tuesday, we'll highlight case studies, business strategies, tips, and insights related to Return Driven Strategy and Career Driven Strategy.
In planning, building, or managing brands and businesses, these strategies, case studies, and guidelines will help you choose what specific actions to take and when to take them.
Hope you found this week's insights interesting and helpful.
Stay tuned for next Tuesday's "Return Driven Strategy!"


Cheers,
Kyle Yu
Head of Marketing
Valens Dynamic Marketing Capabilities
Powered by Valens Research
www.valens-research.com
View All