The "Bounty" for solving your consumers' problems… How can you be the brand that everyone else talks about? [Gorillas of Guerilla Marketing]
January 31, 2020
DYNAMIC MARKETING COMMUNIQUÉ
Fridays: Gorillas of Guerilla Marketing
Makes small work of BIG spills… Bounty
Bounty paper towels and napkins.
This popular brand has been a part of households since the 60s. Known for delivering their promise of stronger, thicker, softer, and more absorbent paper towels, they are trusted by many.
Until this day, they have remained relevant.
But of course…
Even established brands need to mix up and spice up their marketing campaigns.
You can be the biggest player in the market, but if you're not able to innovate and create marketing campaigns that appeal to your audience, other competitors might just catch up!
What was one example of how Bounty (and their advertising agency, Publicis New York) continued to make sure that their consumers' top-of-mind brand for paper towels and napkins is them?
They banked on their consumers' biggest problem… cleaning BIG messes or spills.
Bounty showed that they are the solution to this problem.
Use their super absorbent paper towels to clean with less work and minimal effort.
Isn't that what most people want when there's a mess?
Accidents happen and you'll never be able to predict them in advance—spilling beverages, dropping food (especially dishes with sauce), spilling paint during arts and crafts time, etc.
Bounty wanted to get the message across without doing much and saying much.
How?
They installed "life-size messes" on Seventh Avenue, New York and Third Street Promenade, Los Angeles.
A big knocked over coffee cup.
A big melting popsicle.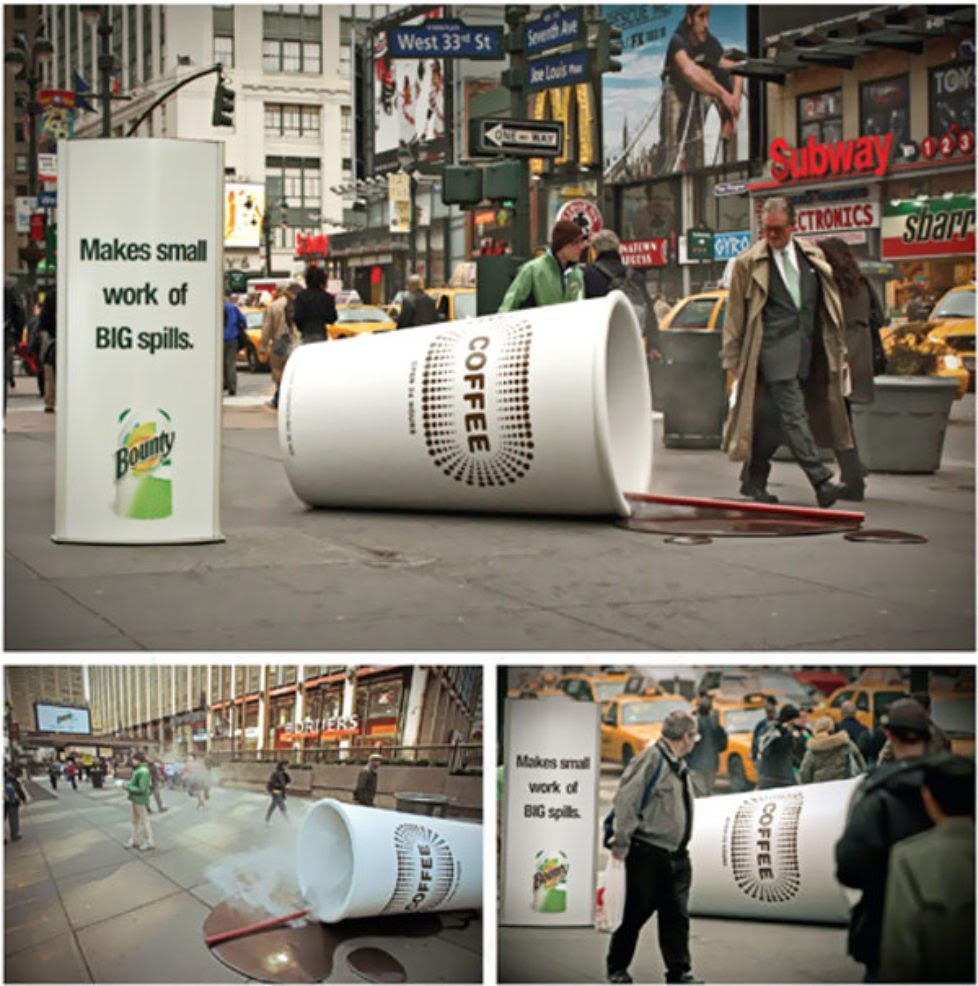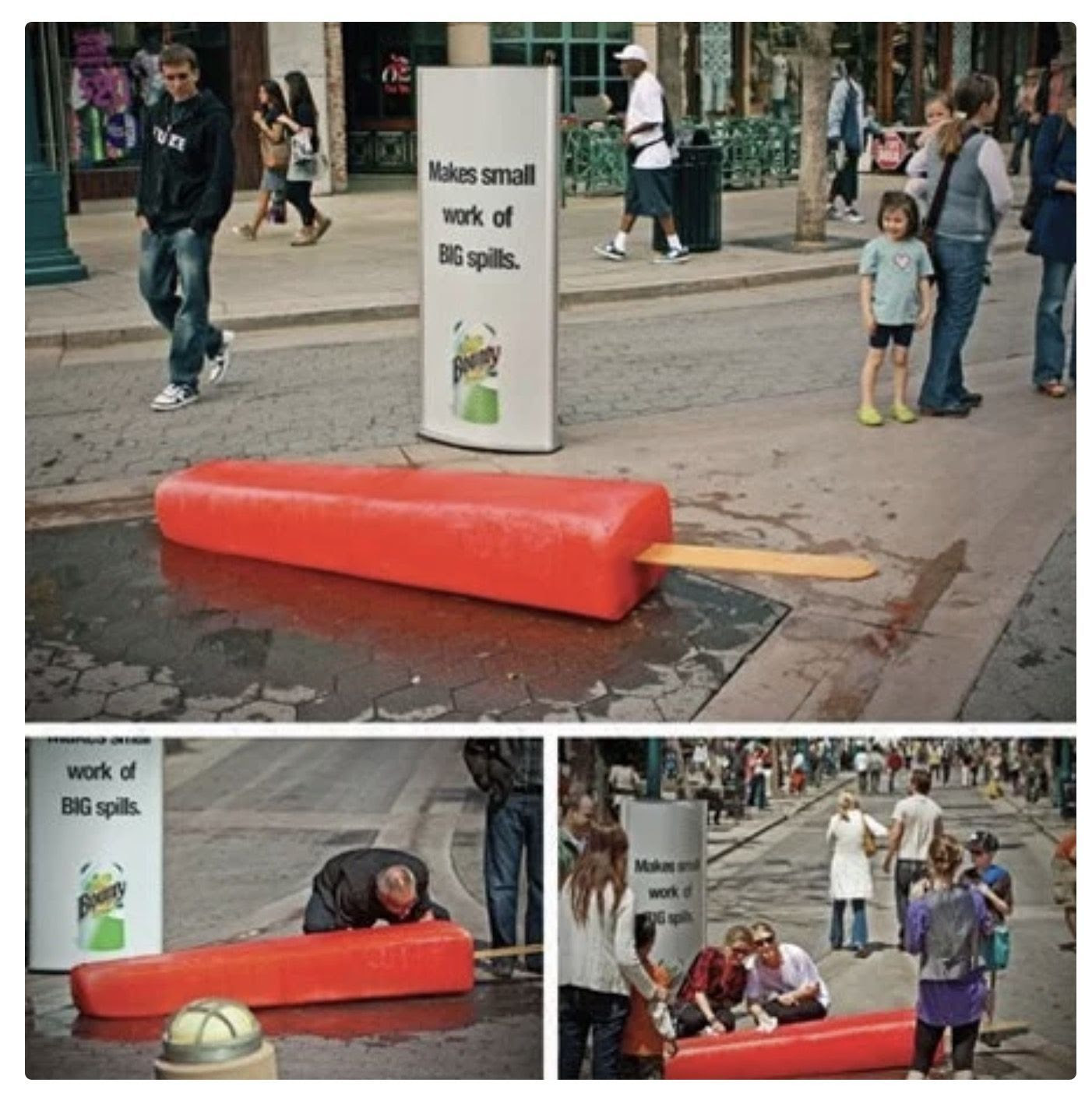 That's all.
It might've been a simple thing to do for a marketing campaign but it gave them the results they wanted.
People were talking about them.
The experience the people had encountering these installations while crossing the streets of New York and LA would definitely be hard to forget.
These were basically hard to ignore. They're gigantic!
Would you be able to? We know we won't.
This was another example of a simple yet clever act of guerilla marketing.
Bounty definitely made a lasting (and HUGE) impression.
Bounty is one of the top three leading paper towel brands in the United States with about $619.9 million US worth of sales in 2017.
Their product line has provided Procter & Gamble (P&G) with over $2.15 billion US worth of sales in 2015.
Leading brands (even paper towel and napkin companies) use guerilla marketing to induce shock and create a lasting impression on their target audience without having to spend massive amounts of money.
It looks easy BUT it takes a level of creativity and skill to be effective. This is not just something you can easily do that's 100% successful 100% of the time. It has to be planned out well and executed properly.
Guerilla marketing helps businesses generate an intense amount of buzz among consumers while remaining profitable.
It could benefit your business or marketing projects—you could go viral, you can build partnerships, it's great for low budgets, and it will make your campaign memorable.
Imagine seeing giant knocked over cups and melting popsicles in the city. Wouldn't you stop to check it out?
About The Dynamic Marketing Communiqué's
"Fridays: Gorillas of Guerilla Marketing"
Jay Conrad Levinson (1984) said that Guerilla Marketing "works because it's simple to appreciate, easy to execute, and inexpensive."
Guerilla Marketing is unconventional.
Looking beyond the traditional ways of advertising, marketers and advertisers need to spice things up in order for their brand to have campaigns that not only make an impact but also stick on their target market's mind.
Guerilla Marketing usually aims to have direct contact with consumers.
This type of direct contact should spark an emotional reaction that leads to consumers effectively remembering the brand.
It's making a big impression and making that impression last a long time (if not forever).
Guerilla Marketing is inexpensive.
The effect of this is being able to create a buzz around the brand, and the strategy used to market it. Almost everything is passed around through word-of-mouth.
Word-of-mouth is one of the greatest outcomes and it usually doesn't cost anything.
This is every business or brand's dream!
Every Friday, we publish tips, examples, and other useful content on unconventional ways of marketing and promotion.
Learn more about how to grab your target market's attention and make an amazing first and lasting impression without having to spend a lot of money.
Businesses don't really need to spend much for a guerilla campaign. You do not need a big budget to be successful. You just need creativity and a good imagination.
Hope you've found this week's guerilla marketing insight interesting and helpful.
Stay tuned for next Friday's Gorillas of Guerilla!


Cheers,
Kyle Yu and Joel Litman
Head of Marketing & President and CEO
Valens Dynamic Marketing Capabilities
Powered by Valens Research
www.valens-research.com


This content is used with permission from The I Institute and The Business Builder Daily.
View All