The Christmas sandwich is here! Here's how consumers unwrapped joy and kindness in an awesome campaign! [Fridays: Gorillas of Guerrilla Marketing]
December 17, 2021
Christmas is a time of giving gifts, spending time with family and friends, and sharing happiness and love with the people around you.
However, if you're asked if you'd rather "give gifts or receive gifts" during the holiday season, what will you choose?
Giving gifts (because there's nothing better than seeing the smiling and thankful faces of the people you've shared your blessings with)?
Or…
Receiving gifts (because having something to unwrap on Christmas brings so much joy and excitement)?
But, what if you can do both?
That would be sooooo much better!
In 2015, one sandwich shop in the UK made it to Santa's "nice" list with a guerrilla marketing campaign about giving. This enabled the shop to receive consumers' trust and attention in return!
Pret a Manger (commonly known as Pret) is an international sandwich shop franchise chain based in the UK. It was founded in 1983 and currently has over 500 shops worldwide.
The company is known to support over 40 charities addressing poverty, hunger, and homelessness across the globe.
When Pret released its Christmas menu in 2015, it launched the "A Little Thank You" campaign to raise money and awareness for five homelessness charities, namely:
Glasgow City Mission
The Choir with No Name
The Clock Tower Sanctuary
Cardboard Citizens
The 999 Club
The main highlight of the campaign?
Turning Pret's Broadwick Street shop in London into a giant gift wrapped present!
Pret wrapped its storefront in red paper reminiscent of the company's Christmas branding. Customers were then invited to tear through the wrapping paper in exchange for a FREE festive lunchtime snack that's part of Pret's Christmas menu in 2015.
FUN and YUM!
So… how did Pret raise awareness and boost customer anticipation for the "A Little Thank You" campaign?
In the days leading up to the marketing stunt, Pret created a countdown clock on its website and a link that allowed consumers to add a lunchtime reminder for the event on their online calendars. This increased the hype for the campaign and gave the people something to look forward to!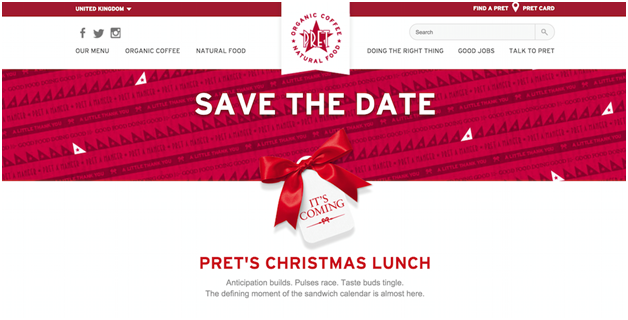 The company also used the event and various social media platforms to promote the 5 charities it supports. These promotions included sponsored posts of the charities' stories on Facebook, Twitter, and Instagram.
There's more!
Aside from giving customers free Christmas sandwiches on the launch date of the "A Little Thank You" campaign, for each Christmas sandwich sold throughout the holiday season, Pret donated GBP 50 to The Pret Foundation, the brand's charity arm. The foundation then distributed the money to each of the 5 charities.
Pret also included the charities' logos on the Christmas sandwiches' packaging, its coffee cups, and on the store windows. This meant whatever charity logo is on the packaging of the food item that a customer bought, that's where the proceeds would go.
Was Pret's "A Little Thank You" campaign effective?
More than 2 million people saw the charities' logos on Pret's Christmas sandwiches' packaging and coffee cups. This prompted them to know more about these organizations and donate money to them.
Here are other results of the brand's holiday guerrilla marketing campaign:
The Pret Foundation earned a total of GBP 1.71 million donations in 2015, higher than the previous year's donation of GBP 1.41 million.
In the same year, Pret donated over 3 million food items to homeless hostels and shelters in the UK. This was made possible by the donations the Pret Foundation received throughout the "A Little Thank You" campaign.
The campaign contributed to Pret's 14% increase in global sales for 2015.
Great job, Pret, for embodying the Christmas spirit of generosity, kindness, and charity!
Through the campaign, Pret gave and received something in return. By giving its customers a fun event and by donating to charity, the brand earned the support and respect of many consumers and increased its sales in 2015.
Customers also experienced the joy of giving and receiving through Pret's campaign. By purchasing Christmas sandwiches to add to the money that was donated to the charities, they received "A Little Thank You" as shown on the sandwiches' packaging!
Like Pret, you may also use unique guerilla marketing strategies to promote your brand AND give back to the community. Do this by creating campaigns that involve your target market and give them an opportunity to help others.
With these kinds of campaigns, you'll not only effectively promote your brand or business but also establish genuine relationships with customers in the long run.
Let's all give love this Christmas season! 🎄🎅


About The Dynamic Marketing Communiqué's
"Fridays: Gorillas of Guerrilla Marketing"
Jay Conrad Levinson (1984) said that Guerrilla Marketing "works because it's simple to appreciate, easy to execute, and inexpensive."
Guerrilla Marketing is unconventional.
Looking beyond the traditional ways of advertising, marketers, and advertisers need to spice things up in order for their brand to have campaigns that not only make an impact but also stick to their target market's mind.
Guerrilla Marketing usually aims to have direct contact with consumers.
This type of direct contact should spark an emotional reaction that leads to consumers effectively remembering the brand.
It's about making a big impression and making that impression last a long time (if not forever).
Guerrilla Marketing can be inexpensive.
The effect of this is being able to create a buzz around the brand, and the strategy used to market it. Almost everything is passed around through word-of-mouth.
Word-of-mouth is one of the greatest outcomes and it usually doesn't cost anything.
This is every business' or brand's dream!
Every Friday, we publish tips, examples, and other useful content on unconventional ways of marketing and promotion.
Learn more about how to grab your target market's attention and make an amazing first and lasting impression without having to spend a lot of money.
Businesses don't really need to spend much for a guerrilla campaign. You do not need a big budget to be successful. You just need creativity and a good imagination.
Hope you've found this week's guerrilla marketing insight interesting and helpful.
Stay tuned for next Friday's Gorillas of Guerrilla!


Cheers,
Kyle Yu
Head of Marketing
Valens Dynamic Marketing Capabilities
Powered by Valens Research
www.valens-research.com
View All