The "Ketchup Ban": How a football coach's health concern helped promote this brand's product! [Thursdays: Gorillas of Guerrilla Marketing]
April 6, 2023
Miles Everson's Business Builder Daily speaks to the heart of what great marketers, business leaders, and other professionals need to succeed in advertising, communications, managing their investments, career strategy, and more.
A Note from Miles Everson:
I love Guerrilla Marketing!
This strategy always reminds me that promoting or advertising a brand doesn't always have to be too formal or traditional.
For those of you who aren't familiar with it yet, guerrilla marketing is unconventional, engaging, impactful, and sometimes, inexpensive. Campaigns of this type spark an emotional reaction that leads to lasting brand recall.
Today, we'd like to talk about a fun and witty guerrilla marketing stunt.
Read on to know how one ketchup brand used a sports figure's "ketchup ban" in 2021 to generate PR and sales for its own product.
Miles Everson
CEO, MBO Partners
Chairman of the Advisory Board, The I Institute

Gorillas of Guerrilla Marketing
Ketchup…
Mayonnaise…
Salad dressing…
According to Healthline.com, nearly 39% of adults worldwide are classified as "overweight," and that's why the diet industry has never been stronger.
Diet foods, such as those labeled with "low-fat," "low-calorie," or "fat-free," are specifically marketed to people who want to trim down their weight.
Here's the thing: Many diet products can still do more harm than good. In fact, the condiments mentioned above, whether or not they're labeled as "low-calorie," are found to contain a hidden source of added sugars that contribute to weight gain.
Did you know that in 2021, an organic ketchup brand created a guerrilla marketing campaign in response to a football coach's health concern for his team?
That brand is…
Curtice Brothers!
Photo from curticebrothers.co.uk
Curtice Brothers & Company was founded in Rochester, New York by brothers Edgar and Simeon Curtice in 1868. It is the manufacturer of the famous Organic Ketchup and Organic Chili Ketchup.
Since its founding, the company has always ensured its products are made of fresh tomatoes from Tuscany, Italy. In fact, Curtice Brothers is the only brand that cooks ketchup the old-fashioned way (homecooked)!
This helps the business ensure its products are of high quality and safe to consume by everyone, whether or not they're on a weight-trimming diet.
Football or Ketchup? You Can Only Choose One!
In November 2021, football coach Antonio Conte announced a ketchup ban on Premier League club Tottenham Hotspur. This was part of his steps to tackle weight issues within the team and ensure that each member stays in good shape.
Not long after, Conte's announcement spread in the news and made headlines in newspapers in Tottenham.
This hit home for Mario C. Bauer, Co-founder and CEO of Curtice Brothers.
Oh no… what's a CEO got to do? This ketchup ban will ruin his business!
To address the issue, Bauer partnered with advertising agency Ogilvy Berlin to create a guerrilla marketing and PR stunt out of it.
What did they come up with?
The "Ketchup Ban" campaign!
When Conte cited ketchup as "unhealthy," Bauer couldn't stand to see headline after headline about the ketchup ban within Tottenham Hotspur, especially because not all ketchups are created equally.
So, Bauer wrote a letter to Conte, urging the latter to reconsider his decision because Curtice Brothers Ketchup is "all natural."
The next thing Bauer and Ogilvy Berlin did?
They placed the letter as a full-page ad on Tottenham's largest local newspaper and emphasized that Curtice Brothers Ketchup is made with natural tomato sweetness and doesn't contribute to weight gain in any way.
Soon after, Bauer's letter made as many headlines as Conte's ban.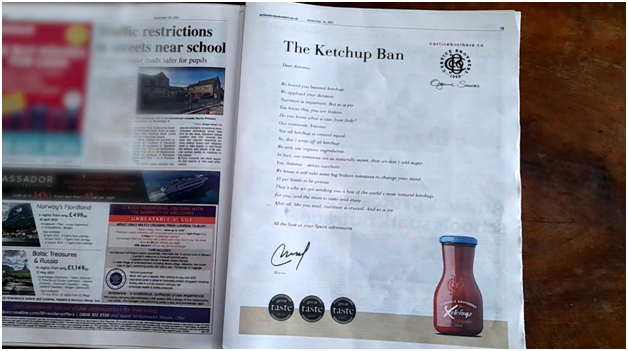 What else?
To support Bauer's claim in his letter, Curtice Brothers sent a box of ketchup to Tottenham Hotspur's training ground for FREE, so the team's members could taste and prove that the brand's ketchup is unlike any other.
Was Curtice Brothers' "Ketchup Ban" campaign effective?
As a result of Bauer's letter and the free box of ketchup to Tottenham Hotspur, Conte's ketchup ban was canceled. Moreover, the Premier League football team's players enjoyed using the organic condiment to add flavor to their meals.
What are the other results of the campaign?
Throughout the campaign, Bauer's letter to Conte garnered over 53 million media impressions in 26 countries.
After the campaign, Curtice Brothers started receiving orders from consumers in different parts of the world, and its e-store traffic increased by 46% in Q4 2021.
Curtice Brothers' ketchup sales in Q4 2021 increased by 17% from its sales in Q3 2021.
The "Ketchup Ban" campaign won a Bronze Lion under the Breakthrough on a Budget category at the 2022 Cannes Lions Awards.
As it turned out, what Bauer saw as a threat to the business ended up expanding Curtice Brothers' reach and sales.
Thank you, Conte, for helping the brand gain more exposure… and congratulations to Curtice Brothers and Ogilvy Berlin for this clever guerrilla marketing and PR stunt!
*Applause*
—
It's no secret that many processed food products affect people's bodies and overall health in some way. That's why lots of consumers tend to generalize these goods, thinking they're all created the same way, just under different brands.
So, as a business owner or marketer, you have to know how to make your business stand out. In a world where lots of enterprises have the same offerings, it's essential to brand your goods and services better so your target market will separate you from the rest of the competition.
In Curtice Brothers' case, Conte's ketchup ban served as an opportunity to highlight the brand's organic ketchup. What was initially the football coach's health concern for his team became an avenue to further expand Curtice Brothers' reach.
We hope you enjoyed reading today's guerrilla marketing feature!
Remember: Not all snide remarks about your business or your business' offerings are meant to ruin your brand. Treat those as "blessings in disguise" or "good challenges," and see how they'll boost your image.

(This article is from The Business Builder Daily, a newsletter by The I Institute in collaboration with MBO Partners.)

About The Dynamic Marketing Communiqué's
"Thursdays: Gorillas of Guerrilla Marketing"
Jay Conrad Levinson (1984) said that Guerrilla Marketing "works because it's simple to appreciate, easy to execute, and inexpensive."
Guerrilla Marketing is unconventional.
Looking beyond the traditional ways of advertising, marketers, and advertisers need to spice things up in order for their brand to have campaigns that not only make an impact but also stick to their target market's mind.
Guerrilla Marketing usually aims to have direct contact with consumers.
This type of direct contact should spark an emotional reaction that leads to consumers effectively remembering the brand.
It's about making a big impression and making that impression last a long time (if not forever).
Guerrilla Marketing can be inexpensive.
The effect of this is being able to create a buzz around the brand, and the strategy used to market it. Almost everything is passed around through word-of-mouth.
Word-of-mouth is one of the greatest outcomes and it usually doesn't cost anything.
This is every business' or brand's dream!
Every Thursday, we publish tips, examples, and other useful content on unconventional ways of marketing and promotion.
Learn more about how to grab your target market's attention and make an amazing first and lasting impression without having to spend a lot of money.
Businesses don't really need to spend much for a guerrilla campaign. You do not need a big budget to be successful. You just need creativity and a good imagination.
Hope you've found this week's guerrilla marketing insight interesting and helpful.
Stay tuned for next Thursday's Gorillas of Guerrilla Marketing!

Cheers,
Kyle Yu
Head of Marketing
Valens Dynamic Marketing Capabilities
Powered by Valens Research
www.valens-research.com
View All