This attention-grabbing stunt helped make this series one of the most popular shows on Netflix! [Thursdays: Gorillas of Guerilla Marketing]
August 10, 2023
Miles Everson's The Business Builder Daily speaks to the heart of what great marketers, business leaders, and other professionals need to succeed in advertising, communications, managing their investments, career strategy, and more.
A Note from Miles Everson:
Guerilla marketing is truly one of the most effective marketing strategies out there.
If you aren't familiar yet, guerrilla marketing is an unconventional marketing strategy that's fun, easy to execute, and sometimes, inexpensive.
I personally like this type of marketing because I'm reminded that advertising a brand or a new offering doesn't always have to be too formal and expensive.
Today, we're thrilled to share an example of a fun and attention-grabbing guerilla marketing campaign for a TV show.
Keep reading to know how a guerrilla marketing stunt contributed to this show's success.
Miles Everson
CEO, MBO Partners
Chairman of the Advisory Board, The I Institute

Gorillas of Guerrilla Marketing
At this point, almost everyone has watched or heard of Netflix's "Wednesday."
Released on November 16, 2022, "Wednesday" quickly became one of the platform's most successful shows globally.
Topping the charts in 83 countries, the series shattered records left and right. In just a week, the show amassed over 340 million hours of viewing time, surpassing former record holder "Stranger Things 4."
The show's success didn't stop there!
Netflix was determined to maintain the show's momentum and help it reach even greater heights.
A month after the show's release, Netflix employed a creepy but creative guerilla marketing campaign that clung to people's minds!
A sentient and severed hand!
Photo from YouTube
As part of Netflix's guerrilla marketing campaign, a disembodied and scarred hand roamed the streets of New York in 2022.
This severed hand wasn't just a disembodied limb since it's actually a character named Thing. T, a.k.a. Thing!
Before we continue though, here are a few details about "Wednesday," just in case you're not familiar with the show yet.
The characters of Wednesday Addams and her family are based on Charles Addams' "Addams Family" and builds on some previous stories about the eccentric people.
In the show, Wednesday attends Nevermore Academy, a school for children with special abilities. She uses her psychic abilities to investigate a mystery connected to her parents' past while protecting herself and those she cares about from enemies that intend to bring them harm.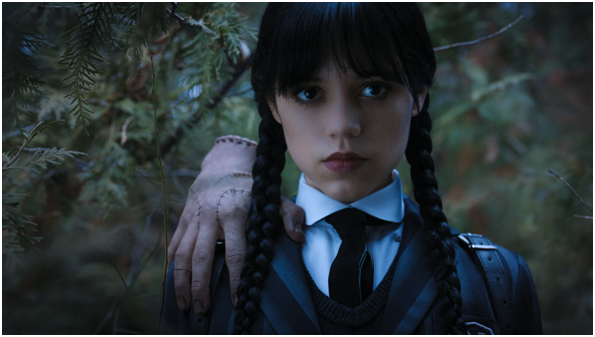 Photo from Allure
Wednesday is accompanied by Thing during her stay in Nevermore Academy.
Throughout the series, Thing and Wednesday develop a bond despite her being emotionally apathetic to those around her. Eventually, the severed hand becomes the main protagonist's sidekick helping the latter with her investigations.
—
Thing's sneaky and mischievous qualities was one of the things Netflix's marketing team incorporated into their guerrilla marketing stunt.
Using a realistic animatron, the live action model of the character casually roamed the streets, rode a skateboard, hung from railings on the train, and snuck up on people and animals.
What's great about this guerrilla marketing stunt was it was able to capture lots of attention and reminded everyone of what made "Wednesday" so great!
Aside from scaring people, Thing's animatron was also captured playing chess and interrupting the dates of bystanders.
Was the guerilla marketing stunt successful?
For starters, the guerrilla marketing stunt garnered millions of views on the following social media platforms:
37 million views on YouTube
4.5 million views on Twitter
3.8 million views on Facebook
That's more than 45 million views in only 5 months!
Aside from that, there was a noticeable increase in viewership hours for the show during the week of the guerrilla marketing stunt's release.
Viewers watched "Wednesday" for a total of 411 million hours, up from 341 million hours the week prior.
With millions of views across multiple social media platforms and an impressive increase in streaming numbers, the guerrilla marketing stunt was an undeniable success!
—
They say the element of surprise is a great way to capture people's attention and leave a lasting impression. After all, what could be more captivating than something intriguing and unexpected?
The marketing team behind "Wednesday" understood this well since they executed a unique and effective guerilla campaign.
So, if you're thinking of launching your own guerrilla marketing campaign, remember the impact of surprise!
Make sure to grab and retain everyone's attention in a way that aligns with your brand's image!

(This article is from The Business Builder Daily, a newsletter by The I Institute in collaboration with MBO Partners.)

About The Dynamic Marketing Communiqué's
"Thursdays: Gorillas of Guerrilla Marketing"
Jay Conrad Levinson (1984) said that Guerrilla Marketing "works because it's simple to appreciate, easy to execute, and inexpensive."
Guerrilla Marketing is unconventional.
Looking beyond the traditional ways of advertising, marketers, and advertisers need to spice things up in order for their brand to have campaigns that not only make an impact but also stick to their target market's mind.
Guerrilla Marketing usually aims to have direct contact with consumers.
This type of direct contact should spark an emotional reaction that leads to consumers effectively remembering the brand.
It's about making a big impression and making that impression last a long time (if not forever).
Guerrilla Marketing can be inexpensive.
The effect of this is being able to create a buzz around the brand, and the strategy used to market it. Almost everything is passed around through word-of-mouth.
Word-of-mouth is one of the greatest outcomes and it usually doesn't cost anything.
This is every business' or brand's dream!
Every Thursday, we publish tips, examples, and other useful content on unconventional ways of marketing and promotion.
Learn more about how to grab your target market's attention and make an amazing first and lasting impression without having to spend a lot of money.
Businesses don't really need to spend much for a guerrilla campaign. You do not need a big budget to be successful. You just need creativity and a good imagination.
Hope you've found this week's guerrilla marketing insight interesting and helpful.
Stay tuned for next Thursday's Gorillas of Guerrilla Marketing!

Cheers,
Kyle Yu
Head of Marketing
Valens Dynamic Marketing Capabilities
Powered by Valens Research
www.valens-research.com
View All