This company's "Goldin" era is built on bricks of creativity and purpose! Here's why… [Monday: Marketing Marvels] 
May 22, 2023
Miles Everson's Business Builder Daily speaks to the heart of what great marketers, business leaders, and other professionals need to succeed in advertising, communications, managing their investments, career strategy, and more.
A Note from Miles Everson:
Happy Monday!
We hope you all had a good rest over the weekend.
Let's start the week with a dose of motivation from our "Marketing Marvels." Each Monday, we feature these industry professionals and highlight their experiences, contributions, and insights.
Today, we'll talk about one of the outstanding female chief marketing officers in the world.
Read on to know about this person's work ethics and principles that made this global toy company the successful company it is today.
Miles Everson
CEO, MBO Partners
Chairman of the Advisory Board, The I Institute


Marketing Marvels
It would be quite tough to find someone who hasn't heard of LEGO these days. Since its establishment in 1932, the company has brought joy to many people's lives through its inspiring and fun-to-play toys.
In fact, LEGO communicates its brand values through 6 key elements:
Imagination
Fun
Caring
Creativity
Learning
Quality
According to the firm:
"Caring is about our desire to make a positive difference in the lives of children, for our colleagues, our partners, and the world we live in."
As one of the most iconic brands in the world, LEGO has gone through a series of tests, product alterations, and hard work to achieve success and come up with an incredible marketing strategy.
All of these have resulted in reaching a global audience while targeting people of all ages.
… and one of the people who have helped the company come this far?
Julia Goldin!
Photo from Mi3
As LEGO's Chief Product and Marketing Officer, Goldin is responsible for leading and inspiring the creation of the brand's play experiences that excite and educate families from all over the world.
Before joining LEGO in 2014, Goldin was Chief Marketing Officer at cosmetics company Revlon. She also had a 13-year career at beverage company Coca-Cola, where she held a few senior and regional marketing roles, including Division Marketing Director of Northwest Europe and Deputy Chief Marketing Officer of Japan.
Since taking LEGO's helm, Goldin has transformed the organization and helped turn it into a culturally relevant, purpose-driven brand.
One of her major projects in the company was the launch of LEGO's first global brand campaign in 2019—"Rebuild The World"—that celebrated the power of creativity and play.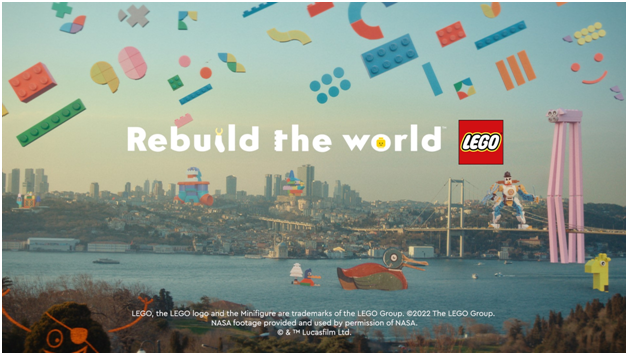 Photo from LEGO
Through award-winning content and strategic partnerships, as well as by expanding LEGO's portfolio to include products that blend digital and physical play, celebrate diversity, embrace adulthood, and highlight sustainability, Goldin and her team were able to spark a love of creativity worldwide using the campaign.
Aside from her career at LEGO, Goldin is also a member of the Board of Directors for the Museum of United Nations – UN Live, the Fiskars Group, and the Association of National Advertisers.
She holds an MBA in International Marketing and Finance from the University of Chicago Graduate School of Business.
Marketing Lessons You Can Learn from LEGO's "Goldin" Era
One of the key elements marketers and business owners can learn from LEGO is to always find ways to engage with consumers. This not only forms strong, loyal relationships that fuel businesses but also strengthens brands and creates powerful communities among customers.
As Goldin once said:
"As marketers, our work needs to reflect, represent, and welcome the broad spectrum of people we see in the world."
So, how does LEGO apply this principle to its business strategies and operations?
Take a look at the items below and see how you can also use these in your own business!
Involve your customers.
LEGO has built a huge and solid community throughout the years—a reflection of how the brand engages with its customers and encourages them to keep playing with their purchases.
One of the company's innovative customer engagement strategies is the use of contests. Through LEGO Ideas, fans can showcase their builds and get a chance to win vouchers, rare items, and travel tickets.
Another strategy includes product ideas, where a person submits a creative build proposal to LEGO fans. If the person's idea garners over 10,000 votes, he or she gets a chance to have his or her proposal developed into a real LEGO set!
Key takeaway: Customer involvement is important because they are the ones fueling your business. Besides, what good is your offering if your target audience isn't aware about it or doesn't appreciate it?
Know your target market.
Back in the day, LEGO had a limited mindset that its products were only made for children. However, in recent years, the brand hit an important turning point, thanks to Goldin's insights.
The company realized that its audience was also steering towards adults, and this compelled the brand to change its marketing strategy.
The increase in adult customers meant LEGO had to rethink its campaigns by also considering adult-focused products such as builds based on horror houses, old classics, and vehicles to name a few.
No longer were LEGO bricks simply underneath parents' feet; instead, these toys were in their hands.
Key takeaway: Knowing your target market is one of the most important things you need to do as a business owner or marketer. This will enable you to promote your offerings effectively and help them appreciate your products or services even more.
Have an incredible content marketing strategy in place.
LEGO has made good use of various platforms and media—from social media and games to The LEGO Movie shown across the globe. What else?
The company's YouTube page is extensive, with 5 different channels namely:
LEGO
LEGO Access
LEGO Discover
LEGO FanTube
LEGO Little Ones
The use of multiple channels allows LEGO to streamline content and connect with various target groups with specific interests. The brand also uses multimedia storytelling, announcing products that have their own characters, trailers, games, and more to excite customers.
Key takeaway: As a business owner or marketer, you have to learn to properly utilize the tools and technologies at your disposal. This will help you connect with your customers not only in the physical world but also in the online world, and meet them where they usually are nowadays.
Create digital experiences.
Who says LEGO is only "physical" toy bricks?
Thanks to advanced technology, the company is now able to build memorable and valuable digital experiences, including the announcement of its augmented reality (AR) and virtual reality (VR) games!
The LEGO Hidden Side allows fans to scan their builds using their phones or tablets, and from there they'll see hidden pieces of their builds appearing on screen. The VR experience also lets customers see a whole new world around them and interact with others inside the game.
Key takeaway: In connection with point #3, it's important that you know how to use the current tools or trends available to you and your brand. This will not only help you connect with a wider customer base but also continue to thrive in an ever-changing business environment.
There you have it—LEGO's marketing strategies under Goldin's leadership!
—
As a marketing leader at a company that has creativity and purpose at its core, Goldin believes in the power of engaging more children, families, and builders of all ages.
For her, everyone has a "superpower" that they can unleash when building something using LEGO bricks. This then inspires extraordinary performance through a "one team" philosophy, which rallies a global team of 1,800 people behind LEGO's mission:
"To inspire and develop the builders of tomorrow."
Get inspired with Goldin's leadership and marketing insights! Ponder on her principles and see how you can apply it to your own business.
By learning from the outstanding performances and contributions of our "Marketing Marvel," you'll also find more ways to make your brand stand out and connect with your target market.
Start incorporating creativity and purpose into your marketing strategies so you can reach your business' "Goldin" era too!


(This article is from The Business Builder Daily, a newsletter by The I Institute in collaboration with MBO Partners.)


About The Dynamic Marketing Communiqué's
"Monday Marketing Marvels"
Too often, industry experts and the marketing press sing the praises of some brand or company's marketing strategy.
… only for the audience to later find out that its product was a flop, or worse, that the brand or company went bankrupt.
The true ROI in marketing can't be separated from the business as a whole.
What good is a marketing case study if one can't prove that the company's efforts actually paid off?
At the end of the day, either the entire business is successful or it isn't. And the roles of marketing and communication are always paramount to that success.
Every Monday, we publish a case study that highlights the world's greatest marketing strategies, marketers, and communicators.
However, the difference between our articles and the numerous ones out there is that we will always make certain that the firm really did generate and demonstrate earning power worthy of study in the first place (compliments of Valens Research's finance group) in keeping with a person's leadership skills in the area of marketing and/or communication.
We'll also study the greatest marketing fails and analyze what they did wrong, or what they needed to improve. We all make our mistakes, but better we learn from others' mistakes—and earlier, rather than later.
Hope you found this week's marketing marvel interesting and helpful.
Stay tuned for next week's Monday Marketing Marvels!


Cheers,
Kyle Yu
Head of Marketing
Valens Dynamic Marketing Capabilities
Powered by Valens Research
www.valens-research.com
View All