"This is OUR city!" This marketing campaign had Filipinos in a frenzy upon a new series' release! [Fridays: Gorillas of Guerrilla Marketing]
September 3, 2021
Have you ever encountered vandalized posters or murals?
What about sabotaged billboards?
Can you handle knowing these could've been destroyed by "not-so-typical" culprits… or creatures?
Just a few months ago, one advertising company had to face these consequences after putting up ads and billboards that made the culprits angry!
… leaving the public with chills as it took the marketing of a particular Filipino animated television series to the next level.
In the world of "Trese," Filipinos co-exist with supernatural beings from popular Philippine folklores. The essence of the story is to live peacefully with these creatures. However, some plot to terrorize Filipinos for their own benefit.
Written by Budjette Tan and illustrated by Kajo Baldisimo, these comic books were brought to life by Netflix―making the award-winning story the first ever Filipino Netflix Original Anime streamed on a global platform.
Alexandra Trese, the main character of the story, is voiced by actresses Shay Mitchell (English) and Liza Soberano (Filipino). Other characters in the series are also voiced by famous actors that are often seen in Filipino and global films and series such as Manny Jacinto, Nicole Scherzinger, Darren Criss, Apollo Abraham, and RJ Celdran.
The "Trese" Marketing Campaign
GIGIL, the agency behind the Trese Marketing campaign, was hired to plan and execute a major campaign to grab the attention and curiosity of a lot of Filipinos.
What did the campaign focus on?
A buzz-worthy and exceptional billboard and guerrilla marketing tactic!
Weeks before Trese's premiere on June 11, 2021, the campaign team placed billboards around Metro Manila, Philippines―the country where the animated series was set.
Then…
After a few days, these billboards were suddenly sabotaged and vandalized by unknown culprits.
WHAT?!
The "Trese" billboards were intentionally destroyed with the message, "This is our city, layas! (This is our city, leave!)"―a warning enough to alarm passersby.
A day after, Netflix also posted about the destroyed billboards and released footage to prove these billboards were sabotaged and vandalized by creatures from the underworld.
Creepy!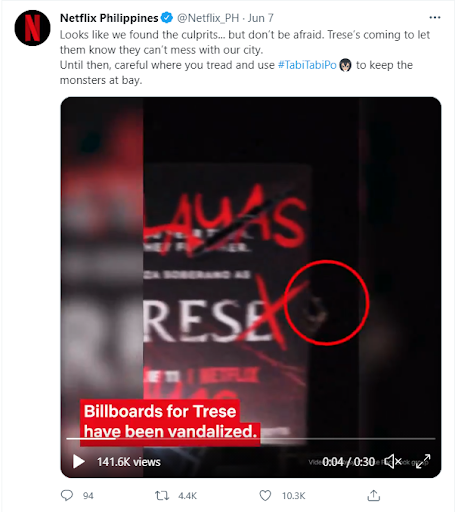 The video clips, which allegedly came from anonymous concerned citizens, showed creatures such as "aswangs," a shapeshifting monster that has a combination of the traits of a vampire, ghoul, or witch, and "tiyanaks," a vampiric creature that takes on the form of a toddler or baby, destroying the billboards.
Okay, calm down. There's nothing to fear because…
These were all part of GIGIL's plan to entice people to talk about the series!
Gotcha!
Social media also played a major role as Filipinos got into a frenzy upon seeing the videos, quickly giving credits to the team behind the campaign.
Facebook posts about the destroyed billboards garnered quite the reach. Let's take a look at two of these posts…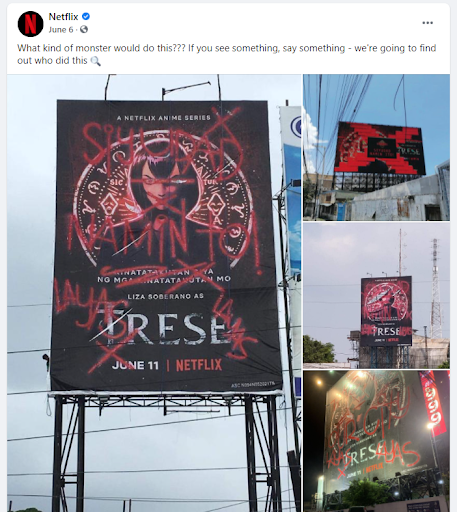 a. Reactions: 46,000
b. Comments: 2,600
c. Shares: 19,000
a. Reactions: 27,000
b. Comments: 1,500
c. Shares: 6,600
Other people on social media even made fan art and memes based on the campaign and series.
Translation: "Where can we get a big Chocnut like this? We all need this. #trese is now on netflix!! 💗
As if social media wasn't enough, GIGIL's marketing campaign was also featured in several articles. Most talked about what it was like to pull off such a campaign and how much of an impact it had on the public, especially the Filipino community.
Here are some of the articles:
Clearly, Trese's billboard strategy got the attention it deserved!
To further build up the publicity brought by the billboard stunt, cult band UDD: Up Dharma Down conducted the "Not ALive Virtual Concert" and ABS-CBN, the largest media conglomerate in the Philippines, staged a "Trese Takeover" on its building.
The "Not ALive Virtual Concert" of cult band, Up Dharma Down, on June 10, 2021. The band's song, "Paagi," was used for the end credits of Trese's Filipino-dubbed version.
The facade of the ELJ building inside the ABS-CBN compound is illuminated in red and flashed with the word, "Trese" as part of the Netflix show's marketing on June 11, 2021. The station name at the top of the building was intentionally changed to "ABC-ZNN" instead of the usual "ABS-CBN" as tribute to one of the scenes found in the series.
Was the "Trese" Guerrilla Marketing Campaign Effective?
Just three days after Trese premiered, it became one of the top 10 watched TV shows on Netflix in 19 countries: Austria, Bangladesh, Bulgaria, Canada, Estonia, Germany, Jamaica, Kuwait, Lithuania, New Zealand, Nigeria, Oman, Philippines, Qatar, Serbia, Singapore, Sri Lanka, U.A.E., and the U.S.A.
According to FlixPatrol's worldwide ratings, after 24 hours of Trese's release, the series was immediately part of Netflix's top 10 TV shows in 11 countries.
… and as of June 14, 2021 (3 days after its release), Trese was #1 in the Philippines, #3 in Qatar, #4 in the United Arab Emirates (U.A.E), and #5 in Jamaica.
Additionally, the series took over Philippine social media by becoming the Top Trending Topic for a week on Twitter.
These results show how successful GIGIL's "Trese" Marketing Campaign was.
Not only did GIGIL promote and make quite the buzz for the series, but they also did it with maximum effort and creativity by using billboards, social media marketing, digital marketing, and "on the streets" marketing to reach the market, whether they are at home or on the road.
The "Trese" Marketing Campaign was one of the major campaigns to create a HUGE impact on the Filipino community, proving to be the cherry-on-top for the Philippines' first ever animated series streamed all over the world!
Pairing the first ever Filipino Netflix Original Anime with a shocking yet intriguing campaign surely paid off!
Now the question is…
Should you also consider creating your own unique and unexpected guerrilla marketing campaigns?
DEFINITELY!
Just like the "Trese" Marketing Campaign, it's time to make an impactful and memorable experience that will give your brand the exposure it needs!
Use your creativity to leave a lasting impression on your target market and compel them to interact with your brand!
With the right set of marketing tools, proper planning, and execution, you'll be able to grab the attention of your prospects and customers.
Get inspired with GIGIL's guerrilla marketing tactic!
You never know, your brand might just be one step closer to pulling off a remarkable campaign, too.


About The Dynamic Marketing Communiqué's
"Fridays: Gorillas of Guerrilla Marketing"
Jay Conrad Levinson (1984) said that Guerrilla Marketing "works because it's simple to appreciate, easy to execute, and inexpensive."
Guerrilla Marketing is unconventional.
Looking beyond the traditional ways of advertising, marketers, and advertisers need to spice things up in order for their brand to have campaigns that not only make an impact but also stick to their target market's mind.
Guerrilla Marketing usually aims to have direct contact with consumers.
This type of direct contact should spark an emotional reaction that leads to consumers effectively remembering the brand.
It's about making a big impression and making that impression last a long time (if not forever).
Guerrilla Marketing can be inexpensive.
The effect of this is being able to create a buzz around the brand, and the strategy used to market it. Almost everything is passed around through word-of-mouth.
Word-of-mouth is one of the greatest outcomes and it usually doesn't cost anything.
This is every business' or brand's dream!
Every Friday, we publish tips, examples, and other useful content on unconventional ways of marketing and promotion.
Learn more about how to grab your target market's attention and make an amazing first and lasting impression without having to spend a lot of money.
Businesses don't really need to spend much for a guerrilla campaign. You do not need a big budget to be successful. You just need creativity and a good imagination.
Hope you've found this week's guerrilla marketing insight interesting and helpful.
Stay tuned for next Friday's Gorillas of Guerrilla!
Cheers,
Kyle Yu
Head of Marketing
Valens Dynamic Marketing Capabilities
Powered by Valens Research
www.valens-research.com
View All