"Where will HAPPINESS strike next?" – Know more about this brand's fun-inducing marketing campaign! [Thursdays: Gorillas of Guerrilla Marketing]
January 19, 2023
Miles Everson's Business Builder Daily speaks to the heart of what great marketers, business leaders, and other professionals need to succeed in advertising, communications, managing their investments, career strategy, and more.
A Note from Miles Everson:
Welcome to today's "Gorillas of Guerrilla Marketing!"
For those of you who aren't familiar with guerrilla marketing yet, it is an unconventional, engaging, and impactful marketing strategy. Campaigns of this type spark an emotional reaction that enables consumers to effectively remember a brand.
I personally like encountering these marketing stunts because they remind me that there are lots of creative ways to advertise a brand and engage with customers.
Excited to learn more about today's feature?
Read on to know how this multinational beverage company spread happiness on the streets of Rio de Janeiro, Brazil in 2011.
Miles Everson
CEO, MBO Partners
Chairman of the Advisory Board, The I Institute


Gorillas of Guerrilla Marketing
In a past "Gorillas of Guerrilla Marketing" article, we featured Coca-Cola's "Happiness Machine" and how it brought joy and refreshment to students at St. John's University in New York in 2010.
During the campaign, an ordinary-looking Coke vending machine was installed at the university's cafeteria. As students approached the machine thinking their money would only buy a bottle of Coke, they were surprised that the machine not only dispensed the beverage but also other things that made them jump out of joy!
These included:
Pizzas
Sunglasses
Flowers
A 12-foot long Submarine sandwich
… and more.
As a result, many of those who interacted with the campaign felt truly refreshed and happy as they got more than what they expected.
Today, we'll feature another one of Coca-Cola's awesome guerrilla marketing campaigns. It's…
The "Happiness Truck!"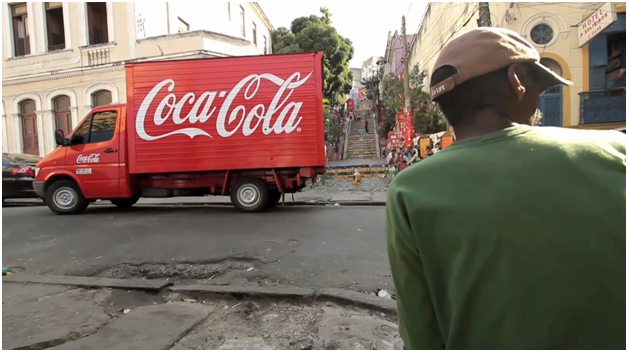 Photo courtesy of YouTube
Following the success of the "Happiness Machine," Coca-Cola decided to take on a more international approach in spreading happiness around the world—this time, in Rio de Janeiro, Brazil.
Using a specially rigged delivery truck in February 2011, the beverage company drove through the streets of the city and stopped at various public places to deliver a "dose of happiness" to thousands of Brazilians.
Let's take a look at how the brand activation played out…
It was an ordinary day for those living in one residential area in Rio de Janeiro. Some of them were busy doing their daily activities and household chores, while others were simply outside their homes and talking to neighbors.
Suddenly, a bright red truck with a "Push" button at the back of its trailer drove through the area.
Vroom! Vroom!
The sound of the truck's engine and its vibrant color piqued the curiosity of many residents. Eventually, a little girl took the first step and pressed the "Push" button at the back of the truck to see what it's all about.
Guess what happened next?
A "dose of happiness" in the form of a FREE Coke was dispensed by the truck! With eyes wide open and a smile on her face, the little girl took it and went to her friends and family to share the good news.
Photo courtesy of YouTube
A few moments later, lots of residents started flocking the area where the "Happiness Truck" was parked. They took turns pressing the "Push" button so they could also join in on the fun.
Photo courtesy of YouTube
Here's the best part of the campaign:
The truck did not only dispense free Coke bottles in that residential area in Rio de Janeiro. It also traveled to various public places in the city and dispensed an array of goodies such as soccer balls and beach balls…
Photo courtesy of YouTube
A surfing board…
Photo courtesy of YouTube
Sunglasses…
Photo courtesy of YouTube
… and a whole lot more!
Those who received the unexpected merchandise jumped and shouted in excitement and tapped the truck as a sign of their gratitude.
A hidden camera was installed at the back of the "Happiness Truck." All the actions and reactions of people were captured in a two-and-a-half-minute campaign video uploaded on Coca-Cola's official Facebook and YouTube pages.
Was Coca-Cola's "Happiness Truck" effective?
Lots of Brazilians enjoyed interacting with the brand's "Happiness Truck" and other people. They had fun talking about their experiences while drinking a bottle of Coke.
As A.J. Brustein, former Global Senior Brand Manager at Coca-Cola, said:
"The 'Happiness Machine' connected with so many people because the emotion was authentic, unscripted, and contagious. We wanted to inspire that same feeling again by creating something consumers would respond to and want to share with others because it put a smile on their faces."
What were the results of the "Happiness Truck?"
Throughout the campaign, the video recorded a combined number of over 1.7 million views on Facebook and YouTube.
The video was shared 7,000+ times, liked 3,500+ times, and commented on 1,000+ times on Facebook, YouTube, and Twitter combined during the campaign.
The campaign video became a finalist at the 4th Annual Shorty Awards' "Best Use of Video" category.
The "Happiness Truck" garnered an overall positive sentiment, with nearly 600 blogs written about it.
The campaign got a total of 200 million social media impressions globally.
Over 400,000 Brazilians were reached throughout the duration of the "Happiness Truck" campaign.
Clearly, these numbers show the "Happiness Truck" was a hit and truly brought genuine happiness to people in Rio de Janeiro.
Congratulations, Coca-Cola!
—
Two of the objectives of the guerrilla marketing campaign was to unite the Coca-Cola brand with happiness in a way that invoked sharing, and enable consumers to share happiness with others too, using the brand as a vessel.
Think about this: Part of the beverage company's core principles is sharing. So, the goal was to tell a story that would live on as a piece of shareable content.
… and by creating the "Happiness Truck" campaign, Coca-Cola was able to bring happiness right to where Brazilians usually were.
What else?
Creating a story worth sharing was another reason for the execution of the "Happiness Truck."
Through authenticity (another part of Coca-Cola's core principles), the company effectively invoked happiness that was real and contagious, and generated organic, positive reactions from those who interacted with the campaign.
We hope you're inspired by today's "Gorillas of Guerrilla Marketing" feature!
Like Coca-Cola, you can use your brand's unique products or services to make a difference in the lives of your customers.
… and with a fun, engaging, and memorable marketing strategy, you can also improve your brand's reputation, attract more customers, and make a good and lasting impression.
Where do you think happiness will strike next?


(This article is from The Business Builder Daily, a newsletter by The I Institute in collaboration with MBO Partners.)


About The Dynamic Marketing Communiqué's
"Thursdays: Gorillas of Guerrilla Marketing"
Jay Conrad Levinson (1984) said that Guerrilla Marketing "works because it's simple to appreciate, easy to execute, and inexpensive."
Guerrilla Marketing is unconventional.
Looking beyond the traditional ways of advertising, marketers, and advertisers need to spice things up in order for their brand to have campaigns that not only make an impact but also stick to their target market's mind.
Guerrilla Marketing usually aims to have direct contact with consumers.
This type of direct contact should spark an emotional reaction that leads to consumers effectively remembering the brand.
It's about making a big impression and making that impression last a long time (if not forever).
Guerrilla Marketing can be inexpensive.
The effect of this is being able to create a buzz around the brand, and the strategy used to market it. Almost everything is passed around through word-of-mouth.
Word-of-mouth is one of the greatest outcomes and it usually doesn't cost anything.
This is every business' or brand's dream!
Every Thursday, we publish tips, examples, and other useful content on unconventional ways of marketing and promotion.
Learn more about how to grab your target market's attention and make an amazing first and lasting impression without having to spend a lot of money.
Businesses don't really need to spend much for a guerrilla campaign. You do not need a big budget to be successful. You just need creativity and a good imagination.
Hope you've found this week's guerrilla marketing insight interesting and helpful.
Stay tuned for next Thursday's Gorillas of Guerrilla Marketing!


Cheers,
Kyle Yu
Head of Marketing
Valens Dynamic Marketing Capabilities
Powered by Valens Research
www.valens-research.com
View All