It wasn't just luck that pushed this snacking company to the top, reaching Uniform ROAs of 20%+
September 15, 2021
This past year, snacks have become the go-to food of most people, particularly those stuck at home looking for something to munch on. As a result, most of the popular snacking companies in the Philippines have been performing greatly in this environment.
This famous snack company even recently completed the biggest IPO in Philippine history. However, it wasn't just its snack business that contributed to its strong sales—it was also able to solidify its product portfolio in the growing plant-based meat business.
Its as-reported metrics won't show that the company's initiatives helped satisfy its customers' cravings though. Its Uniform return on assets (ROA), on the other hand, reveal that the company is actually performing way better than its as-reported.
Also below, Uniform Accounting Embedded Expectations Analysis and the Uniform Accounting Performance and Valuation Tearsheet for the company.
Philippine Markets Newsletter:
Wednesday Uniform Earnings Tearsheets – Philippine-listed Focus
Powered by Valens Research
In 2020, the Philippine Stock Exchange (PSE) saw companies still looking to grow amidst the pandemic. These included grocery retailer MerryMart Consumer Corp. (MM:PHL) and Converge Information and Communications Technology Solutions, Inc. (CNVRG:PHL).
Then just this July, the much-awaited IPO of Monde Nissin Corporation (MONDE:PHL) was finally completed at a whopping PHP 48.6 billion, becoming the largest listing in Philippine history and the second-largest listing in Southeast Asia this year.
Established in 1980, the company started out by serving its own branded biscuits, namely Butter Coconut and Wafer cookies. Ten years later, Monde Nissin further made a name for itself by breaking into the instant noodle business with the launch of its famous Lucky Me! brand.
Since then, the company has gone on to improve and expand its product portfolio, developing some of the best-selling products we know today—such as Lucky Me! Pancit Canton, SkyFlakes, and Fita.
This growth paved the way for Monde Nissin to eventually dominate the Philippine snacking industry, with its instant noodle business accounting for 68% of the segment's market share and 50% of the company's total net sales.
With its local market secured, the company extended its market reach by globally distributing its products to more than 45 countries. It further grew its business through strategic acquisitions locally and internationally, including Australia's pure premium juice brand Nudie and family-owned food company Menora Foods.
While the snacking industry has become the center of Monde Nissin's business for years, the company tried its hand at another industry that has been on the rise these past few years—the plant-based meat segment.
According to market research firm Mintel, demand for plant-based products is projected to reach $74 billion by 2027. In Asia-Pacific alone, it is expected to achieve a market share of around $30 billion by 2027.
Much like Shakey's Pizza Asia Ventures Inc. (PIZZA:PHL) and its sister company Century Pacific Food (CNPF:PHL), Monde Nissin's drive for product innovation pushed them to enter the fake meat business, which led to their acquisition of British alternative meat brand Quorn in 2015.
As of today, Quorn alone accounts for 22% of Monde Nissin's total revenue with strong sales in both the UK and the US.
Despite its ability to take advantage of the continued rise in the plant-based meat industry, the company was still negatively impacted by the pandemic due to surges in demand and increased costs. Still, the company states that product sales were actually higher amidst the challenging environment.
All in all, the company's continued focus on its product development and brand acquisitions helped Monde Nissin further satisfy the people's food cravings. However, as-reported data are not taking into consideration the company's ability to capitalize on emerging trends, with returns only showing Uniform ROAs of 9%-10%.
In reality, the company's brand initiatives actually proved that the company actually did much better than expected, with Uniform ROAs reaching a robust Uniform ROA of 20% despite the pandemic-related disruptions.
The distortion between Uniform and as-reported ROAs comes from as-reported metrics failing to consider the amount of goodwill on Monde Nissin's balance sheet.
In recent years, goodwill sits at about PHP 15 billion to PHP 16 billion, which is about 19% of the company's total assets, arising from acquisitions made to expand its market reach.
Goodwill is an intangible asset that is purely accounting-based and unrepresentative of the company's actual operating performance. When as-reported accounting includes this in a company's balance sheet, it creates an artificially inflated asset base.
As a result, as-reported ROAs are not capturing the strength of Monde Nissin's earning power. Adjusting for goodwill, we can see that the company isn't producing paltry returns. In fact, it has been the opposite, with the company earning robust returns that have been 2x greater.
Monde Nissin's earning power is stronger than you think
As-reported metrics distort the market's perception of the firm's historical profitability. If you were to just look at as-reported ROA, you would think that Monde Nissin's profitability is lower than what real economic metrics highlight in all years.
In reality, Monde Nissin's true profitability has consistently been higher than its as-reported ROA since 2018. For example, as-reported ROA was 9% in 2019, but Uniform ROA is displaying much stronger profitability at 21%.
Historically, as-reported ROA expanded from 9% in 2019 to 10% in 2020. Meanwhile, Uniform ROA improved from 16% in 2018 to 21% levels in 2019-2020.
Monde Nissin's earnings margin is much weaker than you think, but its Uniform asset turns make up for it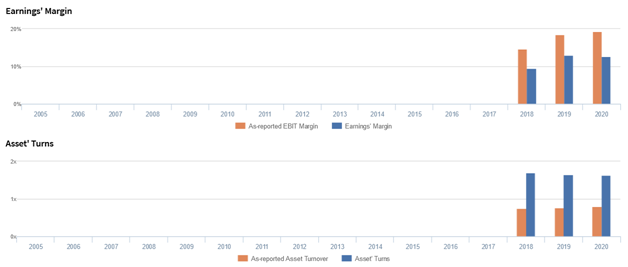 Trends in Uniform ROA have been driven by trends in Uniform earnings margin, coupled with generally stable Uniform asset turns.
Since 2018, Uniform margins expanded from a low of 10% to 13% peaks in 2019-2020.
Meanwhile, Uniform turns remained at 1.6x-1.7x levels through 2020.
At current valuations, the market is pricing in expectations for a continued expansion in Uniform margins and continued stability in Uniform turns.
SUMMARY and Monde Nissin Corporation Corporation Tearsheet
As our Uniform Accounting tearsheet for Monde Nissin Corporation (MONDE:PHL) highlights, the company trades at a Uniform P/E of 42.5x, above the global corporate average of 21.9x and its historical P/E of 14.5x.
High P/Es require high EPS growth to sustain them. In the case of Monde Nissin's, the company has recently shown a 9% Uniform EPS growth.
Sell-side analysts provide stock and valuation recommendations that in general provide very poor guidance or insight. However, sell-side analysts' near-term earnings forecasts tend to have relevant information.
We take sell-side forecasts for Philippine Financial Reporting Standards (PFRS) earnings and convert them to Uniform earnings forecasts. When we do this, Monde Nissin's sell-side analyst-driven forecast is to see a Uniform earnings decline of 29% in 2021, followed by a 93% Uniform earnings growth in 2022.
Based on current stock market valuations, we can use earnings growth valuation metrics to back into the required growth rate to justify Monde Nissin's PHP 16.70 stock price. These are often referred to as market embedded expectations.
The company is currently being valued as if Uniform earnings were to grow 12% annually over the next three years. What sell-side analysts expect for Monde Nissin's earnings growth is below what the current stock market valuation requires in 2021, but above this requirement in 2022.
Furthermore, the company's earning power is 3x the long-run corporate average. Additionally, cash flows and cash on hand are 3x their total obligations—including debt maturities, capex maintenance, and dividends. Together, this signals a low credit and dividend risk.
To conclude, Monde Nissin's Uniform earnings growth above its peer averages, but currently trades in line with its average peer valuations.


About the Philippine Markets Newsletter
"Wednesday Uniform Earnings Tearsheets – Philippine-listed Focus"
Some of the world's greatest investors learned from the Father of Value Investing or have learned to follow his investment philosophy very closely. That pioneer of value investing is Professor Benjamin Graham. His followers:
Warren Buffett and Charles Munger of Berkshire Hathaway; Shelby C. Davis of Davis Funds; Marty Whitman of Third Avenue Value Fund; Jean-Marie Eveillard of First Eagle; Mitch Julis of Canyon Capital; just to name a few.
Each of these great investors studied security analysis and valuation, applying this methodology to manage their multi-billion dollar portfolios. They did this without relying on as-reported numbers.
Uniform Adjusted Financial Reporting Standards (UAFRS or Uniform Accounting) is an answer to the many inconsistencies present in GAAP and IFRS, as well as in PFRS.
Under IFRS, each company's financial statements are rebuilt under a consistent set of rules, resulting in an apples-to-apples comparison. Resulting UAFRS-based earnings, assets, debts, cash flows from operations, investing, and financing, and other key elements become the basis for more reliable financial statement analysis.
Every Wednesday, we focus on one Philippine-listed company that's particularly interesting from a UAFRS vs as-reported standpoint. We highlight one adjustment that illustrates why the as-reported numbers are unreliable.
This way, we gain a better understanding of the factors driving a particular stock's returns, and whether or not the firm's true profitability is reflected in its current valuations.
Hope you've found this week's Uniform Earnings Tearsheet on a Philippine company interesting and insightful.
Stay tuned for next week's Philippine company highlight!

Regards,
Angelica Lim
Research Director
Philippine Markets Newsletter
Powered by Valens Research
www.valens-research.com
View All