What does it mean to TRULY connect and communicate with your readers? Know the answer to that question here! [Tuesdays: Return Driven Strategy]
June 14, 2022
Miles Everson's Business Builder Daily speaks to the heart of what great marketers, business leaders, and other professionals need to succeed in advertising, communications, managing their investments, career strategy, and more.
A Note from Miles Everson:
As a business leader, one of the frameworks I find effective in managing my team is Return Driven Strategy (RDS).
Created by Professor Joel Litman and Dr. Mark L. Frigo, and explained in detail in their book, "Driven," this pyramid-shaped framework has 11 tenets and 3 foundations that help businesses achieve wealth and value creation.
Another thing I like about RDS is it's applicable not only to enterprises and organizations but also to individuals. Just apply the tenets and foundations of this framework to the microlevel and you have Career Driven Strategy (CDS).
Do you want to know how you can be a career driven marketer or copywriter?
Keep reading today's article and find out how this copywriting tip can help you become an effective and holistic communicator.
Miles Everson
CEO, MBO Partners
Chairman of the Advisory Board, The I Institute

Return Driven Strategy
Jay Abraham is one of the top-paid marketing consultants in the US. Aside from being the Founder and CEO of The Abraham Group, Inc., he is a sought-after conference speaker and author of some of the best-selling books on copywriting and marketing. These include:
The Mastermind Marketing System
The Sticking Point Solution
Here's one of the iconic lines he wrote in the book, "Getting Everything You Can Out of All You've Got":
"The key to writing great copy… is empathy. It's having a heartfelt understanding, appreciation, and need to help fulfill a problem."
The keywords in his statement?
Need… understand… appreciate… fulfill… and empathy.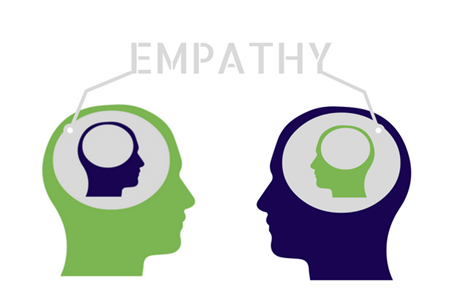 Photo from Psychalive
According to an article from Verywell Mind, empathy is the ability to emotionally understand what other people feel, see things from their point of view, and imagine yourself in their place.
Simply said, it's putting yourself in someone else's position—or shoes, as the idiom says.
There are 3 types of empathy:
Affective Empathy – The ability to respond to people's emotions appropriately.
Somatic Empathy – The ability to feel what another person is feeling.
Cognitive Empathy – The ability to understand someone's response to a particular situation.
By showcasing empathy towards others, you are not only building social connections with them but also enhancing how you regulate your own emotions.
Let's apply this emotional response in the context of copywriting…
Why is empathy important in creating effective and compelling written outputs?
As Abraham said, this is one of the keys to fulfill your target market's needs or solve their problems.
Think about this: As a copywriter, your task is not just to write a promotional piece, advertisement, email blast, or any other content. It is also YOUR RESPONSIBILITY to help your readers by offering a solution to what they need or want.
… but how would you do that if in the first place, you don't know what they exactly need or want?
Unless you have the answer to that question, it would likely be a struggle to get your message across and make your copies compelling.
According to Abraham, customers should be number 1 on your list of priorities when it comes to marketing and copywriting.
One of the ways you can prioritize your target market?
By exercising empathy towards them!
This goes deeper than just knowing who your readers are. As a copywriter or marketer, you should learn to understand what they're thinking and feel what they're feeling, especially when they encounter a certain problem or dilemma.
What else?
Empathizing with your target market not only lets you put yourself in their shoes but also enables you to connect with them. This gives them an impression that you can relate with their experiences.
Once that connection is made, it'll be easier to write copies that speak directly to and in the language of your readers, and compel them to act on your call-to-action.
—
Abraham says great marketing and copywriting entails understanding, appreciating, and helping your target market fulfill their needs and solve their problems FIRST before creating any campaign or publication.
Doing this step is an essential ingredient to getting your message across using appealing and compelling content or copy.
Besides, doing your job excellently and making sure you communicate with your target market holistically says a lot about your reputation as a copywriter or marketer.
If your written outputs and marketing collaterals are polished, clear, concise, and target the core of a certain issue, your clients and readers will have a positive impression about you.
This contributes to your "marketable" skills!
On the contrary, if your copies are too complex, confusing, jargony, and aren't straight-to-the-point, people will have an impression that you're not doing your job well.
This will impact your brand negatively and could hinder you from climbing up the career ladder.
So, if you want to hit two birds with one stone—boost your career and connect with your target market by writing effective copies—take note of Abraham's advice!
Establish good relationships with your customers/readers…
Understand what they exactly need or want…
Empathize with them…
Doing these things in your next copywriting task will help you improve your holistic communication skills and achieve your goals as a career driven individual.
Apply these tips and see how they will contribute to your success in your field of expertise!

(This article is from The Business Builder Daily, a newsletter by The I Institute in collaboration with MBO Partners.)

About The Dynamic Marketing Communiqué's
"Tuesdays: Return Driven Strategy"
In the book, "Driven," authors Professor Joel Litman and Dr. Mark L. Frigo said that the goal of every long-term successful business strategy should incorporate the combined necessity of "making the world a better place" and "getting wealthy."
That is why they created Return Driven Strategy and Career Driven Strategy―frameworks that were built to help leaders and professionals plan and evaluate businesses so they can also help others achieve their organizational goals and career goals.
The frameworks describe the plans and actions that drive returns for anyone in an organization such as independent contractors, marketers, brand managers, communicators, and other people in any field. These actions lead to the creation of wealth and value for customers, employees, shareholders, and the society.
Every Tuesday, we'll highlight case studies, business strategies, tips, and insights related to Return Driven Strategy and Career Driven Strategy.
In planning, building, or managing brands and businesses, these strategies, case studies, and guidelines will help you choose what specific actions to take and when to take them.
Hope you found this week's insights interesting and helpful.
Stay tuned for next Tuesday's "Return Driven Strategy!"

Cheers,
Kyle Yu
Head of Marketing
Valens Dynamic Marketing Capabilities
Powered by Valens Research
www.valens-research.com
View All