Full steam ahead as this captain's firm consolidates its portfolio, leading to a far more profitable firm at a Uniform ROA of 26%
November 3, 2020
Conglomerate stocks are often one of the first choices of investors looking to limit their risk exposure. By their very nature, these stocks reduce investors' risk by diversifying their holdings.
One of the leading conglomerate companies in the Philippines justifies that venturing in numerous industries helps diversify investment risk and better profitability. Recent Uniform ROA shows that through diversification, the company isn't as weak as they appear.
Also below, Uniform Accounting Embedded Expectations Analysis and the Uniform Accounting Performance and Valuation Tearsheet for the company.
Philippine Markets Daily:
Tuesday Uniform Earnings Tearsheets – Philippine-listed Focus
Powered by Valens Research
In our previous Tuesday articles, we discussed different rags-to-riches stories of Filipino tycoons like Henry Sy, John Gokongwei, Jr., and Manuel Villar. Today, we will talk about another tycoon who grew his fortune from investing in tobacco, liquor, airlines, real estate, education, and many more different business units.
Lucio Tan, Sr. started working as a janitor at a tobacco factory so he could pay for his college fees, but decided to drop out of college to work full-time.
With his experience in the tobacco industry, particularly as a tobacco cook who monitored the tobacco mix, Tan had the knowledge he needed to start his own tobacco company. In 1966, Fortune Tobacco Corp. was born.
Fortune Tobacco's early success is partly thanks to the successful launch of one of its budget brands Hope in 1975. The cigarette became an instant favorite among Filipinos and by 1980, Fortune Tobacco became the country's largest cigarette manufacturer.
That was the beginning of what would be the tycoon's string of successes in various businesses.
In 1977, Tan purchased the government-owned bankrupt General Bank and Trust Co., which was later renamed as Allied Bank. He opened Asia Brewery Inc. in 1982, launching its first brand, Beer Hausen Pale Pilsen.
To further expand his product portfolio in the alcoholic beverage industry, Tan purchased Tanduay Distillers, Inc. in 1988 through one of his companies, Twin Ace Holdings Corporation. This company later changed its corporate name to Tanduay Holdings, Inc.
Other businesses that Tan owned or had interests in include Eton Properties Philippines, Air Philippines Corp., Philippine Airlines, MacroAsia Corporation, and Philippine National Bank. In 2013, Allied Bank and Philippine National Bank merged with PNB as the surviving entity.
In 2012, Tan started consolidating all of his major companies under one umbrella, LT Group, Inc. (LTG:PHL). As a single industrial conglomerate, LT Group could easily create growth opportunities for its various subsidiaries through intercorporate businesses or through external or internal financing.
Conglomerates normally enjoy lower investment risks and higher credit health. With its highly diversified businesses, a conglomerate spreads its risks over different industries, thereby minimizing its financial and operational exposure to any single industry.
Any losses from businesses facing economic headwinds would be offset by profits from businesses enjoying the benefits of the current macro environment.
With the consolidation of Lucio Tan's investments into one company, LT Group has been enjoying stable cash flows without issues servicing its obligations. The firm has also been providing better value to shareholders with its profitability.
The firm's profitability skyrocketed in 2013 as its consolidated profits grew by 31% to PHP 8.7 billion for the year from PHP 6.7 billion in 2012.
Since growing its portfolio in 2012, LT Group's overall profitability has been generally robust with the exception of 2014, when its banking businesses struggled and the government imposed an excise tax on cigarettes.
However, when looking at as-reported metrics, it appears that LT Group profitability has been declining in the last sixteen years. Specifically after its consolidation in 2012, as-reported ROA consistently stayed at 1% through 2019.
In reality, LT Group's earnings have actually seen strong growth. Since 2013, a year after the consolidation, LT Group has been producing Uniform ROAs of 10%-27% annually, excluding a 1% underperformance in 2014.
One of the things as-reported metrics fail to see is the company's strategy in diversifying business risk. Given that LT Group has multiple investments in different industries, if one business revenue is dragged down due to its sensitivity to economic cycles, one business unit could offset the risk.
This is the reason why LT Group still reported profit in the midst of a pandemic, and its stock price was even able to return to levels seen at the start of the year.
As a conglomerate and holding company, LT Group continues to acquire stakes in numerous businesses. This presents issues in as-reported accounting since the firm's non-operating long-term investments must be adjusted.
Non-operating long-term investments are composed mostly of long-term financial securities and non-controlling ownership interests. These are not considered to be core to the company's operations since the firm has no management influence on either of these.
As such, removing non-operating long-term investments from the balance sheet and with the other adjustments Valens makes, LT Group's Uniform earning power is actually significantly higher than as-reported ROA since 2013.
LT Group's recent earning power is stronger than you think
As-reported metrics can severely distort the market's perception of the firm's recent profitability. If you were to just look at as-reported ROA, you would think that LT Group's profitability has been weaker than real economic metrics have highlighted in nine of the past sixteen years.
In reality, LT Group's true profitability has been significantly higher than its as-reported ROA in recent years. Specifically, as-reported ROA was 1% in 2019, but Uniform ROA was at 26%.
As-reported ROA fell from 8% in 2004 to 3% in 2006, before improving to 7% in 2010. Since then, as-reported ROA has faded to 1%.
Meanwhile, Uniform ROA declined from 10% in 2004 to immaterial levels in 2006, before recovering to 7% in 2010 and subsequently contracting to negative levels in 2011-2012.
Thereafter, Uniform ROA expanded to a peak of 27%, excluding 1% underperformance in 2014, before dropping to 10% in 2018 and jumping to 26% in 2019.
LT Group's recent margins are weaker than you think, but its strong Uniform asset turns make up for it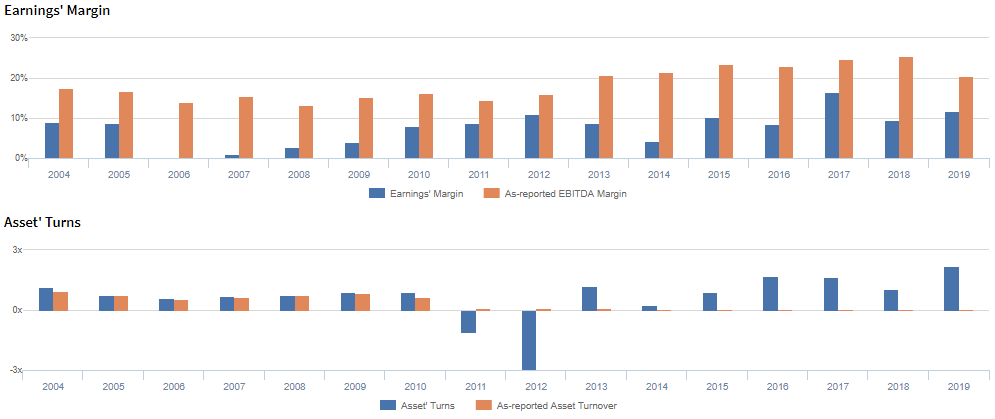 Trends in Uniform ROA have been driven primarily by trends in Uniform asset turns, slightly offset by weaker Uniform earnings margins.
Uniform turns compressed from 1.1x in 2004 to 0.6x in 2006, before recovering to 0.9x in 2009-2010 and subsequently dropping to negative levels in 2011-2012. Thereafter, Uniform turns improved to 1.7x in 2016, before fading to 1.0x in 2018 and jumping to a peak of 2.2x in 2019.
Meanwhile, Uniform margins dropped from 9% to immaterial levels in 2004-2006, before rebounding to 11% in 2012 and contracting to 4% in 2014. Then, Uniform margins expanded to a peak of 17% in 2017, but subsequently receded to 12% in 2019.
SUMMARY and LT Group, Inc. Tearsheet
As the Uniform Accounting tearsheet for LT Group (LTG:PHL) highlights, the Uniform P/E trades at -4.8x, which is below corporate average valuation and its own history.
Negative P/Es imply negative EPS growth. However, in the case of LT Group, the company has recently shown a 125% Uniform EPS growth.
Sell-side analysts provide stock and valuation recommendations that provide very poor guidance or insight in general. However, sell-side analysts' near-term earnings forecasts tend to have relevant information.
We take sell-side forecasts for Philippine Financial Reporting Standards (PFRS) earnings and convert them to Uniform earnings forecasts. When we do this, LT Group's sell-side analyst-driven forecast calls for a 22% Uniform EPS decline in 2020, followed by 121% Uniform EPS growth in 2021.
Furthermore, the company's earning power is 4x the long-run corporate average. Also, cash flows and cash on hand are significantly above its total obligations—including debt maturities, capex maintenance, and dividends. Together, this signals low credit and dividend risk.
To conclude, LT Group's Uniform earnings growth is well above peer averages in 2020, and the company is trading below its peer average valuations.


About the Philippine Market Daily
"Tuesday Uniform Earnings Tearsheets – Philippine-listed Focus "
Some of the world's greatest investors learned from the Father of Value Investing or have learned to follow his investment philosophy very closely. That pioneer of value investing is Professor Benjamin Graham. His followers:
Warren Buffett and Charles Munger of Berkshire Hathaway; Shelby C. Davis of Davis Funds; Marty Whitman of Third Avenue Value Fund; Jean-Marie Eveillard of First Eagle; Mitch Julis of Canyon Capital; just to name a few.
Each of these great investors studied security analysis and valuation, applying this methodology to manage their multi-billion dollar portfolios. They did this without relying on as-reported numbers.
Uniform Adjusted Financial Reporting Standards (UAFRS or Uniform Accounting) is an answer to the many inconsistencies present in GAAP and IFRS, as well as in PFRS.
Under IFRS, each company's financial statements are rebuilt under a consistent set of rules, resulting in an apples-to-apples comparison. Resulting UAFRS-based earnings, assets, debts, cash flows from operations, investing, and financing, and other key elements become the basis for more reliable financial statement analysis.
Every Tuesday, we focus on one Philippine-listed company that's particularly interesting from a UAFRS vs as-reported standpoint. We highlight one adjustment that illustrates why the as-reported numbers are unreliable.
This way, we gain a better understanding of the factors driving a particular stock's returns, and whether or not the firm's true profitability is reflected in its current valuations.
Hope you've found this week's Uniform Earnings Tearsheet on a Philippine company interesting and insightful.

Regards,
Angelica Lim
Research Director
Philippine Markets Daily
Powered by Valens Research
www.valens-research.com
View All