MONDAY MACRO: Uniform Accounting reveals how the Philippines' largest IPOs have actually fared since publicly listing
May 24, 2021
Monde Nissin Corporation is gearing up for its IPO this week. With its aim to raise as much as PHP 55.9 billion, it has the potential to break a new record that could benefit the Philippine economy as the company creates more growth and employment opportunities.
Today, we highlight the top 5 companies that hold this record and their performances ever since their offerings.
Philippine Markets Daily:
The Monday Macro Report
Powered by Valens Research
After Monde Nissin Corporation (MONDE) finalized its initial public offering (IPO) price last week at PHP 13.50, the company is one step closer to debuting at the Philippine Stock Exchange (PSE) as a publicly listed company.
Meanwhile, Del Monte Philippines, Inc. (DMPI) is also in the process of listing as a public company after filing with the Securities and Exchange Commission (SEC) in April.
As a publicly traded company, MONDE and DMPI will have better access to raise capital from the investing community, which can be used to fund their operations or pay down their obligations.
In addition, publicly traded companies have the ability to attract and maintain good management by issuing company stocks as a motivation to improve the company's stock performance in the short term or long term. This strategy is often used as compensation for work as shares from public companies are more liquid compared to private companies.
Moreover, publicly traded companies indicate good corporate governance. As investors require transparency of financials and plans going forward, companies go through extensive preparations to undertake an IPO. Some of these preparations are a proven track record of management, approved business plans going forward, and internal controls for their financial statements.
However, unlike privately held companies, public companies are not always effective in prioritizing long-term goals over short-term profits. As short-term profits affect market sentiment, maintaining short-term profitability becomes a likely priority that could lead to management teams sacrificing long-term shareholder value creation.
That said, IPOs remain an attractive source of new capital. MONDE and DMPI proceeding to list their shares publicly is a good signal for growth opportunities going forward, especially with their IPOs breaking historical records in terms of size locally.
If all goes according to plan, MONDE will have the largest size offering ever on the PSE, with an estimated PHP 55.9 billion worth of proceeds.
For DMPI, they plan to raise as much as PHP 44 billion through their IPO, showing potential to be one of the biggest IPOs in the Philippines.
While we wait to see what happens to the latest IPOs, let's take a look at the top 5 IPOs in the PSE as of today and how they have performed since their IPO.
5. Vista Land & Lifescapes, Inc. (VLL:PHL)
Grossing with proceeds at PHP 22 billion in 2007, Vista Land scores 5th on this list. As a result of intense competition, Vista Land expanded its scope of projects, becoming the homebuilder with the widest geographic presence in the country amongst its peers.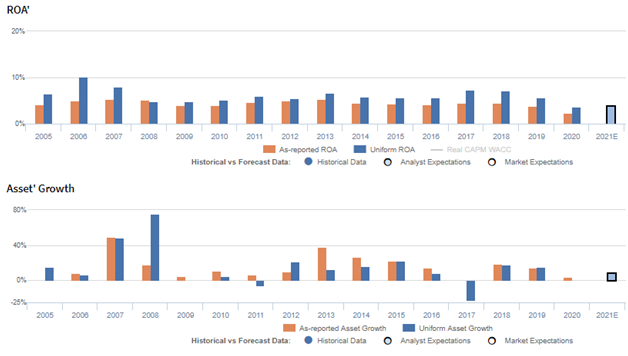 From 2007-2019, as-reported ROA ranged from 4%-5% levels, before compressing to 2% in 2020 as a result of declining rental revenues during the pandemic.
Meanwhile, Uniform ROA fell from 8% in 2007 to 5% levels in 2008-2010, before improving to 7% levels by 2018-2019, and fading to 4% in 2020.
Although the difference between as-reported and Uniform ROA looks minimal, it is actually the difference between a profitable company and a company barely earning enough to cover its cost of capital.
Despite that, investors aren't rewarding the company for its cost-of-capital returns, with TSR (total shareholder return) never above 1.0 since Vista Land's IPO. That means relative to the index, the company's stock has performed poorly.
4. Cebu Air, Inc. (CEB:PHL)
The 4th all-time largest IPO in the PSE is Cebu Air, which was sold at PHP 125 per share and garnered around PHP 23.33 billion in 2010. The company is known for executing a lower-price strategy with shorter routes to encourage more passengers to travel often at cheaper fares.
After falling from 10% in 2010 to 2% in 2014, as-reported ROA improved to 9% in 2016, before declining to 4% in 2018. Then, as-reported ROA expanded to 6% in 2019, before dropping to -10% in 2020 as the COVID-19 pandemic disrupted air travel operations with restrictions throughout the globe.
Meanwhile, after declining from 16% in 2010 to 3% levels in 2013-2014, Uniform ROA gradually improved to 13% in 2016, before compressing to 6% in 2018. After recovering to 10% in 2019, it fell to negative levels as well at -14% in 2020.
This is also another company that has never done better than the index, with its TSR remaining below 1.0 since its IPO. Interestingly though, despite the headwinds that continue to hound the travel industry because of the pandemic, Cebu Pacific's TSR has not declined any further.
3. Converge ICT Solutions, Inc. (CNVRG:PHL)
Converge Information and Communications Technology Solutions is the most recent addition to the list with PHP 25.29 billion worth of proceeds earned in 2020. The Philippine telecommunications market has long been challenged by the dominance of the Philippine Long Distance Telephone Company (TEL:PHL) and Globe Telecom (GLO:PHL).
Despite this, Converge entered the playing field as a contender and became one of the fastest growing internet service providers by offering products for more reliable internet services.
As a telco company, Converge ICT was able to sustain its profitability during the pandemic thanks to increased demand from more users now working from home.
For 2020, the company had an as-reported ROA of 7%, while their Uniform ROA was higher at 13%. As-reported metrics have been understating CNVRG's profitability even before its IPO.
One of the factors for this discrepancy is the failure of as-reported metrics to consider the company's excess cash on the balance sheet. Although the company's cash flows are important for liquidity and operations, excess cash that has limited earnings or no return is accumulated.
In 2020, the company had PHP 11 billion in excess cash that ended up inflating the asset base and diluting its profitability as a result.
2. Robinsons Retail Holdings, Inc. (RRHI:PHL)
Standing at 2nd place is Robinsons Retail Holdings, which debuted in 2013 with PHP 26.79 billion at PHP 58 per share. The company is well-known for its supermarkets, as the brand makes up essentially half of Robinsons Retail's sales. During the pandemic, the company accelerated its digitalization initiatives to capitalize on online demand via e-commerce sales.
Even before its debut in 2013, as-reported ROA has had generally declining and weak profitability that has yet to eclipse its cost of capital.
However, since its IPO in 2013, Uniform ROA shows that the company has sustained 6%-7% levels, and has surpassed its cost of capital levels most of the time. Investors recognize this, as shown by TSR levels remaining stable a year after its IPO to present.
One of the distortions for the difference between as-reported and Uniform ROA is the interest expense that is classified as an operating cash flow. However, interest expense is actually a financing cash flow because it represents the cost of debt. Because of this, profitability is understated as interest expense is added back to earnings.
1. SM Investments Corporation (SM:PHL)
Holding this record for more than a decade and a half, SM Investments Corporation is still the largest IPO in the Philippines at PHP 28.75 billion or PHP 250 per share.
Similar to Robinsons, this conglomerate is well-known for its retail supermarkets. Meanwhile, it also holds interests in the banking and the property businesses, forming a sizable market capitalization of PHP 1.12 trillion.
Also known as the SM Group, the company also experienced declining profitability pressures due to the impact of the pandemic.
From 2005-2019, as-reported ROA had been stable at 5%-6% levels, before falling to 3% in 2020 as was expected because of the pandemic.
Investors might wonder why a cost-of-capital business has actually done well compared to the market, with TSR rising. That can be explained by the firm's true returns profile.
ROA shows that profitability has been robust and above its cost of capital. From 2005-2008, Uniform ROA fell from 14% to 9%, before recovering and stabilizing at 11%-12% levels in 2009-2017. Thereafter, Uniform ROA improved to a peak of 15% in 2018, before falling to 6% in 2020.
As-reported metrics significantly understate SM's profitability by failing to consider its non-operating long-term investments on the assets side. As it forms most of the investments in associate companies in joint ventures, these are not considered core to the company's operations.
Amidst the COVID-19 pandemic, going public will most likely help companies like Monde Nissin and Del Monte Philippines gain access to needed capital.
Furthermore, successful IPOs could signal renewed investor confidence in businesses' ability to grow and innovate amid an otherwise unfavorable economic environment.


About the Philippine Market Daily
"The Monday Macro Report"
When just about anyone can post just about anything online, it gets increasingly difficult for an individual investor to sift through the plethora of information available.
Investors need a tool that will help them cut through any biased or misleading information and dive straight into reliable and useful data.
Every Monday, we publish an interesting chart on the Philippine economy and stock market. We highlight data that investors would normally look at, but through the lens of Uniform Accounting, a powerful tool that gets investors closer to understanding the economic reality of firms.
Understanding what kind of market we are in, what leading indicators we should be looking at, and what market expectations are, will make investing a less monumental task than finding a needle in a haystack.
Hope you've found this week's macro chart interesting and insightful.
Stay tuned for next week's Monday Macro report!

Regards,
Angelica Lim
Research Director
Philippine Markets Daily
Powered by Valens Research
www.valens-research.com
View All